Is your fridge turned on? No, this isn't a joke call. We just want to make sure everything is going well. If it's not, this article about the best Ottawa appliance repair services is for you!
Here is a list of the best places in Ottawa to get your appliances fixed. At the end of the article, we'll also tell you how to choose the best repair services for you, give you a list of the average costs to fix, and answer some frequently asked questions.
What Should You Know Before Hiring a Service to Fix Your Appliances?
First of all, what should you look out for when hiring a repair service?
Do something
When did they start doing business? Do they have testimonials from people who have used their services before?
These are important questions to ask because you probably don't want to trust your expensive appliances to a company that hasn't been around for too long.
There are a few exceptions, like if you know someone who has a lot of experience in this field and just started their own business.
Having a specialty
If you can find someone who specializes in or at least has a lot of experience with the brands you have at home, you're in luck.
They should be better able to figure out what's wrong and fix it quickly. They might also know people where they can get replacement parts quickly.
Being honest
Some people might not want to hear the details of what might be wrong with their appliances, but a good repair technician takes the time to explain what's going on.
On top of all that, they should be able to tell you how much it will cost to fix, especially if parts need to be replaced.
On top of all this, they should also offer a service warranty in case something goes wrong in the future.
Permission
It goes without saying that you need a license. Make sure to check first if the person who will fix your appliances has a license to do so.
On-site or through a third party
Some companies bring in freelance technicians or technicians from another company. This shouldn't be too much of a problem as long as the company doing the service gives you a warranty, but it's still good to know who you'll be working with.
What Does Appliance Repair in Ottawa Cost?
The following is a list of typical repair costs for various appliances. We make every effort to obtain the most accurate figures possible, but keep in mind that actual costs will vary depending on the service, make, and model of your appliance!
| | |
| --- | --- |
| Service | Average cost |
| Hourly rates | $120 – $250 |
| Washing machine | $155 – $600 |
| Dryer | $130 – $500 |
| Dryer belt replacement | $260 |
| Dryer thermostat | $100 – $260 |
| Dryer drum | $60 – $260 |
| Overheated dryer | $60 – $160 |
| Faulty dryer | $60 – $1,000 |
| Fridge Compressor | $25 – $260 |
| Fridge icemaker | $325 – $430 |
| Fridge defroster | $130 – $260 |
| Freezer | $130 – $260 |
| Oven range | $260 – $325 |
| Small appliances | $130 – $260 |
5 Best Appliance Repair Services in Ottawa
Here's a list of the best appliance repair services we could find now that you know the basics!
1. King Appliance Repair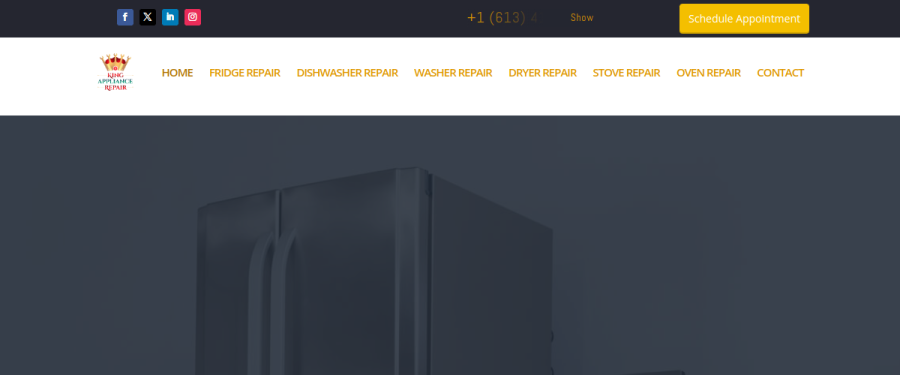 King Appliance Repair is a reliable business that offers quality repairing of major household appliances in Ottawa, Nepean, Kanata, Stittsville, and the surrounding area. Their pro technicians take care of your appliances and will fix them with the best quality and affordable prices. If you have any broken appliances, then be sure to entrust them to the reliable hands of King Appliance Repair.
Fast, reliable service

Affordable rates

The technician is knowledgeable and friendly

5 Star Google Review
Customer Reviews
Let's take a look at what their clients have to say:
"King Appliance Repair was awesome. I called them in an emergency, and the repair person showed up on time, assessed the damage, and gave me a reasonable quote right away. As he was repairing the machine that same day he was explained what he was doing throughout the whole process. Also, before even starting, he gave me a good idea of what to expect and worst-case scenarios. All the qualities you look for in someone repairing machines you have no idea how they work. It was an awesome job, and excellent service was reasonably priced. Highly recommend this company!" – Andrea Higginson
"The company was very quick to respond to our needs, contacted us frequently with updates, and came on time to get our machine fixed. When there was a slight issue of needing an additional part, they gave us a discounted price to make up for the miscommunication. Followed by coming the next day to fix it. I would recommend this company if you are in need of fixing an appliance!" – Chantal Remo
2. Fix Appliances CA Ottawa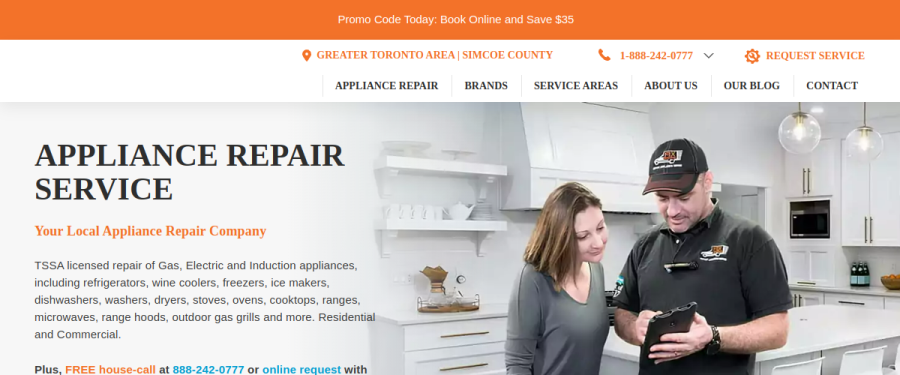 FIX Appliances CA is a reliable and affordable home appliance repair service that the GTA and southern Ontario residents can rely on. Customers have praised the company for its quality service, with many saying that they were able to get their appliances repaired quickly and affordably. FIX Appliances CA is an excellent choice for those who need their appliances repaired quickly and affordably.
Affordable rates

Fast service

Low prices
Limited availability

Poor customer service
Customer Reviews
Let's take a look at what their clients have to say:
"Fast efficient service! The technician that helped us was Victor, professional & polite. Very knowledgeable and informative, discussed options with us and let us make the decision on the repair. Not the typical take the money and run business. I will be using them for all repairs from here on, good group of people!" – Peter Veh
"This company has very professional technicians. The washer was fixed quickly and quality. Highly recommend this business." – Viktor Shkinder
3. Honest Guys Appliance Repair Inc
Honest Guys Appliance Repair Ottawa is a company that offers honest assessments of your appliance repair needs. They will never advise on a repair unless they believe it is in your best interest, and they also offer a 90-day limited warranty on all parts and labor involved in their appliance repair at your home. This makes them a reliable company to work with when you need your appliances repaired.
Available 24/7

Low-cost repairs

Reliable service

5 Star Google Review
Can be slow to respond to requests
Customer Reviews
Let's take a look at what their clients have to say:
"Rony was great! He fixed our washing machine in just two days (because he had to order a piece) and was very professional. I would recommend him to anyone that needs any appliances fixed! Our washing machine is working better than ever! Thank you!!" – Marysol Madrazo
"Rony was incredible! This company is not like any other that I called out there! Rony went above and beyond to help diagnose the problem and get a quote over the phone, something that other companies weren't willing to do! The name of his company truly reflects their service of integrity! Was professional when he came in, and answered my questions patiently and in great detail! Would most certainly use their services again! Thank you!!" – Hope Makena
4. Dale's Appliance Service
Dale's Appliance Service started in Ottawa, Ontario in 1988 after the owner fell in love with the people and lifestyle during a visit to Carlton University in Toronto. The business is a family affair, with the owner's relatives helping out with everything from repairing appliances to providing customer service. Dale's Appliance Service has been providing quality appliance repair in Ottawa for over 25 years, and the owner has seen it all – from broken dishwashers to fridges on fire. If you need assistance with your appliance, don't hesitate to call or book online.
Locally owned and operated

Great customer service

Repair all brands of appliances
Customer Reviews
Let's take a look at what their clients have to say:
"I would highly recommend Dale for any of your appliance services or repairs. He has repaired my washing machine twice. Both times he was friendly and personable. He was quick at responding to my requests, talked options over with me, kept me up to date on when the new part would be in, and was quick to do the repair and provide me with helpful advice on what to do if it breaks again. Prices are very reasonable and for the service, it's 100% worth it!" – Julie Boyce
"Dale's always been there when I have needed him. Even better, he's really up-front – twice he has told me that I didn't need him at all – either the repair would exceed the appliance's value, or that another trade would be a better choice. When someone is willing to tell you that you don't need his services, you can trust him." – Thomas Curran
5. Appliance Technician Ltd. ✅ Appliance repair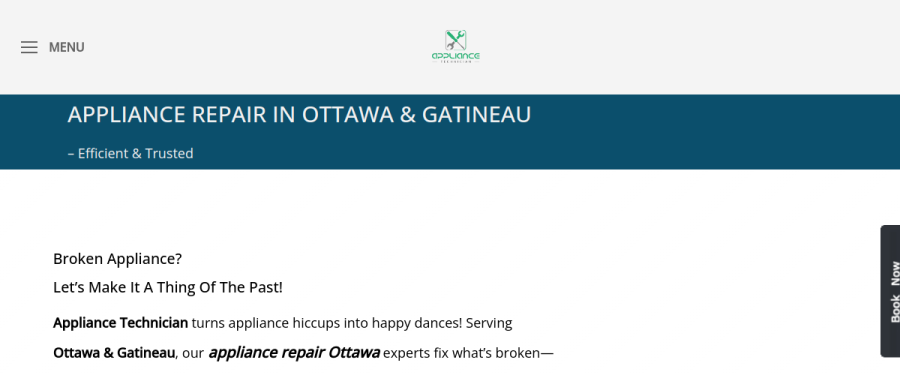 Appliance Technician Ltd. is a community-based business in Ottawa that offers appliance installation and repair services. They are dedicated to providing the highest standards of service, professionalism, and customer satisfaction. They understand how busy people's schedules can be, and the last thing they want is for their appliance to break down. One of the things they love most about their work is how much people appreciate their help when their appliance is broken.
Experienced staff

Quick response time

A wide range of services offered
Customer Reviews
Let's take a look at what their clients have to say:
"I cannot recommend Appliance Technician highly enough. They managed to fix my washer very quickly and even came back when I had an additional issue. The level of service that Appliance Technician offers should be something that all businesses should aspire to. This is now my go-to service for appliance repairs." – Tim Inkpen
"The team at Appliance Technician Ltd provided service (3 separate times) to fix our freezer, dishwasher, and clothes washer. In each case, the service was timely, and the problem was diagnosed correctly and resolved quickly. This is my go-to team for all of our appliance service needs!" – Abigail Fyfe
FAQs About Appliance Repair in Ottawa
What should I do if my appliance fails?
Make sure to turn off the appliance's power as soon as possible! Always take extreme caution in these situations and contact the nearest repair service to assess the situation.

Electrical fires are a serious threat that should never be underestimated, as they are frequently the cause of house fires.
When do I need to have my appliances serviced?
Naturally, you should contact a repair service as soon as an appliance begins to malfunction – or stops working altogether.

Attempting to solve the problem on your own (especially if you're not trained to do so) will only exacerbate the problem, costing you more money.

Remember that when it comes to things like this, hiring a professional is always a good idea. Your health and safety must always come first!
Is it better to repair or replace my appliance?
If you're deciding between repair and replacement, there are several factors to consider. For starters, how much would a new one cost, and is now the right time to invest that money?

Most repair services can evaluate your appliances and tell you if they need to be replaced (for example, if they've reached the end of their useful life) and make a good recommendation.
What is the best way to get rid of old appliances?
Some repair services will take your appliances away from you. This is probably a good idea as well because appliances contain electronic components as well as chemical compounds that can harm the environment if not properly gutted before being disposed of.
---
Our list of the best appliance repair services in Ottawa is now complete! We hope you found this information useful.
Did we overlook a business that you recommend? Tell us everything; we'd love to hear about it!