Botox may be the answer to problems like pronounced forehead wrinkles and recurrent migraines. But before getting one, make sure to look into the credentials and reliability of the clinic where the procedure will be performed.
We've put together a list of the top and most reliable clinics providing the best Botox in Ottawa to aid you in your research. We also looked into the potential costs associated with a Botox procedure visit.
How Much Does Botox Cost in Ottawa?
We surveyed the top clinics in Ottawa to obtain a range of their prices to give you a more thorough breakdown of how much it would typically cost you for each area of your face.
Be aware that Botox is frequently priced per unit, with prices ranging from $8 to $15. Each person will require a different amount of Botox, depending on the treatment area and the person's facial muscle strength.
The most popular Botox procedures and their average costs are listed in the table below.
| | |
| --- | --- |
| SERVICE | AVERAGE COST |
| Upper forehead lines | $60 – $120 |
| Crow's feet (wrinkles on the sides of the eyes) | $170 – $360 |
| Frown lines (in between the eyes) | $170 – $360 |
| Jawline lift | $320 – $1000 |
| Neck bands | $100 – $250 |
| Nasal bunny lines (wrinkles on both sides of the nose) | $50 – $80 |
| Downturned lip corners | $50 – $70 |
Best Clinics with the Best Botox in Ottawa
We can now get into our list of Ottawa's top Botox clinics since you are aware of the price of Botox. Note that there is no particular order to this list.
The Cosmetic Clinic
The Cosmetic Clinic is a new cosmetic medical clinic in Ottawa, Ontario, and North Bay, Ontario led by Nurse Chelsey. The clinic takes a four-step approach to all services—trust, comfort, medicine, and art. Trust is the first word in every sentence to ensure clients are in great hands. We provide comfort to every client. We always use approved medical devices. Our team has an eye for taking an artistic and natural approach. We set ourselves apart by studying and researching how to best imagine the outcome. Let the Cosmetic Clinic help you achieve the results you desire.
The Cosmetic Clinic is fiercely committed to peace, promoting multiculturalism, and equality, including Indigenous rights. We acknowledge the land we work and live on is the traditional unceded territory of the Algonquin Anishnaabeg people. We recognize and deeply appreciate the contributions the Indigenous peoples have made to shaping our community and country.
The Cosmetic Clinic in Ottawa Canada is a very reputable company

They are experts in the industry and have been around for many years

Offers a wide variety of services such as laser hair removal, Botox, and more

Prices are very reasonable

Convenient location

5-Star Google Review⭐⭐⭐⭐⭐
Customer Reviews
Let's take a look at what their clients have to say:
"I started going to The Cosmetic Clinic back in May last year. I have nothing but good things to say about these amazing women!!  They are professional, friendly, educated, and very compassionate about their work and their clients.   When I  first went to The Cosmetic Clinic I was a little skeptical, due to a prior incident I had with a clinic I went to.   I explained what had happened and they were very understanding and easy to talk to. They consulted with me and made me feel self-assured and safe about the procedures I was undertaking.  They took the time to explain the services in detail and also took the time to listen which for me is very important. Both Chelsey and Mia are very confident beautiful and always smiling which makes me feel beautiful confident and very pleased with my services!! Always amazing natural results and this is why I will always come back and see these wonderful ladies!!" – Jojo R.
"I am recommending this clinic as well as planning to go back! Mia and Brianna are amazing injection nurses. I've had both of them and they are professional and knowledgeable and super kind. They made me feel comfortable and they took the time to answer all of my questions at each appointment. I got my frown, as well as the lines on my forehead, treated and the results are beautiful. No pain and no negative side effects for me. Thank you Mia & Brianna for sliding me into the open slots and for the flexibility provided. I'll see you next time!" – Ruth Anstee
The Ottawa Skin Clinic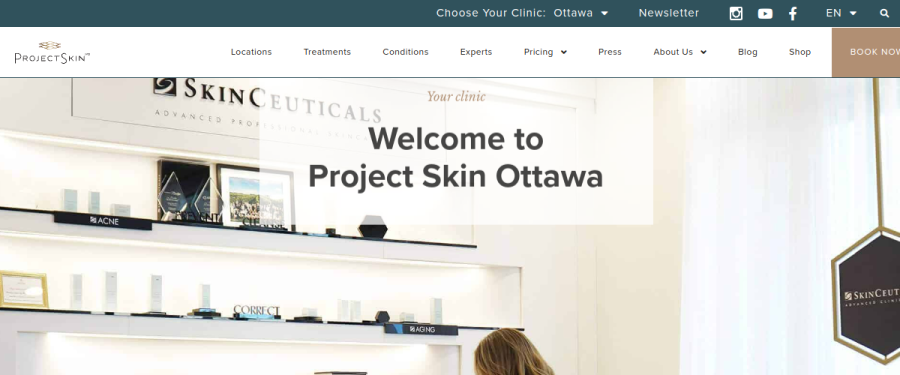 The Ottawa Skin Clinic is a medically supervised skincare and cosmetic clinic that offers a wide range of cosmetic procedures using the most up-to-date technologies. The clinic is known for its friendly approach and expertise in providing a safe environment and comfortable experience for all its clients. The clinic offers a variety of different treatments to suit its clients' specific skincare needs, such as laser hair removal, acne treatment, skin rejuvenation, Botox® cosmetic, and body contouring. The Ottawa Skin Clinic is proud to support the Canadian Breast Cancer Foundation and Breast Cancer Action Ottawa with fundraising and awareness efforts. It is also proud to support the Skin Care Foundation.
Skilled staff

Many services offered

High-quality products and equipment
Customer Reviews
Let's take a look at what their clients have to say:
"The clinic is sparkling clean and the whole staff is charming. Building rapport is essential to foster trust and improve patient satisfaction and that is no secret to Dr. Michon, who takes the time to actively listen, explain the procedure, risks, and expected results, and address any questions or concerns. He's super knowledgeable and I appreciate the follow-up after each treatment. My patient experience is very positive overall." – Juliet E.
"I love Nurse Sarah this 5-star goes to her! She did my lip and cheek filler (she does my Botox regularly) and she did a fantastic job, definitely the queen of creating luscious lips! She takes great care of her patients and she will make you feel at ease with the whole process. This was my first time getting filler and I am hooked simply because of her artistry I feel more confident with how I look! Would highly recommend her!" – Vivien Kovacs
Concept Medical
Looking and feeling your best is important to many people, and Concept Medical strives to help those people achieve their cosmetic goals. The clinic has locations in Ottawa and is staffed with qualified professionals who can offer a variety of treatments, including laser hair removal, lip filler, and Botox. They also offer more unique treatments that can help with a variety of conditions.
The clinic provides a tranquil and comfortable environment for patients, with up-to-date technology and qualified staff. Patients can feel confident that they are in good hands at Concept Medical.
Excellent customer service

Very knowledgeable staff

Wide variety of products

Reasonable prices

5-Star Google Review⭐⭐⭐⭐⭐
Customer Reviews
Let's take a look at what their clients have to say:
"What a gorgeous space! The staff at Concept Medical were so warm. They went above and beyond to make my experience memorable. Dr. Hetz is so inviting, knowledgeable and informative. He took his time to ensure I was well informed and felt comfortable. My entire experience went seamlessly and I felt so taken care of. Best of all, the results were better than I would have expected!! I highly recommend Concept Medical and look forward to going back soon." – Dorota DiStefano
"Meagan the office manager always has everything in order and is on top of everything. Dr. Noland has a fabulous bedside manner, understanding and efficient. She is confident and that makes you feel at ease. I have had one procedure completed with Dr. Noland and it turned out perfect. I have one more to go, and I have all the faith in Dr. Noland that the outcome will be just as perfect as the first. I would recommend this clinic to everyone. All the staff is welcoming and professional. A beautiful space as well." – Christine Poole
The Best You Ottawa West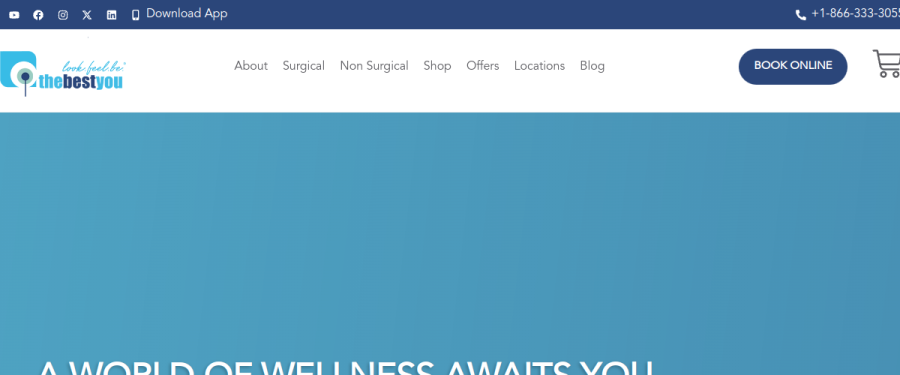 Beauty is about feeling good in your skin and being confident in who you are. It's about embracing your natural features and accentuating the good while hiding the bad. The Best You is all about helping you to look and feel your best, so you can live the life you want to live.
The team at The Best You wants to help you find the beauty routine that makes you feel confident and beautiful. They strive to help you uncover the beauty that awaits you and achieve the image you want to project to the world. Whether it's through makeup, hair, skincare, or fashion advice, The Best You is here to help.
The Best You Ottawa West offers a wide range of services to help you look and feel your best

From hair care to skincare, they have everything you need to look and feel your best

They offer a variety of services at a variety of price points, so you can find something that fits your budget
The salon is often quite busy, so you may have to wait for a while before your appointment
Customer Reviews
Let's take a look at what their clients have to say:
"I enjoy regular monthly visits to TBY, which has kept me looking fresher, younger, and healthier for several years now. The staff is always welcoming, well-prepared, and professional. Skin products are effective and often cost less than equivalents from department store big name cosmetic companies. Information about services is readily available and I've never felt pressured into taking a treatment or buying a product. Highly recommended!" – Margaret Michaels
"I've been using services at The Best You Ottawa West for the last year and a half. All aspects of customer service are great – friendly, knowledgeable, respectful, and courteous. The location is easily accessible, ample parking (and they validate!); the office is pristine and spacious, and very comfortable. They have awesome deals a couple of times a year – ALWAYS worth it!" – Debbie Munro
Dermaworks Medical Aesthetics Clinic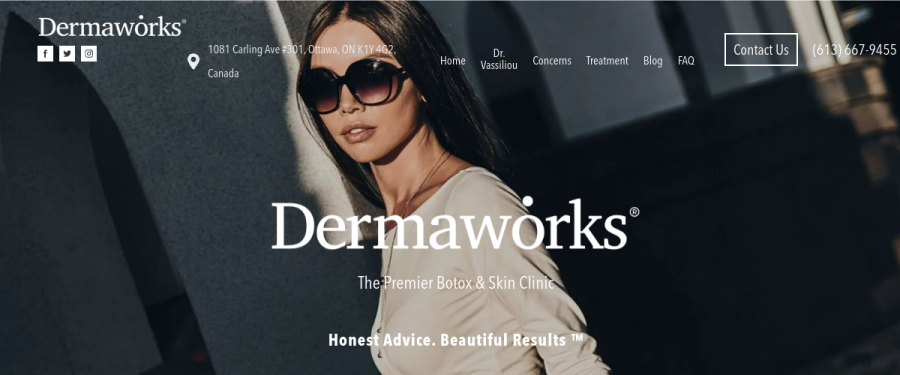 Dermaworks Medical Aesthetics Clinic is a great place to go if you're looking for advanced aesthetic treatments. They offer a wide range of treatments, from anti-aging to skin rejuvenation, that is all effective and innovative. If you're looking to smooth out the cellulite on your body, they offer a custom cellulite-smoothing treatment that is sure to help. Not only does this clinic have great treatments, but they're also located in Ottawa, which is a bonus!
Skilled staff

Top-of-the-line equipment

Results-oriented approach
Customer Reviews
Let's take a look at what their clients have to say:
"Dr. Vassiliou is extremely informative. She listens to what you want to achieve and together a plan is set out. Dr. Vassiliou is pleasant and knowledgeable and I felt extremely safe and comfortable with her. I had amazing results. Her skills are what will bring me back. Thank you for a great experience." – Pauline Denault
"This was my first try with fillers – or any other cosmetic treatment, for that matter – so I was a bit nervous. But I'm extremely pleased with the results. I wanted the lines below my nose and mouth to be less noticeable, and they are. The marionette lines have virtually disappeared. I feel I look like myself again. Dr. Vassiliou is very friendly and walked me through what to expect. It was easier than I had thought. There was only a tiny light bruise and some redness afterward that faded in a couple of days. I'll go back. A happy experience! :)" – Sonia
FAQs about Botox in Ottawa
Botox is a safe and effective treatment when used by a qualified and experienced doctor. It has been used for many years to treat a variety of medical conditions.
Botulinum toxin (Botox) is a neurotoxin produced by the bacterium Clostridium botulinum. It is a potent poison that inhibits the release of acetylcholine, a neurotransmitter that signals muscles to contract. This causes muscle paralysis and can lead to death if not treated quickly. Botox is used in small doses to treat several medical conditions, including certain types of eye muscle spasms, neck pain, and cerebral palsy. In cosmetic applications, it is used to reduce or prevent the formation of wrinkles by paralyzing the underlying muscles.
The procedure is not painful, but some people report a feeling of pressure. A small amount of discomfort may be felt if the area is numbed with a topical anesthetic.
---
We hope that our list of the best Botox clinics in Ottawa gave you the knowledge you required to receive a Botox treatment safely. Consult your doctor if you have any concerns or questions about the procedure.
Do you know of any other Ottawa Botox clinics that we may have overlooked and that ought to be on this list? Please inform us so we can investigate them!