Like a brewski? You're in luck because we're going to dive right into Ottawa's brewery scene today!
I strongly advise choosing something regional and flavorful if you're sick of the typical commercial beers. Of course, you'll need to know where to start looking, so let's do that.
I'll list the top five breweries in Ottawa according to customer reviews. Along with their advantages, disadvantages, and reviews, we'll also look more closely at what they have to offer beer drinkers.
How Much Do Ottawa Breweries Charge?
You must first be aware of Ottawa's distinctive culture and drinking customs in order to estimate the cost of a craft brewery visit. I'm not kidding when I say the two are closely related.
Being a truly multicultural city, Ottawa has made it possible for residents and visitors to enjoy a wide variety of cuisine from around the world. And what better beverage to enjoy with delectable food from China, the Middle East, Latin America, India, and other nations than regional craft beer?
The typical Canadian consumes 80 liters of beer annually. That roughly translates to enough beer to fill up nearly 1,000 Olympic-sized swimming pools, with more than 80% of that beer coming from Canadian craft breweries.
It is therefore safe to say that Ottawans enjoy their beer. An Ottawa Beer Fest, which has been held annually for almost ten years, serves as additional evidence.
In addition to the 5K Craft Beer Fun Run/Walk and beer pong, the festival includes over 40 Canadian craft breweries. In addition to imported beers from Europe, wine, ciders, and specialty brewskis are available to attendees in addition to local and domestic craft beers.
This annual event has established Ottawa as a top beer destination. Additionally, it has been successful in highlighting regional craft breweries and the top international cuisine to pair with them.
At the Ottawa Beer fest, a sheet of 20 sample tickets for food and drinks costs $20. Naturally, it is up to the vendor to set the price for their samples, which are typically provided in 12, 8, or 4-ounce cups.
Brew Donkey and other organizations have organized an active Ottawa beer tourism industry. A private tour can cost $25 to $100 (+ tax) per person, depending on customization preferences.
However, how much will a locally produced beer cost you? Let's look at what Ottawa's most well-known breweries have to offer.
BREWERY
PRODUCT PRICE
Beyond the Pale
Pale Ale Project $3.10 (473 ml./4.9%)
The Darkness $3.10 (473 ml./5.6%)
Tooth and Nail Brewing Company
Tenacity Pale Ale $3.00 (355 ml./5.5%)
Fortitude Stout $3.00 (355 ml./5.4%)
Stray Dog Brewing Company
Shaggin' Wagon $3.98 (473 ml./6.4%)
One Hop Wonder: Eclipse $4.56 (473 ml./6.4%)
Waller St. Brewing
Tiger Milk (White Stout) $6.50 (500 ml./4.5%)
Black DIPA $8.00 (500 ml./8.5%)
Be aware that prices typically include both the amount of beer contained in each container and the amount of alcohol contained in each container. However, additional elements like packaging, ingredients, branding, advertising, and brewery procedures might have an impact on the final cost.
Best Breweries in Ottawa
Now that you have an idea of how much a locally produced beer costs, it's time to investigate the breweries that produce them. I'll list the various aspects that will make a visit worthwhile (or at least an online order).
Flora Hall Brewing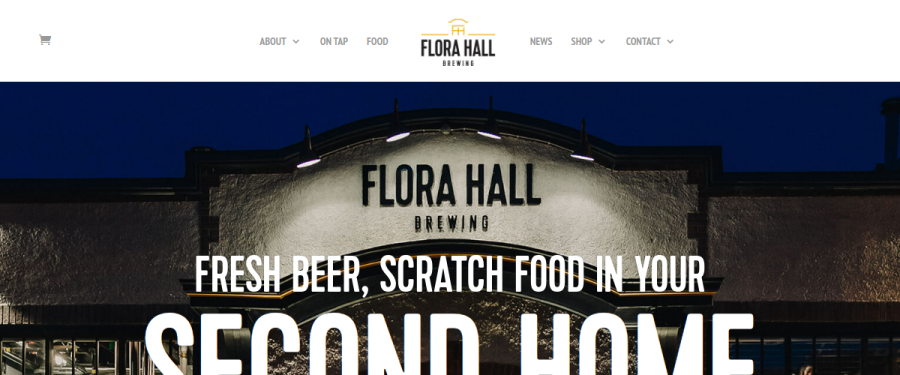 | | |
| --- | --- |
| Description | Brewpub with a creative menu offering craft beers plus a full bar & beer to-go. |
| Website | http://florahallbrewing.ca/ |
| Address | 37 Flora St, Ottawa, ON K2P 1A7, Canada |
| Phone | +1 613-695-2339 |
| Email | info@florahallbrewing.ca |
| Category | ['Brewery', 'Bar', 'Beer store', 'Restaurant'] |
Flora Hall Brewing is a neighborhood gathering place in Ottawa, Canada, designed from the ground up to welcome and delight customers with delicious beer and food. The renovation of the building, which was formerly an engineering warehouse and office, was completed by local trades and craftspeople. The brewery has an 18-hectolitre brewhouse, producing a variety of beer styles made with quality ingredients. The kitchen produces creative and contemporary takes on classic comfort foods from around the globe.
Unique brewing process and flavors

Excellent atmosphere

Local company supports the community
Limited seating

Can be crowded at peak times
Customer Reviews
Let's take a look at what their clients have to say:
"Although you may be drawn to Flora Hall for their beer selection (it is a brewery after all), the food is quite excellent and should not be overlooked. They've put their own unique twist on crowd-pleasing dishes, like tonight's ravioli and samosas – both of which were flavourful and well portioned. The shredded oxtail filling in the ravioli was a highlight and was complimented beautifully with a lime crema that brought back memories of a Carlota de Limón (Mexican lime icebox cake). The smashed samosa was equally delicious, with its crispy edges, warm Indian spices, and sweet tamarind and mango notes. We had the Belgian Dubbel and Dry hopped sour, both of which were very good. The atmosphere was warm and our server (Duncan) was attentive and gracious. Overall it was a pleasure spending the evening here! Thank you to the entire team."
"Have been here a few times for food (and a few more for just beer) and it is always amazing. Their rotating menus are always so creative and have something for everyone. I also really like their dining area whether you are up or downstairs. If you are looking for a great place for food and beer downtown, or anywhere in Ottawa for that matter, this is the place to try." – Aidan Calcutt
Good Prospects Brewing Company
The Good Prospects Brewing Company is a team of three friends who met while working as geologists. Together, they share an enthusiasm for beer that has led them to brew some excellent craft beers. Their flagship brew, Gold Rush Ale, is a testament to their skills as brewers and their love of good beer.
Great customer service

Wide variety of beers on tap

Locally sourced ingredients
Can be crowded during peak hours
Customer Reviews
Let's take a look at what their clients have to say:
"Stopped off there tonight. Their Kolsch is a winner for a great summer drink and they also have a good selection of artisanal sodas. The bar tenders Anthony and Jeremy were very welcoming and friendly. Excellent service 10/10 will be back again" – Jessalyn
"Really enjoyed the "Canary in a Kolsch Mine" Kolsch style beer. It was bright and crisp with a nice after-finish and no bitter after taste. Well done! Looking forward to trying the rest of your line-up! Cheers!" – David Wise
Bicycle Craft Brewery
Bicycle Craft Brewery was created from humble beginnings, much like many of the craft breweries before us. It started with a home brew kit, a passion for craft beer, and a love for creating something delicious out of all-natural ingredients. Founded in 2014, Fariborz and Laura wanted to share their passion for delicious, natural, down-to-earth beer. Their interest in new flavors and pairings has created some unique seasonal beers and ensured their mainstays are delicious every time they're poured.
Together with a hard-working team, Bicycle Craft Brewery is about natural, well-crafted, and delicious beer. Sourcing locally grown ingredients when available, donating all of our spent grain to local farms, and working with the community on collaboration beers, fundraisers, and pairings, we pride ourselves on being your down-to-earth local brewery. All of our unfiltered ales are a true testament to the bicycle and the wild places you discover along the way.
Excellent beer

Good food

Fun, relaxed atmosphere
Can get crowded

Limited seating
Customer Reviews
Let's take a look at what their clients have to say:
"Bicycle Craft Brewery is definitely one of the best in this growing field. Their IPA is truly exceptional. I've tried all or at least most of the local craft breweries, and Bicycle is my choice for the long weekend…and beyond!" – Brother Ollie
"Really nice brewery – lesser known than some others around Ottawa but among the best beer I've had in the city. They had some nice hazy beers as well as a unique herb-based Icelandic ale that was surprisingly delicious. Cans to go as well, and reasonable prices for everything. I'll be back next time I'm in the city!" – Matt Seabrook
Spark Beer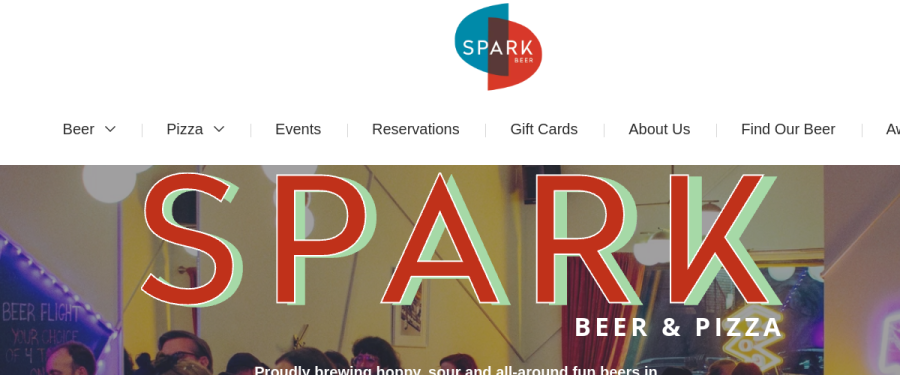 Spark Beer is a brewery that opened in 2020 in Chinatown, Ottawa with the goal of producing the best hoppy, sour, and Belgian-influenced beers possible. The brewery is owned by Andrea and John, who have lived in and around Chinatown for over 20 years. After seeing the "for rent" sign at 702 Somerset Street West, they knew they had found the home of Spark Beer.
The brewery uses modern techniques to brew beer, but with some classic Belgian flair. The majority of their sour beers are aged for over four months, and their oak barrel and folder releases are aged from four to eighteen months. They release beers when they're ready and not a day sooner. They use as many local ingredients as possible, sourcing malts from Mississippi Mill Malting and Cascade and Centennial hops from Houblons Pontiac.
A unique flavor that stands out from other beers

Often brewed with interesting ingredients

Support local businesses
Customer Reviews
Let's take a look at what their clients have to say:
"Great local spot, friendly staff, affordable local beers with a wide range of flavors! Free popcorn is a nice touch. We stop in for a round on weekends and get beer to go for the house. I love the laid-back music, the plants, and the vintage decor." -Joel Newton
"Delicious radlers! Not only do they offer free popcorn, I appreciate how people can grab takeout from neighboring businesses and enjoy it on the patio with their beers. The gender-neutral bathrooms located downstairs were nicely decorated and spotless!" – Reiko Okamoto
Tooth and Nail Brewing Company | | |
| --- | --- |
| Description | Cool microbrewery with a taproom. Craft beer brewed on-site, along with sandwiches & snacks, offered in a hip environment. |
| Website | https://toothandnailbeer.com/ |
| Address | 3 Irving Ave, Ottawa, ON K1Y 1Z2, Canada |
| Phone | +1 613-695-4677 |
| Email | info@toothandnailbeer.com |
| Category | Brewery |

The Tooth and Nail Brewing Company is a brewing facility that sits in an old building that was originally built to house a heavy machinery garage. The space houses a 15bbl brewing system that produces roughly 1850 liter batches at a time, with a couple of tanks that occupy closer to 3700 liters of beer. The lagers and ales ferment and age anywhere between three and eight weeks on average, in both vertical and horizontal stainless-steel vessels. Some of the rare specialty ales spend several months and even years in second-use barrels with wild microorganisms to create complex and intricate flavors.
Local brewery with a lot of character

Good variety of beers on tap

Offers tours and tastings
-Brewing process is not fully automated, so there can be inconsistencies in the final product

Can get crowded during peak hours
Customer Reviews
Let's take a look at what their clients have to say:
"Great location, atmosphere, service, food, and drinks. No complaints whatsoever! And they sure do brew a mean brew. The selection is on point, with a wide range of flavors for different tastes. Ranging from refreshing fruity summer to dark comforting winter ales. The patio is intimate, but not crowded. Inside seemed like a zoo so we didn't sit inside. It has a darker, almost grungier feel to it. The outside patio was light, and airy, with a really great feel to it. The food was fantastic. Definitely get the chips and dip, especially if you're just there for a few brews. Perfectly salted crispy chips with 2 of the best dips you'll have. Sample every! Even the ones you think you won't like. We were both pleasantly surprised. The location is good, with parking along the street. Even when it's busy there's still somewhere to park the car. Suffice it to say, very enjoyable experience. Even someone that's not a beer drinker will enjoy this and they will have something that they will for sure enjoy. Cheers!" – Wanderlust Digest
"This place is busy every time I go, can't deny it's a great beer. This brewery stands apart from the rest with its cozy tasting room and selection of shareable snacks. Great location, with a few other breweries within walking distance."
FAQs About Breweries in Ottawa
What is the difference between a craft brewery and a microbrewery?
Craft breweries are typically larger than microbreweries. They often produce more beer and have wider distribution. Craft beers are also typically higher quality than microbrews.
What kind of beers do these breweries produce?
Each brewery produces its own unique beers, but you can generally expect to find a variety of IPAs, pale ales, stouts, and porters.
Are all the breweries open to the public?
Not all breweries are open to the public, but most of them are. Check the brewery's website or social media for details.
What's the best way to get to the breweries?
The best way to get to the breweries depends on where you are located in Ottawa. Check Google Maps or a transportation app for directions.
---