We believe that Ottawa's dance studios have something to offer dancers of all skill levels, including those with two left feet!
In order to determine why these dance studios merit your time and attention, let's look at them today.
Along with the standard of their dance programs and lessons, we will also look at their costs and value for money.
How Much Do Dance Studios in Ottawa Cost?
Most studios provide both private lessons and small group lessons for those who don't want to take a class. The average hourly rate for private dance lessons is $60, but this can vary depending on a number of variables.
Depending on the style and level of instruction, Ottawa dance studios have different pricing structures. The talent fees of reputable and well-known teachers may also make a sizable financial contribution to the expenses.
If you decide to have the lessons held in your home studio, the instructor will probably charge you more to cover the cost of transportation.
Naturally, lesson lengths should also be considered. Some businesses bill on an hourly, half-hourly, weekly, monthly, or annual basis.
DANCE STUDIO CLASS
ESTIMATED COST
Private lesson with a customized plan
$45 – $85 an hour
Dance program (18-week term)
$265 per term (45 minute-class)
$290 per term (1-hour class)
Customized choreography for special events
$350 – $400 (five lessons)
$600 – $650 (ten lessons)
One-off lessons
$35 (30 minutes)$45 (45 minutes)
$60 (60 minutes)
The table above displays some national averages, but there are other elements to take into account, such as the curriculum of the studio (if it is offered) and the reputation of the dance instructors.
The good news is that packaged lessons are offered with significant discounts for repeat customers or those enrolling in regular terms or programs.
Best Dance Studios in Ottawa
Put on your dancing shoes and get ready to shake until you pass out. Let's now look more closely at what the best dance studios in Ottawa can do to assist you in finding your rhythm and groove.
Read the insightful FAQs that are provided at the end of this listicle.
KaliAndrews Dance Company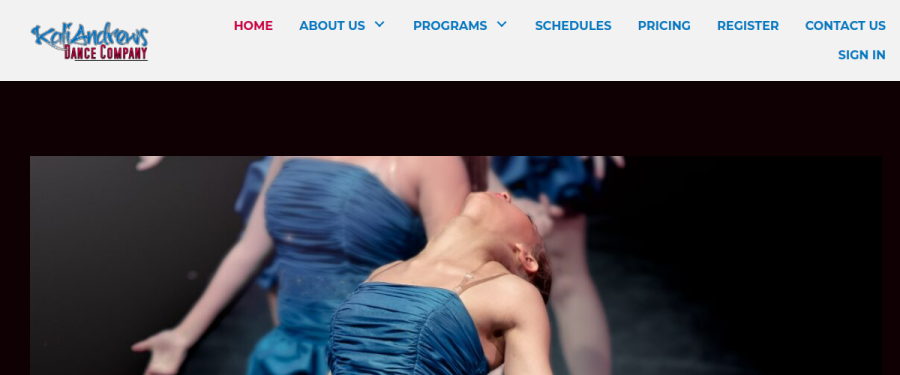 The KaliAndrews Dance Company was founded in 2009 in Ottawa's South East End. Kali Wegg and Lyndon Andrews dreamed of providing a memorable experience and a welcoming, family-like environment for all of KADC's families. While their primary focus was to provide enhanced, fundamental dance training in a professional capacity, they also discovered the importance of personally developing programs within the studio. Providing endless opportunities, training the dance teachers of tomorrow, and fostering the growth of each, individual dancer hold the utmost importance to Kali and Lyndon. They believe that they are truly blessed to have had the opportunity to work alongside so many amazing dancers, teachers, and choreographers.
KADC is a beautiful place that continues to thrive with each passing year. This is only the beginning, they are just getting started, and they hope to share the magic with you one day too!
Excellent training and performance opportunities

Diverse repertoire

Supportive and friendly community
Limited resources

Small company
Customer Reviews
Let's take a look at what their clients have to say:
"i give this studio a 100/10 it is an amazing space for loving dance and perusing it in the future. I have been here for 10 years and it is totally my second home. The people I have met are forever and the teachers are very supportive. I love this studio with all my heart and give anyone who wants to dance their name. This studio will always be a home to me and hopefully everyone who dances there. Again 10 years of awesomeness! Love it!" – Grace O'Neil
"I'm lucky to say that I have been with KaliAndrews Dance Company since the beginning. I started going here when it first opened in September of 2008 and I have been dancing on the competitive team ever since. I consider this studio my second home because, first of all, I'm there basically every day, and second, the people there have become a family to me. I don't think that there is any other dance school that could possibly provide their students with such comfort and joy as well as amazing teachers and classes that will allow students to thrive in numerous different styles of dance. KaliAndrews Dance Company provides wonderful technique classes and allows their students to continue to improve constantly. But in the end, KADC is all about the love for dance and that's what makes it absolutely amazing." – Ryleigh Anderson
Rouge Studio of Dance
The Rouge Studio of Dance is a dance studio in Ottawa, Canada. It offers classes in a variety of dance styles, including jazz, ballet, tap, and hip hop. The studio also offers classes for adults and for children as young as two years old. It has a highly qualified teaching staff and a supportive, welcoming community.
Excellent dance instruction from highly qualified professionals

A wide range of dance styles offered

Small studio with a family feel
Customer Reviews
Let's take a look at what their clients have to say:
"Amazing camaraderie! I am part of one of the burlesque troupes and as soon as I've arrived I felt welcomed and loved already. Even during the pandemic, you could feel the love and the support from the owner Randi and the girls from the troupe. It just feels like a second family. It also helped me to gain confidence and feel sexy in a way that I never felt before. I totally recommend this studio of dance to anyone! :)" – Sara Giguère-Constantineaui
"Rouge Studio of Dance is the best! Such a great atmosphere, a great team, and great fun learning to dance here. I recommend this studio to anyone looking to experience the joy of dance!" – Brnt Cookies
Forward Dance Academy
At FORWARD Dance Academy, we believe in providing our dancers with the best possible training and instruction. Our experienced and passionate instructors strive to help each student reach their full potential and develop their technique to the highest level. We offer specialized classes in jazz, ballet, tap, hip hop, contemporary dance, and acrobatics so that our dancers can gain a well-rounded dance education.
We believe in teaching our students the importance of teamwork and helping them build confidence in themselves. We focus on providing our dancers with the tools they need to achieve their dreams and become outstanding professionals in the dance industry. With our rigorous training program and supportive community, FORWARD Dance Academy is the perfect place for dancers of all levels to reach their full potential.
Experienced and qualified instructors

Small class sizes for more personal attention

Focused on classical ballet training
Customer Reviews
Let's take a look at what their clients have to say:
"Since becoming a part of the FWD family, my daughter has made some incredible friends, has become a more confident dancer, and most importantly, a more confident and happy teenage girl. Thanks Amanda & Rob for welcoming her into the FWD family! Howie" – Howard Aldwinckle
"Forward Dance Academy brings a breath of fresh air to the great Ottawa dance community. Amanda and Rob are seasoned dance educators and have had the opportunity to travel and experience how the best studios in North America train dance artists. They bring the best teachers to Ottawa and expose their students to amazing choreographs and experiences to grow them as dancers. If you are looking for a true multidisciplinary dance school rooted in great technique, FWD is the place to be." – Dave Giguere
Greta Leeming Studio of Dance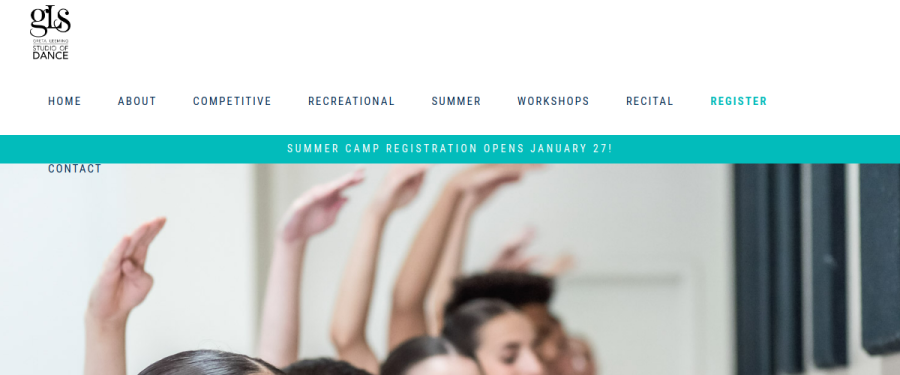 The studio was established in 1962 by Greta Robinson and quickly grew to 300 students. In 1973, the studio moved to its current location and expanded its offerings to include all forms of dance. In 2011, Tami-Lynn Caloia took over as director and expanded the studio even further. Today, the studio has 6 studio spaces, a recreational program for dancers ages 2 and up, 2 competitive dance streams, a large adult dance class offering, and multiple successful summer camps and intensives. Over 60 years of dance excellence have helped countless students reach their full potential. The teachers and choreographers at GLS are highly qualified professionals who strive to provide each student with quality training in a positive environment. If you're looking for an amazing dance experience, GLS is the place for you!
Well established company

Many years of experience

A variety of classes and programs offered

Excellent reviews online
Limited class times throughout the week
Customer Reviews
Let's take a look at what their clients have to say:
"Our family has been attending GLS for many years and enjoy the friendly, professional atmosphere and highly qualified dance teachers." – Daniel Pinault
"Been coming to the studio for years. They offer a wide variety of adult classes in a variety of skills and dance styles. A great atmosphere and amazing teachers! Feels like a giant family and very welcoming!" – Rob on Location
Art Motion Dance Studio
Art Motion Dance Studio is a dance studio in Ottawa, Canada. It offers classes in many different styles of dance, including ballet, tap, jazz, and hip-hop. The studio also offers classes for adults, as well as dance camps and birthday parties.
Art Motion Dance Studio offers a variety of dance classes for all ages and skill levels

The studio has a professional and welcoming environment

The instructors are highly skilled and experienced
There is limited parking available
Customer Reviews
Let's take a look at what their clients have to say:
"Signed up for online classes during the lockdown and everything about my experience so far has SURPASSED expectations. I'm taking the adult ballet class taught by Laura on Wednesdays and she is an amazingly talented, patient and dedicated teacher. Her passion for dance transcends through zoom and she challenges us from the comforts of our own homes while keeping it fun and entertaining with the best classical music playlist. This ballet class is the highlight of my week and Laura is a blessing. Thanks for cheering me up and keeping me fit during this pandemic Laura and Art Motion Studio! Looking forward to visiting the studio in person in the near future! :)" – Marie-Ève Chartrand
"Top instruction not only in ballroom, Latin, and standard, but in ballet, jazz, and salsa. Very professional always, with warm, supportive staff. Excellent precautions are taken during Covid, providing a safe environment to dance in for all ages! Highly recommended." – Debbie Harris-Tobin
FAQs About Dance Studios in Ottawa
Can I become a professional dancer quickly?
How it operates will be determined by that brief time frame (and how the term is actually defined). Professional dance studios offer structured terms or programs that start with basic instruction before moving on to more advanced dance styles and techniques.

If you want to dance competitively, it's best to enroll in a studio that offers audition preparation classes.

But keep in mind that these will require more commitment, focus, and self-control than regular dance classes.
Do I need to invest in pricey dancewear and shoes if I enroll in a class?
Except in situations where the dance program serves as a base for competitive or professional dancing, you won't actually need to invest in expensive costumes or dance equipment. It is recommended that you dress comfortably and loosely so that you can move and breathe easily.

Sharp-heeled and rubber-soled shoes are a strict no-no, while dance or jazz shoes are usually recommended.
What benefits can a young child receive from taking dance lessons?
A structured dance class can be extremely advantageous for a young child. They will pick up skills like graceful movement, flexibility, self-control, coordination, and rhythm as well as how to stay fit while having a good time.

It might also encourage friendly competition, teamwork, and a platform for creative expression.
---
The best dance studios in Ottawa can help you channel your inner Ginger Rogers no matter how much or little dance experience you have. Do you have any reliable suggestions for dance studios? Tell us about them, please!