Even though you adore your dog, there may be times when you need to go someplace where dogs aren't permitted. You'll require the top dog daycare facilities in Ottawa during those times.
We'll also look at some of the costs associated with using some of a dog daycare and boarding facility's services.
How much does dog daycare in Ottawa cost?
The estimated costs of well-known dog daycare services in Ottawa are shown in the following table. These projections came from a few of the businesses we're looking at today.
| | |
| --- | --- |
| DAYCARE SERVICE | ESTIMATED COST |
| Daycare (with structured activities) | $32 up per visit |
| Boarding (customized exercise, grooming, and care services) | $50 up per day |
| Grooming (haircut, trim, baths, pedicure, styling) | $40 per hour |
| Private training (2-hour in-home sessions) | $160 up (excluding travel fees) |
The majority of services are fairly inexpensive, but a lot will depend on the daycare you ultimately choose. When you're ready to check your dog out of the facility, their experience, amenities, staff qualifications, products, and other factors may determine the final bill.
Additionally, the costs will increase if you choose to use multiple services, such as a daycare and grooming session combined.
Fortunately, some of the dog daycares we're discussing today do provide bundle discounts and promotions to devoted customers.
Best Dog Daycare Centres in Ottawa
Now that you have a general idea of the costs associated with caring for them, it's time to see what the top dog daycare facilities in Ottawa can do for your cherished canine companion!
The Ruff House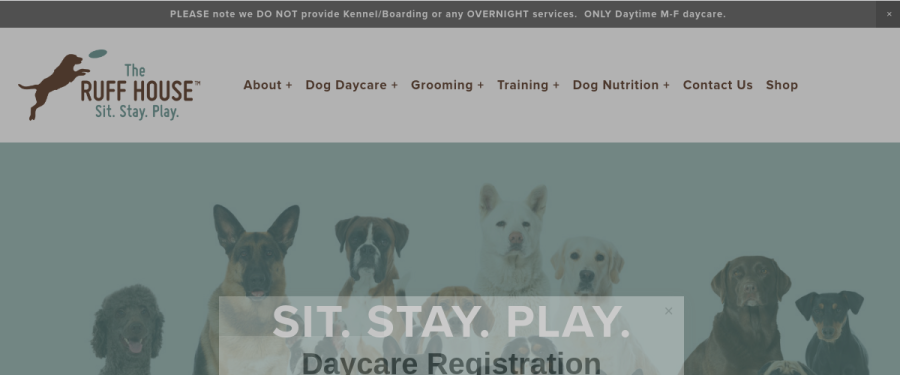 | | |
| --- | --- |
| Website | http://www.ruff-house.ca/ |
| Address | 800 Industrial Ave Unit 16, Ottawa, ON K1G 4B8, Canada |
| Phone | +1 613-260-7833 |
| Email | info@ruff-house.ca |
| Category | ['Dog day care center', 'Pet sitter'] |
The Ruff House provides various dog care services in Ottawa, including daycare, grooming, and training. The Ruff House is also a canine nutrition specialist, offering high-quality raw and dry dog food.
The Ruff House is dedicated to providing the best possible care for dogs and takes pride in being Ottawa's first choice for dog care services. The Ruff House has something to offer for all of your dog's needs, from socialization and training to health and nutrition.
inexpensive package services

daycare methods that use positive reinforcement

live dog cameras

Accredited by the BBB, A+ score
no boarding facilities overnight

No services for pick-up or delivery at homes

No appointments on the weekends or in the evenings

New temperament tests take two weeks to arrive
Customer Reviews
Let's take a look at what their clients have to say:
"Ruff House is incredible! They go above and beyond for the rescue that I fostered and adopted through (Bullies In Need). Their services are inclusive and effective, but most importantly SO MUCH FUN. Ruff House hosts events for our rescue, has given tons of food donations, raises money for surgeries, and generally is just incredible peeps. You and your pooch will benefit from knowing these kind awesome folks! Also, I've attached a photo of my foster fail Guy who also offers her personal endorsement C:" – Shea Karst
"Jon and his staff have helped us with our dog training on numerous occasions. His knowledge and dedication are top-notch. Our rescue was showing signs of aggression and dominance when chewing on toys and with Jons's knowledge and advice we very quickly corrected the behavior. Strongly recommend it to anyone looking for a 1 stop dog trainer/groomer." – Chris S
Happy Paws Dog Daycare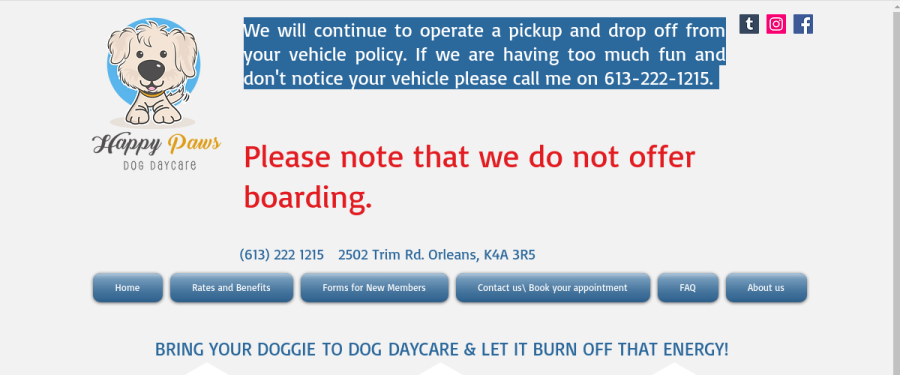 Happy Paws Dog Daycare provides a fun, safe, and relaxed environment for dogs to play and socialize all day long. Dogs are supervised at all times and have plenty of opportunities to run and play with their friends. Individual Quality Time (QT) is also provided, which includes belly rubs, back scratches, and other loving attention. Dogs who need a break from the action can take a nap in one of the comfortable areas provided. The staff at Happy Paws loves dogs and takes great care in providing a fun and fulfilling day for each one.
Great location

Very friendly staff

Clean facility
Customer Reviews
Let's take a look at what their clients have to say:
"Francois did a great job. Our 12-year-old Cairn, Widget was quite comfortable there. We know this because on her second day there she was ready to get out of the truck before we even stopped it. That's a good sign❤️👍She left with him without even looking back!!" – Christopher Ouellette
"We have a border collie puppy and Happy Paws has certainly helped with getting his energy out! He comes home exhausted and ready to sleep all evening and night. Also being first-time dog owners (we had some growing up, but this is our first pet each since not living with our parents) we were nervous about if he enjoys it, but they post lots of pictures of playtime on Facebook so we can get updates throughout the day and see how he's doing. It puts our mind at ease." – Tanya Scheidl
Dog Dayz Dog Care & Training Inc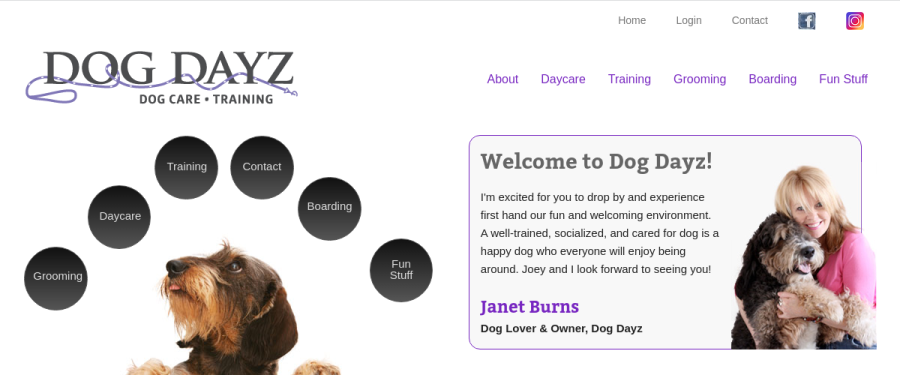 | | |
| --- | --- |
| Website | http://dogdayz.ca/ |
| Address | 95 Abbeyhill Dr, Kanata, ON K2M 1C9, Canada |
| Phone | +1 613-592-6264 |
| Email | info@dogdayz.ca or janet@dogdayz.ca |
| Category | Dog day care center |
Dog Dayz is doggy daycare, boarding, and training facility that strives to create a fun and stimulating environment for its canine guests. Here, dogs can learn how to behave properly at home and in public, as well as get groomed to look their best. The staff at Dog Dayz are dedicated to providing high-quality care for pets and strive to make sure each dog has a great experience at the facility.
complete spectrum of dog daycare services

Daycare at a reduced cost with a full groom appointment

Has a daycare referral program
Booking is not permitted for aggressive dogs

Only five days a week are designated for daycare

Lack of BBB certification
Customer Reviews
Let's take a look at what their clients have to say:
"Gabby has had only 2 days at Dog Dayz, as she goes once per week for now. She gets very excited as soon as we turn into the parking lot, and does not want to leave when we pick her up at the end of the day. She is a very energetic, young husky and the vetting of dogs that play well together is reassuring to us. By the time we get her home after pick-up, she is pooped and sprawls on the sofa. Thank you for taking great care of "The Gabs"!" – Christopher Edwards
"They are such an amazing facility! A hidden gem for sure. The owner so kind and always gives me a run down on how the day went at pick up. Just be sure to book ahead because spaces fill up quickly. So happy I was referred. If you are looking for a place for you pup to make new friends, and burn energy, this is the place for you! I have a small Chihuahua and they go out of their way to keep her safe while assuring her safe playtime. She always comes home happy." – Donna Petrie
Furry Friends Spa and Daycare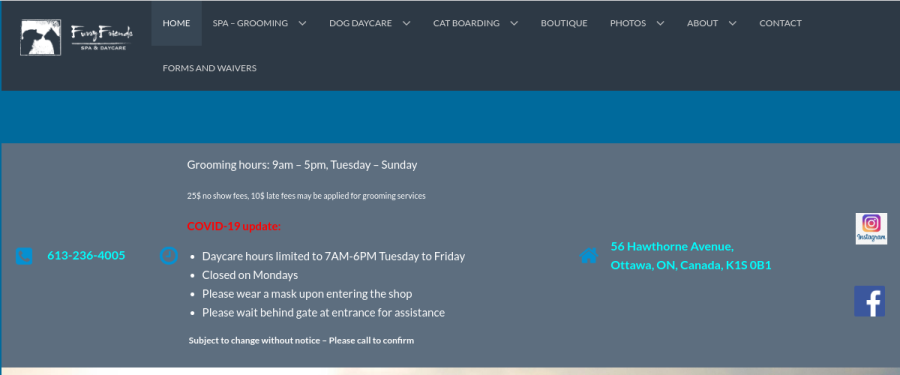 | | |
| --- | --- |
| Website | http://www.furryfriendsspa.ca/ |
| Address | 56 Hawthorne Ave, Ottawa, ON K1S 0B1, Canada |
| Phone | +1 613-236-4005 |
| Email | Info@furryfriendsspa.ca |
| Category | Dog day care center |
At Furry Friends Spa & Daycare, respect is very important. The groomers strive to respect the wishes of their clients, but the needs of the pets always come first. As clients, it is important to also respect the groomers and their work. Grooming is not just about giving pets pretty hair cuts; it is also about helping to maintain a happy, healthy relationship with them. Furry Friends Spa & Daycare believes in humanity over vanity.
Very affordable prices

Wide variety of services

Offer weekend Hours
Can be quite busy, leading to long wait times
Customer Reviews
Let's take a look at what their clients have to say:
"We have been bringing our golden doodle puppy to Furry Friends for her grooming since she was 3 months old and cannot recommend them enough. Their puppy groom package was the perfect way to get our pup comfortable with being groomed. She is always so excited to go to the shop and loves being around the staff, and they have always done a wonderful job caring for her. My partner and I always remark on how great she looks after her appointment. Chantal and her staff have always been so professional and accommodating. You can tell how much they love the animals they work with. Furry Friends is worth checking out." – Jessica Ross
"We've taken both our dogs (40 lb corgi-airedale cross and 15-lb chihuahua mix rescue) to Furry Friends multiple times and every time has been a great experience! We were a bit worried about our corgi-airedale as he's still a puppy and has been difficult at times, but Chantal has done a fantastic job each time and loves him! It's days later and my partner is still remarking over what a good job they did with his fur (you can't tell in the photo because his hair is a bit unruly and wild nature, but much thinner, trimmed his beard/paws/belly, hand-stripped, etc.). Go here!!" – Jessica Giang
The Canine Clubhouse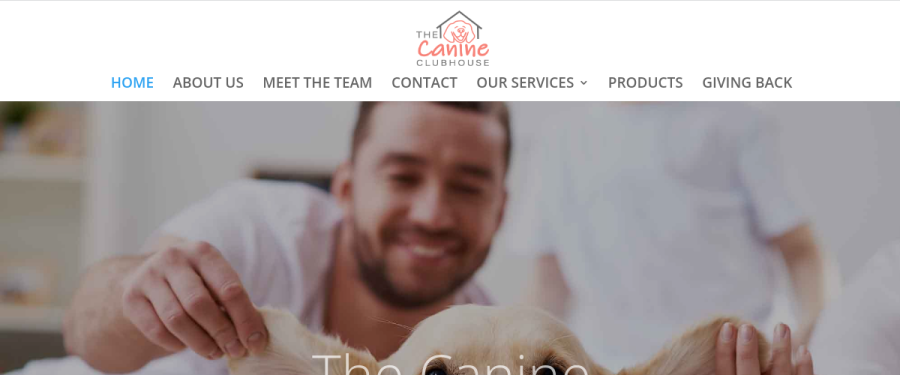 The Canine Clubhouse is doggy daycare, boarding, and training facility in the Ottawa area that uses positive reinforcement-based methods. Their mission is to provide a safe place for dogs to run, play, and learn, with their comfort as their number one priority. They have a small retail space that carries natural pet products, including local homemade treats. Their play area is equipped with rubber mats made of recycled tires that are perfect for reducing stress on the legs and paws of dogs. They use force-free techniques at their facility and only allow positive reinforcement methods.
The owner is a pet professional guild member

Recycled tires were used to make the play area

There is a behavioral evaluation for new dogs
Only two handlers and trainers make up the small team
Customer Reviews
Let's take a look at what their clients have to say:
"We've been going to Canine Clubhouse for a while now for both boarding and daycare and we love it! Our dog always comes home tired and happy. It's great to be able to see photos of the dogs on social media throughout the day too, it always looks like they're having a blast. I can't recommend Canine Clubhouse enough. Thanks, Caroline for all the work you do!" – Abbey Baier
"I recommend Caroline and her team to anyone looking for a home away from home for their pup. My Skye loses her mind (in a good way) when I mention "daycare" and comes home happy and tired. Caroline regularly provides feedback and is happy there to offer any advice. I feel worry-free leaving my pup in her safe hands and most of all, I feel confident knowing that the structured environment and positive reinforcement techniques she uses will teach my pup proper socialization. Ps. She also spends time doing fun mental enrichment activities with the pups like arts and crafts!" – Sahra Parsa
FAQs About Dog Daycare Services in Ottawa
Why does the daycare have to screen my dog before getting a slot?
Initial assessments, also known as temperament tests, are done for the safety of everyone involved, including your dog, the other dogs at the facility, and the staff. If everyone has a good time, your dog will no longer be fearful of visiting the center in the future but rather look forward to it.

The ideal daycare participant is a socialized dog who feels at ease around other dogs, but even initially timid dogs can gain from some training and boarding services.
What happens if my dog gets sick or injured while at daycare?
Close observation (via live cams) is always a fantastic accident prevention strategy. This is why it's crucial to carefully read reviews and frank client comments about particular dog daycare facilities in Ottawa.

Accidents that happen infrequently could be overlooked, but people with pets that frequently get ill or hurt should be avoided.

However, the majority of professionally trained dog caregivers are expected to be familiar with basic first aid for dogs and how to handle emergencies involving dogs. Additionally, reputable daycare facilities frequently collaborate with vets who are experienced in handling emergencies and other medical issues.
My dog is not fixed. Will dog daycares reject him/her?
It will depend on the particular daycare. Some people are rigid about only allowing fixed dogs.

There isn't a good reason to prevent a dog from signing up for daycare if it hasn't been neutered or spayed. However, most centers will demand owners to disclose this information before booking a slot to avoid accidents.
Female dogs at a dog daycare who go into heat must be kept apart from the other dogs. Naturally, this will probably result in an additional charge.

My dog isn't very active. Would he/she still enjoy daycare services?
Certainly! Toys, social interactions, and other stimuli will not all cause the same reactions in dogs in the same environment.

Your dog can, however, feel just as loved and cared for by trained staff as they do at home. For everyone involved, a screening interview and an observation period are crucial.
---
We hope that this listicle serves as a useful resource for you in your search for the top dog daycare facilities in Ottawa for your four-legged friend.
Have we forgotten to include a top dog daycare on this list? So that we can quickly review it, send us a message.