You'll need a lot of research in your back pocket if you want a fence installed in your home or business. You don't want to end up with a garish fence, or even worse, one that looks like it'll fall apart the moment a strong gust of wind blows.
Here are a few things you should know about this process, as well as a list of the best fencing services in the area!
But, before we get to our list, let's see what the average cost is for the various types of fencing you might be considering.
What Does Fencing Service in Ottawa Cost?
There are numerous types of fences and fencing services available. Here's a rough estimate of how much you'll pay depending on the type of fence and service you want:
| | |
| --- | --- |
| Service | Average cost |
| Chain Link Fencing | $20-$30 per foot |
| Wood Panels Fencing | $50-$100 per foot |
| PVC Fencing | $60-$90 per foot |
| Ornamental Iron | $50-$80 per foot |
5 Best Fencing Services in Ottawa
Choosing to add a fence to your lawn can be a pleasurable experience.
Although it may be tempting to do it yourself, hiring a professional to install your fence is far more rewarding in the long run. You'll be assured of a job well done, as well as a warranty in case the fence fails to perform as expected!
If you've decided to hire a professional, here's a list of the best fencing companies in Ottawa:
1. Fence Masters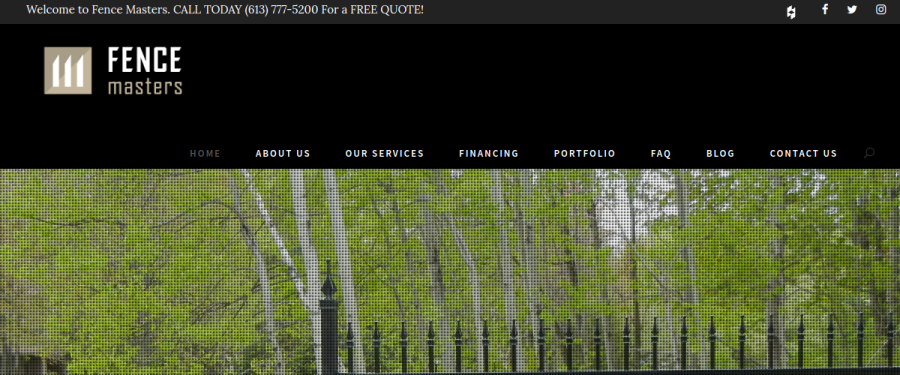 Fence Masters is a custom fence and deck installer. Upon submitting a quote request you will be contacted by one of their sales team members. Because every project is unique, there is a mandatory site visit before they can confirm a final project cost. Appointments are never made for specific times (i.e. 5 pm sharp). Site visits are scheduled between certain times, for example, an appointment will be made for the salesperson to arrive between the hours of 5 pm and 6 pm on a certain day. Prior to their arrival on the day of the site visit, their salesperson will contact you to confirm the scheduled appointment is still convenient for you.
Great customer service

Very knowledgeable staff

Prices are very competitive

Quick installation
Customer Reviews
Let's take a look at what their clients have to say:
"They do a great job. Smooth process. The sales guy was not the best experience for me as we moved down the road. Whenever I had a question for him after signing the contract he was not at all pleasant. Please make sure you finalize everything before signing as it can change but overall I'm completely satisfied with the work and would surely recommend them..!" – Aman sood
"From the first contact, I made with this company they were very responsive and professional. Their admin/reception, sales, scheduling & install personnel were prompt & courteous. While I had an idea of what I wanted, their sales rep helped guide me through the selections and the lead installation guy was very knowledgeable when I asked for adjustments while he was on-site. I have recommended this company." – Jo Hendrick
2. Clôture Ideal Fence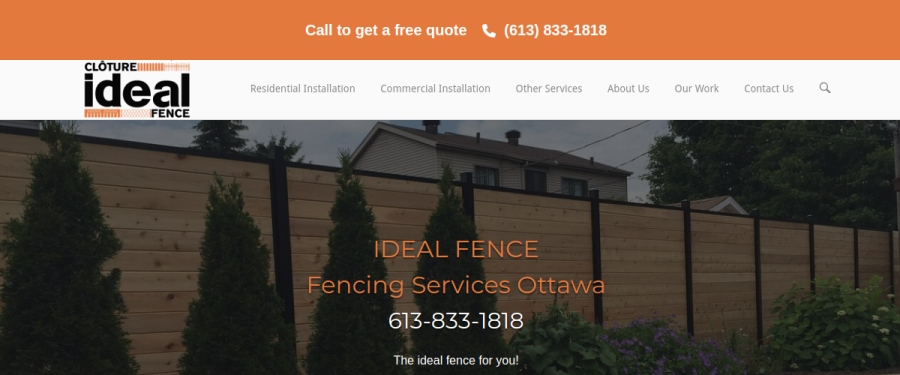 Ideal Fence is a Canadian-owned and operated business that has been proudly serving the Ottawa region for years. They offer a full suite of fencing services, including repairs, maintenance, and installations to enhance the privacy and aesthetics of your property. Whether you need a fence for your home, business, industrial space, or pool, Ideal Fence is the team you can depend on for swift, efficient, and professional service.
Great customer service

Very knowledgeable staff

Quality fencing products
Customer Reviews
Let's take a look at what their clients have to say:
"Great experience with this team. Easy quote, just had to send a picture of the layout and total measurements. Pricing was very reasonable compared to other quotes I received. They gave me an estimate of 5 weeks to get the fence done. They came and did it on week 3. Posts were one day and fencing was 2 days later. Very good work and minimal disturbances to my yard. Cleaned up well. The fence looks great, with solid posts and everything is nice and squared up to the house. Billing was simple and they have many options for payment. Overall fantastic experience!!!" – Scott Campbell
"Ideal fence installed an excellent aluminum + cedar fence for us. The look is exactly what we wanted. It's nice and sturdy with very attractive Western Red Cedar. It's only been a week and I've had several neighbors compliments on how beautiful the fence is. The sales guy (Randy) was friendly, knowledgeable, and accommodating." – Ben Bailey
3. Fencescape
FenceScape is a fence company based in Ottawa, Ontario that serves the entire region. They have extensive knowledge in all things fence-related and focus on customer service. FenceScape is also a Certified distributor of Bufftech PVC Fence and SIMTEK Fence products.
They offer a wide variety of top-quality fences, including PVC, SIMTEK, Western Red Cedar, Eastern White Cedar, Brown Pressure Treated Wood, Ornamental Iron, Aluminum, and Chain Link fences. They are knowledgeable about all city of Ottawa fence and pool regulations and work closely with their customers to deliver the best finished product.
Variety of options to choose from

Beautiful fences
Some complaints about the quality

Pricey
Customer Reviews
Let's take a look at what their clients have to say:
"Patrick from FenceScape was extremely responsible at fixing an issue that was caused by one of the members of the first work crew. He followed up with me to come up with a plan to fix this issue and personally saw to it that it would be fixed by coming back to fix it himself, and doing an excellent job. The fence is sturdy, and Patrick is to be recognized for his customer satisfaction skills—had he not personally taken it upon himself to fix the issue, we would have had a very different experience… So it is truly thanks to him that we had a positive outcome after all, and we are very appreciative of his hard work. Thank you, Patrick!" – Nora Wolfson
"We are extremely impressed with the quality of our PVC fence with Fencescape! The sales rep, Jordan, has been an absolute pleasure to deal with – very friendly, responsive, and professional. Their team did a fantastic job installing the fence quickly and left no mess behind. They do great quality work and were a pleasure to deal with!" – Jenna Richardson
4. Fence Repairs Ottawa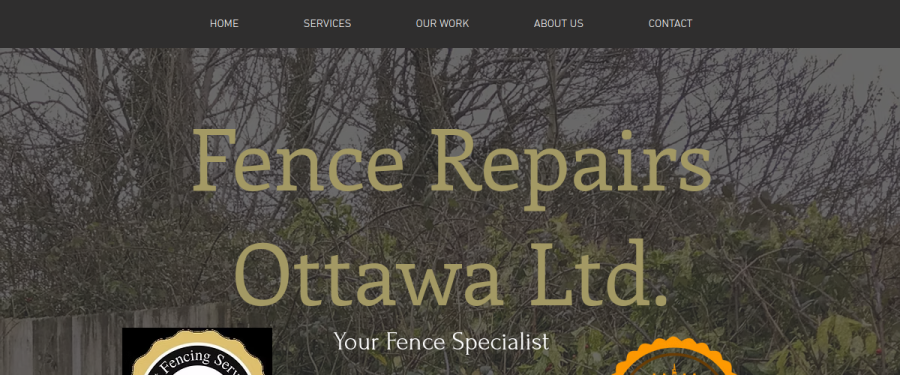 Fence Repairs Ottawa is a company that has over 22 years of experience in the industry of fence repairs. They have the expertise and knowledge to Evaluate the condition of your fence and propose cost-effective and efficient solutions to prolong its lifespan. Their goal is to provide fast and affordable fence repairs for your property.
Their pricing is competitive, reasonable, and fair for all parties concerned. They use top-notch materials and their work is guaranteed. Most of the time, a fence repair can make it last for many more years and save you thousands. In those cases where your fence is beyond repair, they will offer you pricing on a new build.
Local company

Experienced professionals

Affordable
Customer Reviews
Let's take a look at what their clients have to say:
"Frederic and his team removed a 100+ foot section of chain link fence from my property and also repaired the gate on an iron fence. The process to schedule the work went smoothly and Frederic was very responsive by phone and text. His quote for the work was very reasonable and he and his team did the job very professionally. His team also made sure that any debris was cleaned up once they were done; looking at the yard, you'd never know they were there. I'm very happy with the outcome and would highly recommend them." – Joseph Bokhaut
"We had 2 projects completed by Fence Repairs Ottawa. Frederic provided us with solid recommendations at a competitive price. Once the work was scheduled, it was completed as agreed to and ahead of schedule. His team performed the work effectively, and efficiently and were friendly, personable but always professional in their dealings. I would not hesitate to recommend this company." – Ron Nasrallah
5. Fence One
Fence One is a full-service custom fence company that services the Ottawa region. They specialize in constructing a wide variety of quality fences for both residential and commercial clients. They have a lot of experience repairing fences that have become damaged over the winter, and they also provide timely and quality service to customers who have an urgent need for a fence repair.
One of the things that set them apart from other Ottawa fence companies is the quality of their work. They take pride in their work and always aim to provide a positive customer experience. They construct fences from a variety of materials, including wood, PVC, iron, and chain link, so they can cater to the needs of any client.
Great customer service

Very affordable

2 year workmanship warranty 
Customer Reviews
Let's take a look at what their clients have to say:
"Amazing experience and even greater fence. Jeff and his crew are great and it was an absolute pleasure doing business with a company that has stand up integrity. I wouldn't look any further if you are looking for a fencing company." – Stephanie MacNeill
"Jeff Stirling and his team installed a white PVC fence for us yesterday-12/07/2017. We are extremely satisfied with their work. It has been done with great care and skill and the guys all worked very hard indeed. The price was very fair for the quality of the product and the effort that ensured we were satisfied. Jeff responded to our initial inquiry within 3 hours and they came when they said they would. Every tiny scrap of debris was removed leaving absolutely nothing for us to clear up. We recommend them unreservedly. C and J C Wood" – Catherine Wood
What Should You Know Before Hiring a Fencing Company?
Before you even consider having a fence installed, there are a few things to consider!
Do your Research
This article lists the best fencing companies in Ottawa, but don't let that stop you from looking for other individuals or companies to complete the job on your own; just make sure they're licensed and insured!
Obtain multiple quotes
Of course, you'll need to contact each of the people or businesses you've researched and request estimates so you can figure out which ones are the most affordable. Don't be afraid to ask for a free estimate; many of these businesses do so.
Read online reviews
This can be done through word of mouth or online reviews to see if the person or company can be trusted with such a significant addition to your home.
Don't be afraid to inquire
Ask the right questions ahead of time so you know exactly what you're up against. Learn about their work ethics, the materials they use, their installation processes, and more!
They'll be accustomed to customers asking questions because, well, it's the logical thing to do.
Look into their warranty
This is one of the most crucial questions to ask, so keep it in mind! You definitely want a provider who will not abandon you if you have any problems after the installation. Inquire about their warranty, including how long it lasts and how the process works.
FAQs About Fencing
---
How high can a fence be Ottawa?
Residential properties in Ottawa are allowed to have a one-meter front yard fence and a 2.13-meter fence in any other yard on their property. Non-residential properties can have fences that are up to 3 meters tall, measured from the base of the fence to the top.
Do I need a permit for a fence in Ottawa?
You do not need a building permit to build or replace your fence, but you must adhere to the Fence By-law 2003-462.
How do I select a contractor for my fencing needs?
This is debatable. When you choose a company, you will usually be assigned a contractor. If you choose an individual, keep in mind the advice in the preceding section.
How long does it take to install fences?
Typically, you and the company will collaborate to establish a timeline for this. If you want the job done right, be patient. The timeframe will include possible material shipments if they aren't currently in stock, fence crafting, and installation.

Obviously, the larger the area, the longer it will take to complete the task. The fencing's complexity and design should also be considered.
---
That brings us to the end of our list of Ottawa's best fence installation services! With our suggestions, you'll be able to find fencing for your space that is both attractive and functional.
Please let us know if you choose to work with any of the companies listed here; we'd love to hear from you!