Have you ever heard the saying, "Prevention is better than a cure"? This holds true for all types of businesses as well as for our health.
Businesses can annually save thousands of dollars by being proactive about online security threats and software/hardware maintenance. You must keep up with the rapidly changing state of technology.
However, we are aware of how challenging selecting a managed IT provider can be. So, just for you, we reviewed Ottawa's top IT services!
How Much Do IT Services in Ottawa Cost?
It's challenging to provide rough estimates because of the complexity and diversity of IT services. There are various pricing structures, including the following:
Monitoring Only – Monitoring-only models assist in keeping an eye on and warning you of any network breaches or issues.
You will be charged on a per-device, per-server, and per-managed network basis. Every enrolled device on your network will be charged a set fee.
Per-User – Per-user pricing is based on specific users, just like per-device pricing. Each user's hardware support is also included in the monthly fee.
Tiered is a term used to describe bundled packages. They are typically broken down into three levels, each of which offers a different service.
On-Demand: This business model is flexible. Before deciding on a plan or packaged service, it allows you to budget your IT costs and determine what services you will need from the previous year in the following.
In the a la carte model, you pay for each individual service. Another choice under this is to create your own unique, customized IT-managed services bundle package.
The price points differ between jurisdictions. Here, however, is a brief breakdown of typical price ranges.
| Service | Price |
| --- | --- |
| Per Device Range | 6–133 CAD per month |
| Per-User Range | 166–399 CAD per month |
| Flat-Based Range | Monthly, quarterly, or annual fees depending on needs |
On the other hand, some businesses base their rates on the position or area of expertise of their staff. There will be a fee associated with the need for additional workers to resolve the issue.
| No. of Employees | Price |
| --- | --- |
| One tech | $75 – $100 an hour plus travel time |
| IT Specialist | $200 an hour plus travel time |
| Two techs | $199 – $266 an hour plus travel time |
Best IT Services in Ottawa
To present you with the top businesses on this list, we combed through the enormous pool of available IT service providers in Ottawa. The following criterion served as the foundation for our search:
Certifications and Accreditation – The providers selected should adhere to the global security standard and be PCI and ISO certified.
Range of Services – We've selected service providers who can meet your business's various needs. They must offer a range of services that can accommodate all sizes of businesses.
You're going to grant access to one of these companies under the conditions of confidentiality, safety, and security. So, regardless of the size of your network, their security must be able to keep it safe.
Customer service – We think that 24/7 availability is essential for the best IT support for everyone. Their IT and customer support teams must be able to resolve issues quickly as well.
IT EXPERTS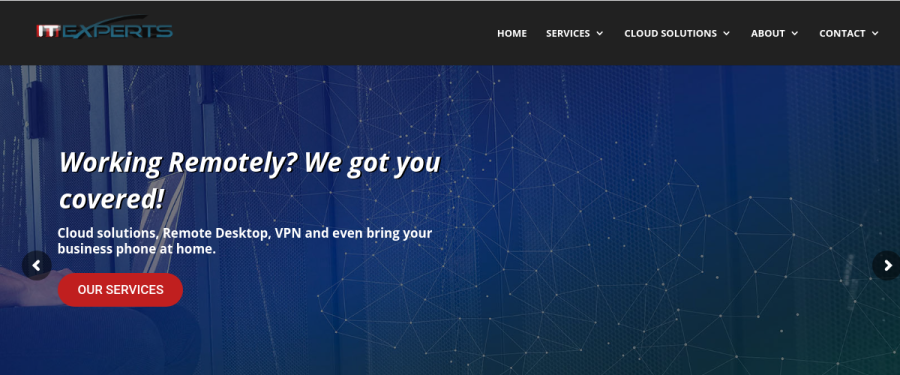 IT EXPERTS has been providing quality information technology services to customers since 2009. Their main objective is to provide business value through the use of technology in order to realize clients' visions. Their technicians are continuously updated and trained through various online courses in order to be able to intervene in all sorts of conditions and situations. This allows clients to benefit from the skills of certified technicians and experts.
Experienced team of professionals

A wide range of services offered

Affordable Rates

An established company since 2009
Customer Reviews
Let's take a look at what their clients have to say:
"IT EXPERTS is a great company to work with. They are always willing to help and are very knowledgeable in their field. I would definitely recommend them to anyone looking for IT services!" – Stephanie
"Great team and fast service!" – Kim Landry
NeoLore Networks Inc.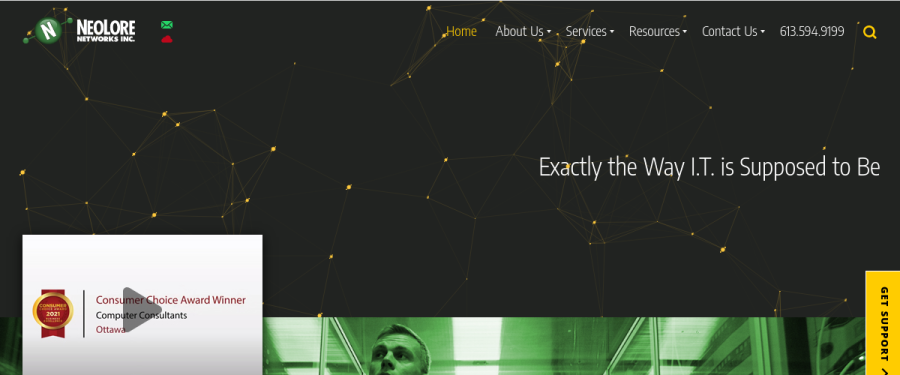 | | |
| --- | --- |
| Website | https://neolore.com/ |
| Address | 2781 Lancaster Rd, Ottawa, ON K1B 1A7, Canada |
| Phone | +1 613-594-9199 |
| Email | helpdesk@neolore.com |
| Category | ['Computer support and services, 'Computer consultant', 'Computer repair service', 'Computer security service'] |
Ottawa computer support is a locally owned and operated IT consulting business that strives to provide excellent service and support to all of its clients. The team at Ottawa computer support is dedicated to providing personal service while bringing reliable and smart service to businesses in the Ottawa area. They believe that their superior skills and knowledge make them a leader in the IT consulting field, and they are always available to help businesses with any IT issues, big or small.
An established company with a proven track record

Strong customer base

Varied services offerings

Good reputation in the industry
Customer Reviews
Let's take a look at what their clients have to say:
"NeoLore has been a pleasure to work with since bringing them on board in 2021. The things we appreciate most about their service are: 1) transparency, 2) detailed reporting, 3) fair pricing, and 4) breadth of expertise. Keep up the great work guys!" – Hobin Architecture
"Quick turnaround and efficient service. If the problem is bigger, they stay with it until is resolved. Some minor glitches at the beginning but quite happy so far." – Ivan Martinovic
CapitalTek Managed IT Services & Support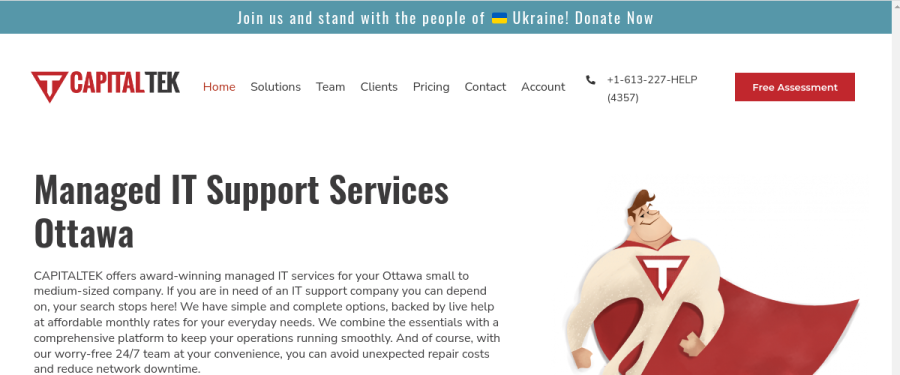 If you're looking for a reliable and affordable IT support company for your Ottawa small to medium-sized business, look no further than CAPITALTEK. We provide award-winning managed IT services that include comprehensive platform support and round-the-clock assistance from our team of experts. With our simple and affordable monthly rates, you can keep your operations running smoothly without worrying about unexpected repair costs or network downtime.
Expertise in IT Services and Support

Local company with a good reputation

Affordable pricing

5-Star Google Review⭐⭐⭐⭐⭐
Customer Reviews
Let's take a look at what their clients have to say:
"Kudos to Rominda Panganiban who stayed up all night monitoring my SharePoint account as data was being transferred. There were a few issues, and she kept on top of them to ensure I'd have access to my files the next day. Her dedication is very much appreciated." – Ronalee Carey
"Our experience with CapitalTek has been very positive so far. Sergey and this staff are very responsive, knowledgeable, and patient. They have set up systems that quickly allow our whole team to access the day-to-day IT support they need and have helped us navigate through some big projects such as transitioning file management systems." – Nature Canada
Demand ITS Inc.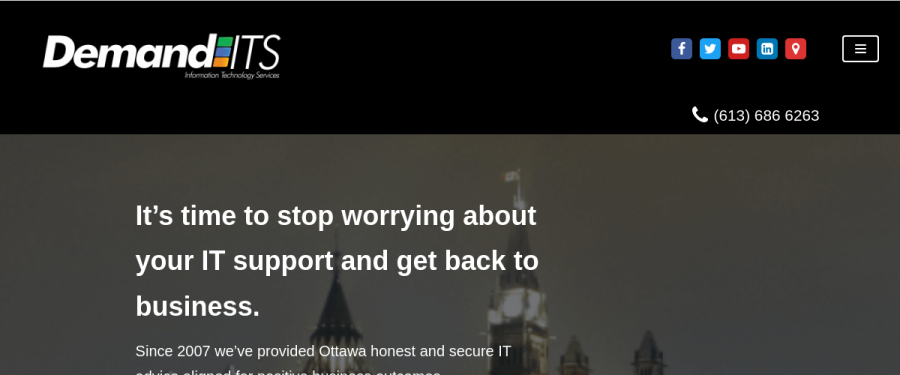 Demand ITS Inc. is a professional and cost-effective IT support solution for small and medium-sized businesses in the Ottawa/Gatineau region. They specialize in designing support partnerships that are both affordable and provide proactive IT management and support. Utilizing their unique framework for managing IT systems, Demand ITS provides a range of services designed to optimize your technology investment and maximize productivity. In addition to their many years of experience in the industry, Demand ITS also has a team of certified professionals who are always available to help you with any IT-related needs or problems you may have.
Demand ITS Inc is a rapidly growing company

They have a strong focus on customer service

They have a wide range of products and services

5-Star Google Review⭐⭐⭐⭐⭐
The company is relatively new
Customer Reviews
Let's take a look at what their clients have to say:
"I have been using Rob and his team at Demand ITS for over fifteen years to supply trusted and effective IT management for our company. They are the real deal. Highly trustworthy, very competent, and incredibly savvy in the world that they operate. I can't imagine running my practice without having them in 100 % support mode for me and my team. Highly recommend. Shawn – Ecivda Financial Planning Boutique" – Shawn Todd
"Robert and his team at Demand ITS are the best in the city. I've had them consult on two major infrastructure overhauls for small businesses, and could not be happier! Robert knows his stuff, and was able to give meaningful advice for our unique projects." – Andrew Kwai
DNSnetworks Corporation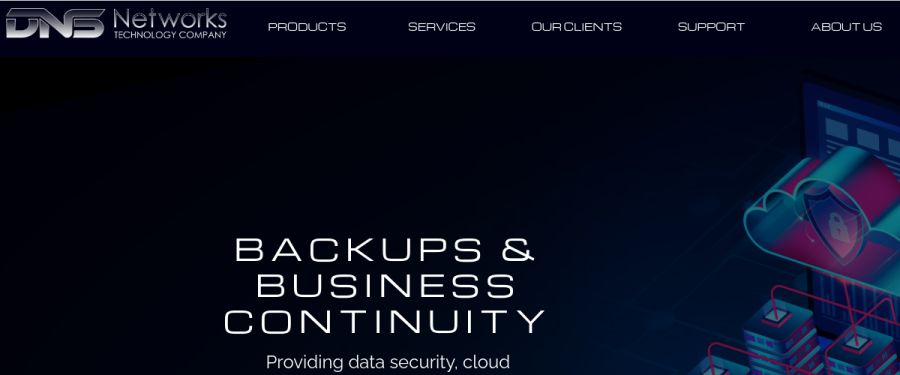 DNSnetworks is a company that believes in making progress through strategic innovation, conscious leadership, and continuous transparency within the management and their teams. They break down limitations that others fear as impossible and are valued by forward-thinking clients, employees, communities, investors, and the general public worldwide. Their culture is what sets them apart from other companies and allows them to continue thriving.
Great customer service

Very knowledgeable staff

Low prices
Sometimes slow response time
Customer Reviews
Let's take a look at what their clients have to say:
"As a realtor in a challenging market, my website presence is crucial to reaching clients and satisfying their needs. Along with superb site design support, and ongoing IT support whenever I needed, DNS has provided all of the assistance I have needed. Their staff always responds quickly and professionally. Their work has been a key factor in my ability to establish a presence and gain success in a highly competitive environment. I highly recommend them." – Melanie McTigue
"Our firms looked for a solid company to take care of our workstations and servers for multiple company locations, and we ended up choosing DNS Networks. We are very pleased with their service and support, especially with their expertise in this space. They even host other client companies for our software company on their cloud servers. They protect us from ransomware and provide secure data for our construction companies. They exceeded our exceptions and are highly recommended by our firms." – John Liptak
FAQs about IT Services
How do managed services in IT work?
Managed Services Providers (MSP) guard organizations' IT systems from online dangers. The most popular managed service in IT consists of after-hours security patching and updates and round-the-clock monitoring.
What are the costs of IT services?
There is no such thing as "standardized pricing" for managed IT services because many MSPs consciously make it difficult for customers to comprehend what they offer. Your best bet for locating the ideal MSP at the ideal cost is to look for one that provides all-in, fixed-fee pricing without additional fees.
How do IT services help businesses?
Peace of mind and lower overall costs are two major benefits of managed IT services. You'll also be able to access IT support whenever needed.
What are the differences between IT services and break/fix?
Through proactive 24/7 protection from cyberthreats, IT services. However, breaks and fixes are only included in IT services when your software or hardware fails.
---
There are many brilliant people and gifted people in Ottawa.