Do you have plumbing issues?
Don't worry, we've compiled a list of the best plumbers in Ottawa for you. You'll find out what they specialize in, how to contact them, and other information here.
We'll even answer some frequently asked questions about Ottawa plumbers. In any case, let's get started right away!
The Best Plumbers in Ottawa
1. Mr. Rooter Plumbing of Ottawa
Mr. Rooter is a well-known and trusted plumbing company that has been around since 1970. They offer a wide range of services, both residential and commercial, and they also provide emergency services. Some of their most popular services include drain cleaning, plumbing repairs, and sewer line repair. They are also known for their upfront flat-rate pricing, which means that you won't have any hidden charges when you use their service.
The company is licensed and insured

They have a team of experienced professionals

They offer a wide range of services

State-of-the-art equipment for inspections

Upfront flat-rate pricing with no hidden charges

No overtime charges on weekends and holidays
High-end pricing

Consultation not free

24/7 emergency service is on-call so availability may be inconsistent
Customer Reviews
Let's take a look at what their clients have to say:
"This is a very good business to deal with. I had a sewer backup on Boxing Day in a newly purchased home. I had no history in the property so I relied on Mr. Rooter to come through and save the holidays for my family. They were fast to respond, efficient, reasonably priced, and a pleasure to deal with. Mitch was a standout technician who went out of his way to help me problem solve the short, medium, and long-term issues that I might encounter in the home. This company definitely won me over and they are my new go-to plumbing contractor. Highly recommended!" – Nick Ford
"Our kitchen sink backed up and one of our sinks was leaking. We booked service, and on the day dispatch called us to try to reschedule. This was disappointing- but they recovered nicely and found us a technician -Paul. He was fantastic and very helpful at resolving the problem in the kitchen and set us up for success in the future with tips on how to maintain the pipes. Also, we have 3 dogs, and they are particular about people coming into our home and he was very good with them. Because of Paul, we will be using the service again." – Laura Whitworth
2. DS Plumbing
| | |
| --- | --- |
| Website | https://dsplumbing.ca/ |
| Address | 53 Dayton Crescent, Ottawa, ON K2H 7M8, Canada |
| Phone | +1 613-519-1594 |
| Category | Plumber |
DS Plumbing started in the spare bedroom and garage of Dave and Wendy Smythe's home. Dave worked by himself on small plumbing projects in customers' homes during the day, while Wendy answered the phone and scheduled jobs for days ahead back home. They both juggled small boys and work, and eventually, the company grew enougshowerheads a full-time office.
They are knowledgeable in all aspects of plumbing

They offer a wide range of services

They are always willing to help
Customer Reviews
Let's take a look at what their clients have to say:
"We were very happy with the service we received from DS Plumbing! We had a sewer line back up in our basement in November, and my husband called DS Plumbing. Brandon explained the pricing, and when he arrived he did the work quickly and professionally. Most importantly, he answered all our questions. We will definitely call them again if we need help in the future." – Jennifer Priest
"Very impressed with my experience with DS Plumbing. I dealt with Mary at the office who was very knowledgeable and was quite accommodating with my appointment time. Their website had great tips & information too. They had to cancel my original appointment but were able to come the next evening. Marc showed up early & had the job done in 1/2 hour! Very nice and experienced. They even donate $1.00 for every visit to a charity, in my case Ottawa Stray Cat Rescue. I now take comfort in knowing I have a plumbing company I can trust in the future if needed. Thank you." – Susan Wilson
3. The Irish Plumber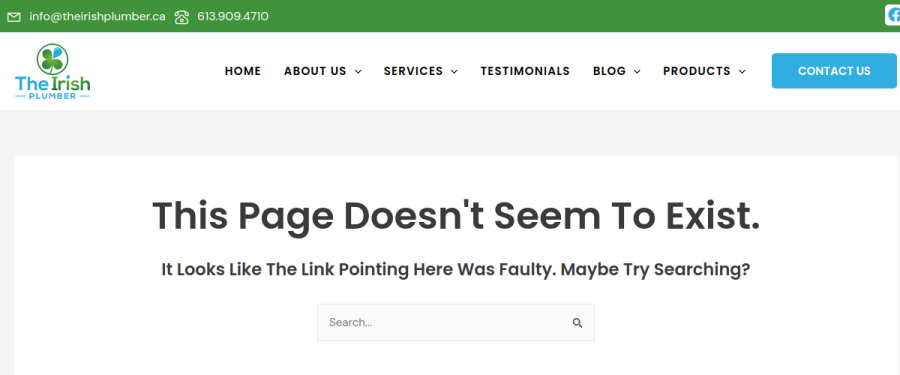 The Irish Plumber is a local, family-owned, and operated business that provides plumbing services to Ottawa and its surrounding areas. Owner Michael Harford has over 15 years of experience in the plumbing industry and holds a Red Seal accreditation. The Irish Plumber offers residential and commercial services and provides a two-year warranty on all work.
They have a team of experienced professionals who can handle any plumbing issue

Red-Seal accreditation and 15 years of experience

Warranty applies to all types of plumbing work

Wide range of commercial and residential services

Open 24 Hours
They don't always offer appointments during the day

Warranty is only for 2 years

High-end pricing for small repairs

Additional fees may apply for work done on weekends and holidays
Customer Reviews
Let's take a look at what their clients have to say:
"The Irish Plumber was referred to me by another company. He was on time, friendly, and got the job done! Thank you so much for unclogging my sink drain, and teaching me/letting me learn along the way. I would highly recommend using them for your plumbing needs. My only recommendation would be not charging the truck fee if the client decides to go ahead and use your services." – Tara Duarte
"The Irish Plumber was perfect – I had issues with my sewer line. Michael arrived on time, provided a quote in advance, and then worked the problem tirelessly all day. When he couldn't solve the sewer line problem he reached out to the city department for me and they came by that evening with the heavy-duty flushing system. I will definitely contact the Irish Plumber first for any plumbing job. HIGHLY recommended." – Natalie Mutch
4. John The Plumber
John the Plumber is a plumbing company that has been in business for 15 years. They offer 24/7 emergency service and have a membership program called Peace of Mind Plumbing Services. For $12.99 per month, members save up to 50% on repairs and installations, as well as annual maintenance inspections for free. In addition, members get an additional year in warranty, priority service, and other discounts and perks.
The best option for houses and other residential properties

Peace of Mind Plumbing Services include discounts and other perks

Open 24 hours a day
Not the best option for commercial installations and other large-scale projects

A service call fee of $40 is billed on top of the

High-end pricing for repairs
quote
Customer Reviews
Let's take a look at what their clients have to say:
"We are extremely pleased with our experience with John The Plumber. Geoff, Garrett, and Dawson were professional, friendly, courteous, and knowledgeable. They arrived at the beginning of the scheduled 3-hour window and completed the work in a quick and timely manner. Not only did they complete the work efficiently and thoroughly, but they also provided advice on how we can effectively maintain the drain ourselves. We would highly recommend this team from John The Plumber. Thank you." – Ricky Chan
"We have employed John The Plumber on three occasions. For all three calls (faucet installations x 2 and unclog drain), the technicians did a great job. They were on-time, organized, knowledgeable, and completed the jobs quickly with great quality workmanship. The prices are reasonable as we had professional technicians come to help us. Shout out to Geoff, Garrett, and Dawson for this latest job. The crew also comfortably managed to deal with our two chaotic but friendly pups, massive thanks! David and Krista" – David Warnke
5. Environmental Plumbing
Environmental Plumbing Repair Services offers a unique Bio-Clean liquid treatment service that solves clogged drains, garbage disposals, septic tanks, and sinks without damaging the planet. The Bio-Clean liquid treatment is a blend of natural bacteria and enzymes that treats waste made up of protein, grease, carbohydrates, and fibers. If you're trying to live a more sustainable life like a lot of folks in Ottawa, Ontario, and all over Canada, you should call Environmental Plumbing Repair Services for your plumbing needs.
Environmentally conscious option

Customers can purchase toilets, faucets, shower heads, and other products directly from them
Services limited to repairs, installations, and drain cleaning
Customer Reviews
Let's take a look at what their clients have to say:
"Dan was superb and solved my issue in 20 minutes. I had previously had another plumbing firm here, who initially showed up quickly but then took literally months to respond. They gave me incorrect advice and recommended a new faucet at about $1000.00. After multiple texts with no response, I went searching for a new plumbing firm. I contacted Environmental and Dan literally solved my issue in short order and the total cost was a service call. I would recommend Environmental to anyone and they will be my go-to firm whenever I need plumbing service." – Steve McDermott
"Very impressed with this Ottawa company. They were efficient, knowledgeable, and very professional. Prompt in answering any questions by phone by analyzing the problem, ordering parts, and immediate installation. I would recommend to anyone needing any plumbing work." – Jane McGann
FAQs about the Best Plumbers in Ottawa
How much do plumbers charge in Ottawa?
Average Ottawa plumber hourly rates can range between $90 and $120; however, we recommend getting a detailed quote rather than relying on average estimates.
Through technology and water management, plumbers and the plumbing industry assist us in optimizing our water usage. They work to ensure that there is always enough water available. They are also crucial in actions such as rainwater harvesting, desalination, wastewater treatment, and water reuse.
What is the most common plumbing problem?
Clogged drains and toilets, leaky faucets and pipes, water heater issues, low water pressure, and a running toilet are the most common plumbing issues. Each of these issues necessitates a unique solution, which we will discuss further below. You don't realize how much you rely on plumbing until something goes wrong.
Why do plumbers charge so much?
Plumbers are costly because it is a highly specialized trade that takes thousands of hours to master. Furthermore, they make house calls, which means they invest time and money in vehicles, tools, equipment, and gas to come to you. They also have insurance and other overhead costs.
What should I look for when choosing a plumber?
Consider only licensed plumbers, especially if your state requires it, as most do in the United States. Only consider plumbers who can provide proof of insurance. Inquire with the plumber about his or her experience in the plumbing industry. The greater the plumber's or company's experience, the better.
---
Thanks to the plumbers on this list, your plumbing problems can finally be resolved. Your troubles will be solved by the top plumbers in Ottawa, one leaking faucet at a time.