Have you been unemployed for a while or do you want to move on to a better job situation? Then perhaps it's time to pay a visit to one of Ottawa's best recruitment agency centers, which we've listed below.
These types of recruitment agencies can help you find work that matches your experience, skills, personality, and needs. But how much does it really cost to hire a professional to help you with your job search?
Before we get to our list of top recruitment agencies, let's address that!
Is it Expensive to Hire a Recruitment Agency in Ottawa?
A recruitment agency's fees are determined by a variety of factors. The location, the types of clients and industry, the pay rate per worker, and the markup to cover the employee's taxes, compensation, and insurance fees are just a few examples.
You'll also need to think about the type of position you want. The rates vary depending on whether the position is temporary or permanent, but the average recruiter charges between $50 and $150 for placements.
For consultations, some recruitment agencies charge an hourly rate, while others charge fixed rates for projects. You may be required to pay a percentage of your salary to your agent for the first year you are employed if you successfully obtain a job through the agency.
Here's a table of some recruitment services to give you a general idea. The average rates are based on the country's current recruitment agency costs and matrices.
RECRUITMENT SERVICE
AVERAGE RATE
Consultation (hourly rate)
$75 to $125
Salary percentage
20% average for the first year
15% to 50% markup for less competitive jobs
40% to 60% markup for more competitive jobs
Temporary placement
$30 to $45
Temporary to permanent placement

Annual base salary plus 5%
Permanent placement
Annual base salary plus 10% to 20%
The above percentages and rates may change as circumstances and employment conditions change. Before signing a contract, it's best to seek clarification from the recruitment agency of your choice.
5 Best Recruitment Agencies in Ottawa
It's now time to figure out where you can find work in the industry of your choice. Let's see which of these is the best Ottawa recruitment agency for you.
1. LRO Staffing
LRO Staffing is a full-service search and staffing agency that specializes in the recruitment and placement of permanent, contract, and temporary positions. They have a 94% retention rate and are known among industry professionals as one of the best places to work. They are committed to placing the right people in the right positions and have assembled a team of tenured professionals with the tools necessary to succeed. Their extensive network and strong relationships give them access to many jobs not advertised. They offer tailored solutions to meet their clients' exact needs.
Well known company

Good customer service

Processes are well organized
Customer Reviews
Let's take a look at what their clients have to say:
"I had a great experience with LRO Staffing. A few days after submitting my application, I was assessed, on-boarded, and placed. The response rate was world-class! I was amazed at the speed my profile changed within days. At the end of my first contract, Andrew McDougall worked hard to ensure that I had interviews lined up. Next, I secured another contract. Throughout the period I worked at the company, Andrew followed up with me and ensured I had an impressive work experience. Finally, with LRO support, I got a permanent job. LRO recruiters can identify your talents and potential; they will guide you through the interview process and help you land your dream job. I highly recommend LRO Staffing and Andrew McDougall in particular." – Nkiru Udechukwu
"I had a wonderful experience working with both Lee-Anne and Natasha O'Cal during my search for long-term employment. They found me a bunch of great opportunities, but really took the time to work with me to find the right one, which I really appreciated. Stellar service and communication. I highly recommend LRO, and both Lee-Anne and Natasha." – Emily Tanaka
2. Adecco
The Adecco Group is a multinational human resource consulting firm, with its head office in Zurich, Switzerland. The company operates in more than 60 countries and employs around 32,000 people. Adecco Canada has branches in most major Canadian cities, including Ottawa.
Adecco is one of the largest recruitment agencies in Ottawa and provides staffing solutions for a wide range of businesses and industries. They offer temporary, contract-based, and permanent placement services, as well as HR consulting and training. Adecco's Ottawa office recruits for a wide range of positions, including administrative support, accounting and finance, engineering, IT, manufacturing, sales and marketing, and many more.
Has a lot of experience

Very knowledgeable about the industry

Can provide good advice and support
May be a little too pushy at times

Pricey
Customer Reviews
Let's take a look at what their clients have to say:
"I have had a great experience working with Adecco and my Adecco representative Yicela. They have provided me with a great work opportunity and Yicela has provided great support with any questions or concerns that I have had. I highly recommend Adecco and Yicela, and I appreciate their support in helping me with the growth of my career." – Jackson Driver
"Great experience working with Adecco Ottawa Office specifically Kateryna Kononenko. She's been very responsive in a timely manner, provided lots of details about the job, and made the whole hiring process really easy and fast for me!" – Sasha Bohopolska
3. Robert Half
Robert Half is a recruitment agency with offices in Ottawa, Canada. They provide temporary and permanent staffing solutions for businesses in a variety of industries. Robert Half has been in business since 1948, and they have a reputation for providing quality staffing services. They work with businesses of all sizes, from small businesses to Fortune 500 companies.
Friendly and knowledgeable staff

Quick to find the right candidate for the job

A variety of services offered
Customer Reviews
Let's take a look at what their clients have to say:
"Professional, excellent, and friendly. Got my first placement via Robert Half two weeks after I came into the country. 3 months after the company retains me permanently, all thanks to Robert Half…special mention to Andrea. Currently enjoying my permanent deal and recommend Robert Half to friends and family." – Terence Mekwi
"It was a pleasure working with Siham. She was extremely kind and positive. I felt like she was truly working hard to help me. Great communication skills which made the process enjoyable and provided me with confidence in interviews. I have recommended her to friends and family! Thank you so much Siham" – Asha Theodore
4. Aerotek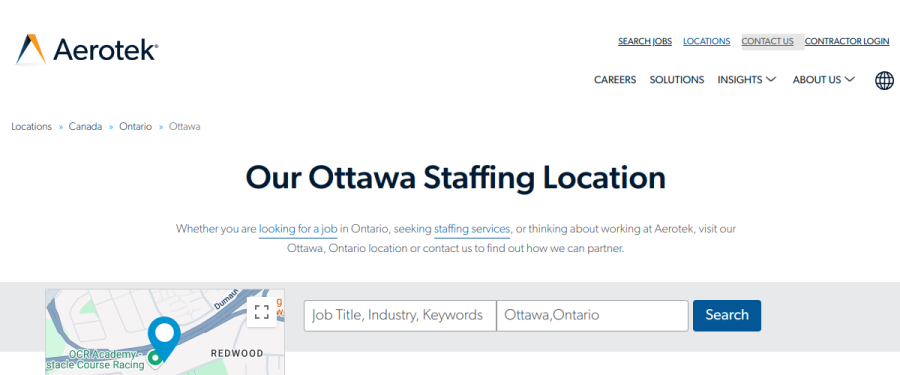 Aerotek has been a leading provider of workforce solutions for over 35 years. During that time, they have learned a great deal about what it takes to create a successful workforce. They focus on finding workers with both the capability and character to excel in their field. This commitment to their employees helps ensure that everyone who works with Aerotek is able to find meaningful work and contribute to their company's success. Whether you are an employee looking for work that makes a difference or an employer looking for workers who deliver, Aerotek is the right choice.
.
Good pay and benefits

Flexible hours

Opportunity for advancement
Can be difficult to find a job in certain areas of the country

May not have the same benefits as other companies
Customer Reviews
Let's take a look at what their clients have to say:
"My experience has been wonderful. Barmare, Firdous, is my contact with Aerotek and has been amazing. I cannot say enough good things about her, she is an amazing asset, in regards to obviously getting me a contract, but also her understanding, easy to speak with, and following up with me and making sure things are going well. I cannot say enough. 5 Stars!" – Ana Gauthier
"This agency is amazing. They helped me find a good job, and meet good people there. My last agency always sent me places that wouldn't pay me enough money for the work I did. This agency listened to my needs and really helped me. I highly recommend them" – Emmanuel Imeri
5. MaxSys Staffing & Consulting
MaxSys is a professional staffing and solutions firm that offers the best innovative and creative professional service needs. MaxSys traces its origins back to 1993 and has been providing quality contract and temporary help services to the private and public sectors since then. Of the 14,000 job placements they do every year, over 1000 are members of the military community – veterans, extended family, and active reservists.
Highly experienced staff with a wide range of expertise

A wide range of services offered

Excellent customer service
Customer Reviews
Let's take a look at what their clients have to say:
"Really enjoyed my experience with Maxsys. I was laid off when my contract ended and the recruiter helped me find a job within a week, I was so surprised!! Highly recommend" – Amanda Jones
"Quick and studious service. Placements are fast and efficient. The woman at the front desk was very helpful and professional." – Robert Hilton
FAQs About Recruitment Agency Services in Ottawa
What is the recruitment process like for a staffing agency?
It usually follows a cycle that starts with understanding and researching job openings and their requirements. It is followed by job postings to encourage candidates to apply, followed by resume screenings and interviews.

Candidates will be offered the job if they meet all of the requirements for the job as well as the agency's clients. They will then go through the onboarding process as new employees.
Can a recruitment agency in Ottawa employ an online system?
Given current events and circumstances, this is not only a viable option but also a practical one.

There is technology available to post job openings, screen, and track applicants, and conduct video interviews. There's no reason why everything can't be done online.
If I pass the recruitment process, does it immediately mean I'm hired?
Certainly not. The recruitment process is not the same as the selection process.

If you meet all of the employer and staffing agency's requirements, you're a candidate. However, if you're one of many applicants, there will still be a selection process to determine who is hired.
Why do new companies rely on recruitment agencies for staffing needs?
Many staffing firms use cutting-edge tools and systems to find qualified candidates for open positions. Apart from that, they have systems in place to track which candidates have had long-term success in previous or current placements.

All of these tools and systems will benefit a new business because they eliminate the guesswork involved in determining which candidates are a good fit for the company's goals and requirements. It also reduces the number of bad hires significantly.
---
Reading about the best recruitment agency centers in Ottawa should entice you to start looking for that perfect job.
If you have a different recruitment agency in mind, please let us know so we can look into it.