If you're in the market for a new printer, or just want to learn more about the different types of printers available on the market, then you've come to the right place. In this post, we'll take a look at screen printers in Ottawa. We'll also provide some tips on how to choose the right printer for your needs. So whether you're a business owner looking for a new printing solution, or just curious about what's out there, read on!
Tips on how to choose the right screen printer for your needs
When choosing a screen printer, it is important to consider your business's needs. Some factors to consider include the number of prints you need, the size of your prints, and the type of material you need to be printed.
If you need a large number of prints, it is important to choose a printer that has a high production capacity. If you need smaller prints, a desktop printer may be more appropriate. If you need to print on a variety of materials, such as plastic or metal, choose a printer that can handle multiple types of substrates.
Best Screen Printers in Ottawa
ASAPpm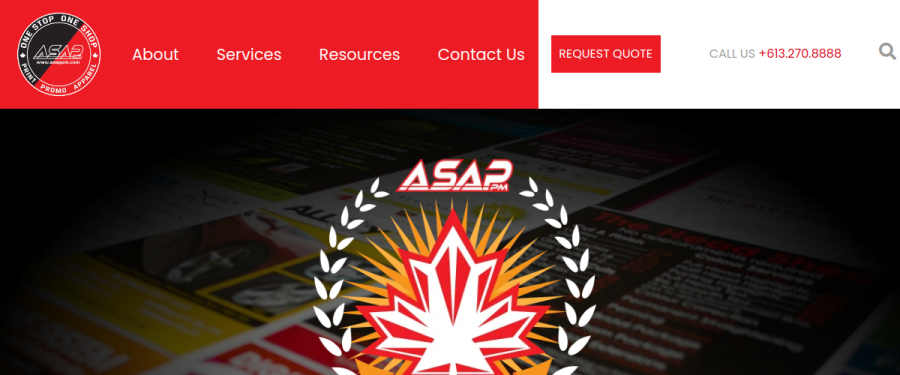 ASAPpm is a one-stop shop that has been servicing the Ottawa area for over 20 years. They offer in-house digital and offset printing and finishing, screen printing, embroidery, promotional products, custom CD's/DVD's/USB, trade show displays, banners, video production, live streaming, and indoor and outdoor signs. They have graphic and web designers on-site and a full team of marketing partners for Google Adwords, SEO, web design, and video production. This allows them to take clients from concept to completion on time and on budget.
Quality printing

Fast turnaround times

A variety of services offered
Customer Reviews
Let's take a look at what their clients have to say:
"An overall excellent Client Service experience. Professional, knowledgeable, and friendly Sales Staff (Jerri). Competent, qualified, and professional Graphic Designer (Dave). Superior paper stock and color. Timely production and a price that surpasses typical box store rates. The industry awards that ASAPpm has achieved over the past several years are truly warranted." – Erich Hasler
"I had masks made by ASAP and was very impressed! The service was fast and very professional. The price was amazing and I got many compliments on the printing. I would definitely not hesitate to recommend them for any of your printing needs." – Jennifer Vergette
Red Diamond Screenprinting Inc
Red Diamond Screenprinting is a screenprinting company that offers high-quality printing services for businesses and organizations. They have a wide range of products and services to choose from, and their team of experts is dedicated to helping their clients find the perfect solution for their needs. Whether you need business cards, banners, or t-shirts printed, Red Diamond Screenprinting can help.
High-quality prints

Fast turnaround
Customer Reviews
Let's take a look at what their clients have to say:
"If you're in need of screen printing look no further, Red Diamond is it. We have used multiple companies in Ottawa and are very thankful we found Red Diamond. They offer fast turnaround, fair pricing, and high-quality work. The team at Comfort Hub highly recommends this company without hesitation!" – Jeremy Lachaine
"Highly recommend this place! These guys are awesome! The logo I provided needed a little bit of work and they were able to fix it. I also changed my order and they were still able to finish within the short deadline I proposed. Great service and great prices!" – Nick LeClair
Carlos Graphics
Carlos Graphics is a professional print service provider that has been in business for over 10 years. They offer high-quality printing services for businesses in the Ottawa and Gatineau area. Their equipment and software are up-to-date and meet industry standards, which allows them to produce high-quality prints quickly and efficiently. Carlos Graphics is committed to providing excellent customer service and guarantees that you will be satisfied with the final product.
Quality work

Affordable prices

Fast turnaround times
Customer Reviews
Let's take a look at what their clients have to say:
"Carlos and his team have printed out several art pieces for me. They have done a fantastic job and check with me if unsure before going ahead. All my finished pieces have been on top-quality paper (recommended by Carlos depending on the piece) and to perfect dimension. Next day (or even same day service) and very reasonable prices. Always delivered with a smile and expert advice. I can't recommend Carlos Graphics more highly if you need a special job." – Linda
"Carlos is a very reasonable guy. He is very flexible and understanding. The quality of the print was fantastic and I cannot wait to continue my business with him." – Marcus Aaron
Custom Apparel Shop Ottawa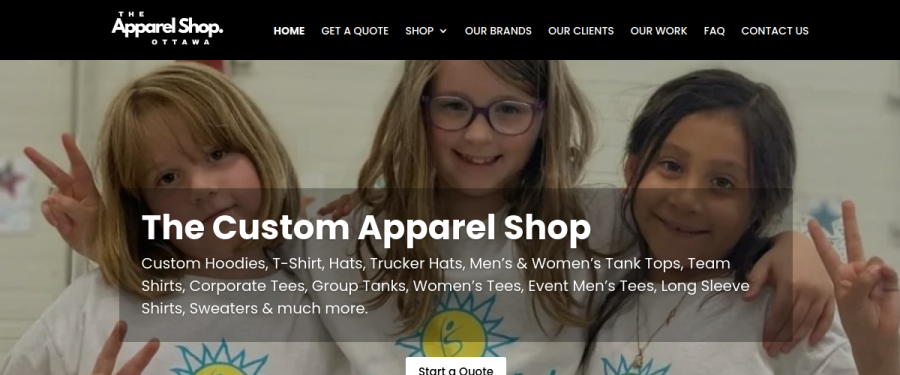 Ottawa-based screen printing specialists take your design ideas and turn them into custom-printed T-shirts, perfect for your next project. With over 25 years of experience in the industry, the team at this company produces high-quality shirts that are sure to impress. Specializing in both screen printing and embroidery, they can create a unique look for your brand that will make you stand out from the competition. Whether you're located in Ottawa or Gatineau, they serve the entire region with quality work and excellent customer service.
Personalized service

Unique designs
Limited selection

High prices
Customer Reviews
Let's take a look at what their clients have to say:
"I used The Apparel Shop to dress all my Staff for my business and was amazed the service, Quality and the pricing I received." – Sarah Blackburn
"The apparel shop is our go-to for any apparel requirement. Both for our company and our clients. Always a joy to work with." – Robin Sauve
Apace Screen Printing & Enterprises Ltd
Apace Screen Printing & Enterprises Ltd is a leading printing and promotional products company in Ottawa, Canada. Established in 2001, the company provides high-quality screen printing and promotional products to businesses and organizations throughout the region. Apace Screen Printing & Enterprises Ltd is committed to providing exceptional customer service and quality products and has a long history of satisfied customers.
Local company

Good customer service

Variety of products
Customer Reviews
Let's take a look at what their clients have to say:
"Fantastic people at Apace. I've dealt with Apace for over 15 years, and I've always received friendly and personal service. They're one of my very top picks for service in town. I went to them in high school (they were the only company I knew who did silk screening – I had seen their name somewhere as a kid) and I had our band t-shirts printed through Apace. They did a great job, from sending someone out to the school to discuss what colors would work, to completing the shirts in a very short time (we were late getting to them… but they certainly pulled through). Five years ago, another not-for-profit group I'm with got shirts and we received a similar service – and the shirts are still in use today. Choose Apace – I will again!" – Graham Lindsey
"Great staff. They had my artwork from 6 yrs ago." – Stanley Morrow
FAQs about Screen Printers in Ottawa
What are the benefits of screen printing?
Some benefits of screen printing are that it is versatile, durable, and affordable. It can be used on a variety of materials, such as plastic, paper, metal, and fabric. It also has a longer lifespan than other methods of printing.

What types of images can be printed with screen printing?
Screen printing is great for prints with lots of color and detail. It can be used to print photos, graphics, logos, and text.

How long does it take to print an image with screen printing?
Generally speaking, it takes about the same amount of time to print an image with screen printing as it does with other forms of digital Printing. However, the time may vary depending on the complexity and size of the image being printed.

---
That's All! If we missed any good Screen Printing in this review, please let us know and we'll make it right.