Are you planning a large-scale public festival or another special event? It's likely that you'll require the assistance of the top security firms in Ottawa to make it secure and crime-free.
Fortunately, various services are available to meet the needs of individual or group clients for everything from basic to specialized security.
We'll first go over the fees and rates for each service so you can get an idea of how much it costs.
What Do Security Companies in Ottawa Charge?
Every security company will have a different pricing structure, but we can base our projections on current national averages. For your reference, the table below shows these hourly rates.
There are varying levels of security services, which could indicate whether or not there are any guns or handguns present (plus specialized training). Most security firms in Ottawa require that you sign an annual contract with them to use their services.
Additionally, you have the option of choosing immediate emergency security services. Due to its nature, it has a slightly higher hourly rate than usual (averaging $40).
While high-skilled services like private investigations require a retainer plus additional costs, the majority of security services demand an annual contract. A seven-day notice is typically needed for close protection security and special events to ensure everything runs smoothly.
SECURITY SERVICE
ESTIMATED COST
Basic security guard service
$23 per hour (with annual contract)
Advanced security guard service
$27 per hour (with annual contract)
Concierge security service
$24 per hour (with annual contract)
Special event security service
$29 per hour (with at least 7-day notice)
Close protection service
$70 per hour (with at least 7-day notice)
Emergency security guard service
$40 per hour (on less than 24-hour notice)
Private investigation service
$90 per hour (with retainer; exclusive of expenses)
Senior investigator $150 per hour (with retainer; exclusive of expenses)
High-risk location tactical guard service
$50 per hour (with annual contract)
Please be aware that in addition to the unique pricing plans from each company, additional elements such as the volume of attendees, the nature of the event, risky locations, and other circumstances may have an impact on the final bill.
Best Security Companies in Ottawa
Let's now take a closer look at the top security firms in Ottawa using your knowledge of security service costs as a guide.
Cancom Security Training Academy
The CANCOM Security Training Academy is dedicated to providing top-quality security services to its clients. In order to ensure that their clients are well protected, the academy provides an excellent security training course that exceeds the ministry standards. The academy's trainers are all experienced professionals who have a wealth of knowledge and experience in all types of security situations. This ensures that students are properly prepared for their first day on the job. Whether someone is looking to enter the security field as a guard or as a professional investigator, the CANCOM Security Training Academy provides the necessary training and education to be successful.
Trained security professionals

Wide range of courses

Flexible schedule
Limited locations

Tuition can be expensive
Customer Reviews
Let's take a look at what their clients have to say:
"Great service and highly professional. Always feel safe with them." – Mathew Wells
"Someone called me back right the next day after I request the quote" – Abed Khan
Iron Horse Security and Investigations
Iron Horse Security is a company that was founded in 1994 with the goal of providing clients with the highest quality security services available. Over the years, the company has grown to become one of the largest security providers in Canada, with over 1400 employees. This growth can be attributed to the quality and dedication of Iron Horse's employees, who are the key to the company's success.
Iron Horse Security is committed to its people and believes that they are essential to delivering premium value to clients. The company's philosophy is based on the idea that good people make a difference, which is evident in everything Iron Horse does. From its offices in Toronto, Ottawa, and Gatineau, Iron Horse provides security services that are tailored to meet the needs of each client.
Confidentiality and discretion assured

Services tailored to client's specific needs

Highly qualified professionals
Customer Reviews
Let's take a look at what their clients have to say:
"Iron Horse Security is the gold standard for security services in both Ontario, Quebec and beyond. They provide exemplary client service, which is in their DNA and is a focal point of their success in the industry. Their team always aims to go above and beyond for their clients and the guards they hire are screened thoroughly so that they are able to tailor their experience to the site they will be working at. I am very impressed with Iron Horse Security and would recommend them to anyone looking for reliable, professional security services." – Adam Smiley
"We have hired Iron Horse Security and Investigations for several years for our TV productions. They consistently provide high-quality, professional guards, meeting our needs with competent security support. I would highly recommend working with this team: They listen to your needs, take care of your needs and provide reliable security no matter the situation. I have truly enjoyed working with them and highly recommend" – Bengula Keith Jacob
RedFlag Security- Alarm, CCTV, and Access Control
RedFlag Security is one of Ottawa's top security companies, providing alarm monitoring and systems in the Ottawa area and surroundings, as well as Home Automation, CCTV Surveillance Systems, Structured Wiring (Cable TV, Telephone, Internet, Audio), and Access Control. RedFlag Security offers a wide range of security for the Ottawa area, such as access control systems that are easy to operate, such as Kantech, Keyscan, and CDVI systems. The door access control system can incorporate a wide selection of access control devices. CCTV surveillance is now considered crucial in both crime prevention and detection. The applications of CCTV surveillance systems are increasingly incorporated into home security and commercial security systems.
Excellent customer service

High-quality products

Competitive prices
Customer Reviews
Let's take a look at what their clients have to say:
"I've received timely and relevant responses from the quote process onward. Our technician was polite and neat, he stayed longer than usual to make sure everything was set up correctly. I've compared the prices to mainstream and more local security companies and RedFlag was by far the most cost-effective. Highly recommend." – Lindsay Callaway
"We had a great experience with the RedFlag security team. They installed the cameras at our house and the experience was fantastic from booking the time to accommodating our needs for installation. John is an absolutely perfectionist doing the installation job and never compromises or settle for less during the process. Respect all COVID protocols which is great. Very professional customer experience by Andreea and George throughout the process. I highly recommend them for all your security needs. They love what they do and they are the professionals you need to take care of your safety around your house and business." – Sifa Youna
Shield Security Services
Jonathan has been working in security and related industries for over 20 years. Along with his reliable and trustworthy team, he is committed to achieving not only a high standard for Shield Security but to set the bar for the entire industry. His resume includes the Ottawa Congress Center, training the Toronto Maple Leaf's security team, providing security for the Toronto Zoo, and protecting the visiting NATO Assembly in cooperation with the House of Commons and Senate security. Additionally, he has provided close protection security for high-profile clients including Dr. Oz, Jenny McCarthy, and Dr. Patch Adams.
Even after many years of contributing to the field, the philosophy at Shield Security Services remains the same: simply comply with all of the guidelines that the industry has set into place, strive for 100% customer satisfaction, and everything else will follow.
Excellent customer service

Highly rated on Google Reviews

24/7 support

Variety of security services offered
Customer Reviews
Let's take a look at what their clients have to say:
"I am working in this company for several months. Working with a professional team that cares about your achievements and encourages you to go further is a great opportunity." – Melika Ataebi
"I have worked with Shield on many occasions and would highly recommend them. I found the team responsive to any curve ball I may throw their way. I've dealt with Service Managers on various events and was easily able to reach the owner when required. The guards always look like a million bucks, and I can honestly say I have never had an issue that wasn't easily resolved to my satisfaction. Keep up the good work." – Tim Reinemo
Henderson Security Solutions Inc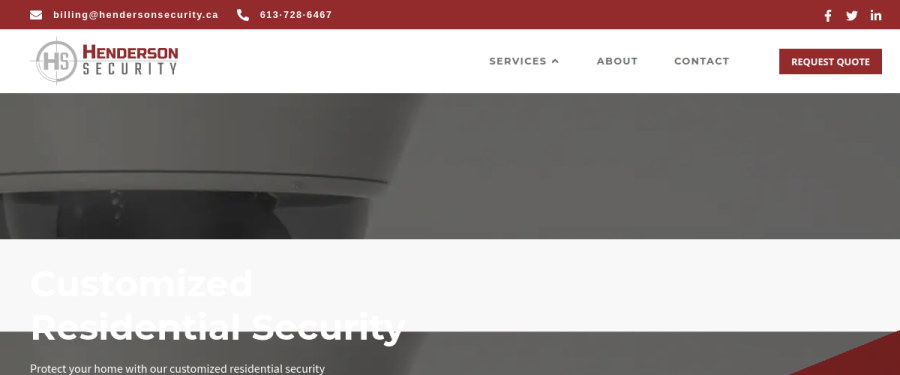 Henderson Security has been providing security services in Ottawa and the surrounding area for almost 60 years. The company was founded by Bob Henderson in 1959 and was the first electronic security company in Eastern Canada. Henderson Security has continued to grow and expand over the years and is now one of the leading security providers in the area. The company offers a wide range of security services, including alarm systems, video surveillance, access control, and more. Henderson Security is dedicated to providing quality security services to its customers and has a reputation for being reliable and trustworthy.
Excellent security solutions

Well-established company

any years of experience
Customer Reviews
Let's take a look at what their clients have to say:
"I received top-notch service and a video surveillance kit. The service installer, Chad, was a great help. He explained the system in detail, made sure I went through the complete system, and answered all my questions. He is extremely talented, very knowledgeable, kind, and very patient. I would not hesitate to recommend Henderson Security ." – Jeff Garby
"Henderson is very responsive to customers' needs. Mark Wilson from Sales knew his stuff and was excellent at recommending solutions to our issues. Technician Lee was very knowledgeable and friendly and quick about modifying my 30-year-old Henderson installation. Bravo all round!' – Bruce Howard
FAQs About Security Companies in Ottawa
How can I be certain that the security officer stationed at my location is a good one?
The majority of security firms in Ottawa thoroughly screen their guards by conducting a number of background checks, providing training, and running cross-references. A security guard must possess the appropriate level of certification proving they have successfully completed and passed their training.

Additionally, consider a security detail's aptitude for communication and adaptability to shifting schedules. Of course, being sociable and physically fit can't hurt their credentials either.
What kind of instruction goes into becoming a security guard?
The degree of security that they are expected to address will really determine this. Basic security services frequently include first aid or CPR training, as well as de-escalation skills in case a potentially violent situation arises.

Other guards who are expected to be posted in higher-risk areas ought to receive active shooter training, be proficient with firearms and other weapons, and be aware of what to do in the event of a conflict.
How do security firms in Ottawa ensure the competency and reliability of their guards?
Each applicant who walks through their door should undergo a thorough background check by a reputable system used by reputable security agencies.

Before they even start training, each person's profile must be checked against national criminal databases and fingerprinted in addition to their own internal investigation and background investigation.
Can I ask a security company for recurring reports?
It would be wise to do so. Daily is acceptable, but hourly is advised for locations with high-security risks and high pedestrian traffic.

Documentation keeps track of which guard experiences a significant incident during their shift or if there is any property loss or damage. This makes it simpler to locate and look into anomalies.
---
Let's hope that after learning all there is to know about the top security firms in Ottawa, your upcoming event will feel safer and more secure.
Please send us a message if you have any additional recommendations for competent and dependable security firms.