Tattoos last a lifetime. If you're getting one, don't do it on a bet, because someone else might, or because you were drunk and ended up on a reclining chair by accident.
Even more so if you tattoo that word on your forehead! Tattoos are uniquely permanent ways to let people know who you are without having to speak. You can control every element of a great tattoo, including the color and the design.
You will have to live with it for the rest of your life, so think carefully before making a purchase. Consider where you will get your first tattoo in Ottawa while you're at it.
How Much Does a Tattoo Cost in Ottawa?
A good tattoo is not cheap, according to many tattoo artists, and a bad tattoo is not cheap. Even though it seems to be justification for a high price tag, there is some truth to this.
One of the main factors taken into account when canvassing is cost. The cost of a tattoo in Ottawa can range from reasonably priced to extremely expensive, but hopefully, you can find a good balance between the two.
Tattoo parlors might allow walk-ins, just like spas, dental offices, and beauty salons. However, it's best to schedule a consultation in advance given the pandemic situation at the moment.
By doing this, you and your tattoo artist will be even safer. It gives them plenty of time to clean and get ready all the tools and equipment for your inking session.
You can also inquire about tattoo pricing at the store. Existing tattoo flash designs are typically less expensive than custom tattoos, which are expected to cost more.
A small tattoo with a straightforward flash design can cost as little as $50 on average. The price might increase to about $250 as it becomes more distinctive, complex, and colorful.
You should also think about the tattoo's size and whether the artist will need to recreate your original design. It costs more to make one from scratch than to use a generic design.
Yes, tattoo artists are artists, and as such, they must be compensated for their labor, abilities, and product. They may bill by the hour or by the number of sittings necessary to complete your tattoo.
Here is a table that breaks down tattoo service costs to give you an idea. The prices listed are current estimates, but due to the pandemic, they could change without prior notice.
TATTOO SERVICE
PRICE
Tattoo design (from flash)
Tiny (below 2 inches) $30 – $90

Small (around 2 square inches of skin) $50 – $250

Medium (from 4-6 inches of skin) $250 – $450

Large (6 inches and up) $500 – $4000
Tattoo artist fee (by skill level)
Experience:

(1-3 years) $80 – $100

(5-10 years) $100 – $200

(10 years and up) $180 – $250

Popularity (awarded or featured) $200 – $600
Tattoo design (customized)
Small $60 – $300

Medium $300 – $500

Large $500 – $5000
Tattoo studio fixed rates
Hourly $50 minimum

Per sitting $120 – $150

Flat rate per design $250 – $500 for medium tattoos
Tattoo location on the body (excluding cosmetic tattoo work for lips, eyeline, and eyebrows)
Finger $50 – $100
Wrist (including wraparound) $50 – $150
Ankle (including wraparound) $70 – $200
Foot $180 – $350
Collarbone $500 – $1000
Hip $500 – $1500
Calf $300 – $450
Thigh $350 – $4000
Shoulder $650 – $1000
Side $500 – $700
Back (full) $900 – $4500
Arm (forearm) $250 – $850
(half-sleeve) $1000 – $2000
(full-sleeve) $2000 – $4000
Please be aware that the average costs shown above were obtained from well-known and reputable tattoo parlors in Ottawa. These costs may vary based on the store, location, and services you ultimately select.
Best Tattoo Shops in Ottawa
You ought to have a rough idea of your tattoo budget by this point, along with the design and execution you envision. It's time to look around for Ottawa's top tattoo parlors to bring it to life.
Future Skin Tattoo and Body Piercing Parlor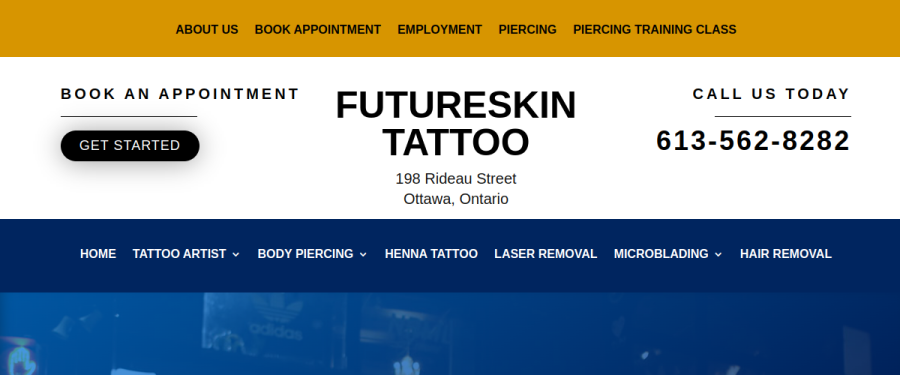 | | |
| --- | --- |
| Website | https://futureskin.com/ |
| Address | 198 Rideau St, Ottawa, ON K1N 5X6, Canada |
| Phone | +1 613-562-8282 |
| Email | buy@futureskin.com |
| Category | ['Tattoo shop', 'Body piercing shop', 'Ear piercing service', 'Jewelry store', 'Tattoo removal service'] |
Future Skin Tattoo and Body Piercing Parlor is a complete tattoo and piercing studio that offers laser removal services. They have been in business for several years and are known for their quality work and customer service. People can rely on Future Skin for all their tattoo and piercing needs.
The staff is friendly and knowledgeable

The shop is clean and organized

They offer a wide variety of services
Customer Reviews
Let's take a look at what their clients have to say:
"My friend and I last minute decided to get two piercings each. We called Future as they were open until 11:00PM and we asked if they had room and they did. The studio is clean, they were friendly, professional, and answered all of our questions. It has been two days since the piercings and we both have no issues with the piercings and they are healing quickly. Will definitely be returning and will suggest this place to my friends!" – Meghan Brennan
"I had my tattoo done at future skin tattoo shop . The staff were friendly and the artist Niloo who did my Tatoo was great too work with, very talented and did a great job . The shop was clean and welcoming. I was completely satisfied with my visit and would definitely come back for another tattoo ." – Alexandr Gaidouk
New Moon Tattoo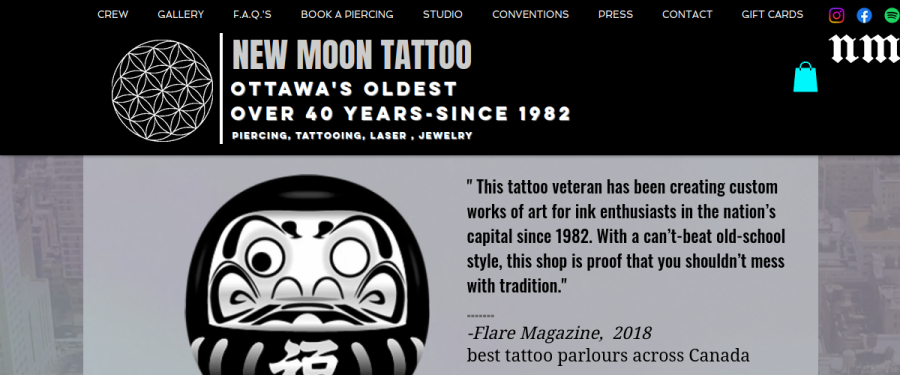 New Moon Tattoo is one of the oldest and most well-respected tattoo studios in Canada. Established by Dan Allaston in 1982, New Moon has been a pioneer in contemporary tattooing and has hosted two of the first Canadian international tattoo conventions. The studio is known for its high-quality tattoos and for providing a welcoming and professional environment for artists and clients alike.
Great artists

Unique, modern designs

Friendly and talented staff

Affordable
Limited selection of piercings
Customer Reviews
Let's take a look at what their clients have to say:
"I got my ears pierced for the third time by Tim. I was greeted warmly by another staff member and didn't wait long (I was early). Tim was super friendly and warm and very professional. He took the time to explain every step to me and made sure I was comfortable, and he did a great job. My other two ear piercings were done with a gun (ugh) and hurt more and took a long time to heal. This piercing is barely noticeable – no swelling or crusties like the other piercings had. I'll definitely be back whenever I decide what piercings to do next!" – Emily Ching
"I came here because of a friend recommendation and I'm so glad I did! I came in for a septum piercing and Tim was my piecer: they were so kind and patient and informed me of the process, and aftercare in great detail. I'll definitely come back to this studio and would gladly recommend it to others! On top of great service and a beautiful, clean studio the prices were super fair!" – Madison Corbiere
Free World Tattoo

Ottawa's newest tattoo shop has been drawing attention from all over the city for their unique and innovative approach to tattoos. Unlike any other shop in Ottawa, this one offers a wide range of styles and options for anyone looking to get inked. From portraits to abstract designs, from traditional Japanese tattoos to modern watercolor pieces, this shop has something for everyone.
The artists at the shop are all highly skilled and experienced in their field, and they take great pride in their work. They are passionate about tattoos and about giving their clients the best possible experience and the most beautiful, high-quality tattoos possible.
If you're looking for a one-of-a-kind tattoo that will really stand out, then this is the place for you. So come on down and check out Free World tattoo shop!
The artists are incredibly talented and can create any tattoo you desire

The shop is clean and the staff is friendly

There is a wide selection of tattoos to choose from
The prices are a bit high compared to other tattoo shops in Ottawa
Customer Reviews
Let's take a look at what their clients have to say:
"My experience was awesome! They're are super polite and have great energy. I got tattoo by Kevin Gomez. He was fun coming up with the design with him and was supposed patient and accommodating. I have cerebral palsy and he made something difficult into a pleasant and successful experience. See the progress!" – Jean-Francois Moreau
"Such an awesome shop! Ive had nothing but GREAT experiences here. I've gotten 3 tattoos here and each time is better than the last! Friendly, knowledgeable group of artists. Kevin did my most recent tattoos and was amazing. Super friendly, made me free extremely comfortable and did amazing work. Already have my next appointment booked! 😊 would 10/10 recommend!" – Donna-Jean Nichols
Railbender Tattoo Studio and Art Gallery
Railbender Tattoo Studio and Art Gallery is a new and upcoming tattoo studio and art gallery in Ottawa, Canada. The studio is owned and operated by an experienced tattoo artist. He has been tattooing for long years and has a wealth of experience in a variety of styles. He is also a self-taught artist, and his work in both tattooing and painting is highly sought after.
The studio offers a wide range of services, including traditional tattoos, portraits, realism, black and grey, comic book art, and more. They also specialize in cover-ups and are highly skilled in repairing old or faded tattoos. The studio features a comfortable and relaxed atmosphere, with knowledgeable staff who are happy to help you find the perfect design or solution for your tattoo needs.
The art gallery at Railbender features work by local artists as well as artists from around the world. The gallery showcases a variety of mediums, including painting, drawing, sculpture, photography, and more. It's the perfect place to find unique and one-of-a-kind pieces to adorn your home or office.
Railbender Tattoo Studio and Art Gallery are quickly becoming one of the most popular tattoo studios in Ottawa. With experienced artists and a welcoming atmosphere, it's the perfect place to get your next tattoo. Stop by today to see what they have to offer!
Excellent artists with years of experience

Wide range of styles to choose from

Extremely clean and sanitary environment

Friendly and welcoming staff

Affordable prices compared to other tattoo studios in the area
Customer Reviews
Let's take a look at what their clients have to say:
"The shop has a really great atmosphere. I had a tattoo done elsewhere that I was really unhappy with. I came to Railbender and Julien was very patient and kind working with me to fix it in a way I would be happy with. I'm quite impressed with how he turned it around and made it something that makes me happy to look at." – Jenny Bould
"By far the best tattoo experience I've had! Serena is the most lovely person ever and is extremely kind and easy to get along with. I've gone several times and don't regret a single thing. The store is also a very clean and pretty building." – Brody Pesce
Barnstormer Studio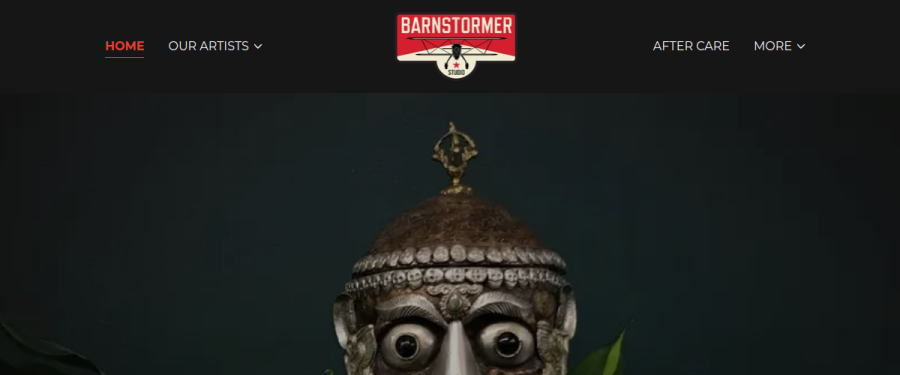 Barnstormer Studio Tattoo Shop is a premiere tattoo shop in the heart of Ottawa, Canada. With over a decade of experience, the team at Barnstormer Studio are experts in all things tattoos. They offer a wide range of services, from traditional tattoos to more modern techniques, and they have a huge variety of designs to choose from. They also use only the highest quality equipment and materials, so you can be sure your tattoo will look amazing and last for years to come.
Great location

Very talented artists

Fair prices
Customer Reviews
Let's take a look at what their clients have to say:
"One of the best tattoo places in Ottawa. Glen and his fellow artists do incredible work and take the time to get to know exactly what their client is looking for. The staff is all so kind and respectful. I would never go anywhere else for my ink." – Jenny Mehan
'My son was eager to get his first tattoo and after doing some research, he felt Nate at Barnstormer Studio was the artist for him. I was hesitant about the idea but was pleasantly surprised at how wonderful the experience was. So much so that I had a tattoo done by Nate as well. I found Barnstormer Studio to be VERY clean. Uncluttered and well taken care of. The artists are friendly, and professional and follow safety measures. The tattoos are beautifully done. Nate took the time to explain proper care, gave us a handout to take home, and encouraged us to call if we had any concerns. The whole experience was wonderful. Thank you, Nate and Barnstormer Studio." – Candace Mallette
FAQs About Top Tattoo Shops in Ottawa
What benefits can you expect from getting a larger tattoo as opposed to a smaller one?
To begin with, more details will be visible on a larger tattoo. If a complex design is reduced to a tiny tattoo, it will lose its overall appeal.

Consider the possibility of lines and small details "bleeding" into one another over time because skin breathes and expands as well. If a tattoo is small, over time certain details may become distorted and unrecognizable.
How will I be able to choose the best tattoo artist for me?
That is the purpose of portfolios! It's uncommon for a tattoo parlor to not display the best creations of its artists, so take your time browsing and deciding which pieces speak to you.

A specific theme, motif, or fashion can also be in your mind. This makes it simpler to limit your design options and to get started researching tattoo artists who consistently receive positive feedback.
Should I refrain from swimming so that my tattoo will look new and fresh?
Unless you really dislike taking baths, you can't really avoid getting wet. However, fresh tattoos are essentially colorful open wounds, and it will hurt you to soak them in chlorinated or salt water.

It may take up to four weeks for the tattoo to fully heal, so be patient. As long as the water isn't too hot or cold, taking a shower should be safe.
Why is a deposit required by my tattoo artist?
Deposits that are non-refundable aren't just a thing in tattoo parlors in Ottawa. They are necessary for almost all service providers, including caterers and dry cleaners.

This is done to protect the tattoo artist and the shop from time-wasting, flaky clients. The deposit serves as a reward for the client to keep the scheduled appointment and payment terms.
---