Consider a scenario in which you already have a business and are prepared to create a website to diversify into the field of digital marketing. But not everyone has the time or the patience to fully understand that.
Like most others, you'll probably need to outsource that. We've compiled a list of Ottawa's top web design companies to assist you there!
We'll go over a few things you should be aware of, like typical costs and frequently asked questions. Let's start with the information you should have before selecting a web design company to work with!
How to Choose the Right Web Designer?
In the modern business world, your website is an essential component. Today, every company worth its salt has one because of this.
Its visual appeal, content, usability, and general aesthetic will determine whether a visitor converts to a customer.
Due to the significance of this, you must be fully aware of what to search for when interviewing web design and development firms.
A good web designer performs the following tasks:
Researches your business
A web designer needs to understand the goals of your company in order to create branding and websites that are effective. This covers your goals, goods, current websites, and target market.
Fits Your Budget
Although costs may differ, cost transparency is a necessity. The best solutions are provided within the constraints of your budget by reputable web design firms.
Be an Effective Communicator
Find out if you'll be corresponding with a project manager or a central contact by asking your web designer.
If instructions are given to everyone on a team, the process might occasionally take longer. To avoid that problem, a good web designer will remain your sole point of contact.
Additionally, you will be guided through the process and given clear explanations of every step so that you can update or customize your website after it has been created.
Possesses a portfolio
This one should be obvious. You are more likely to trust a web designer if they have completed more projects. This is especially true if they have previously worked with large corporations or have ongoing relationships with some clients.
Complements Your Marketing Techniques
If your company is already established, you probably use a marketing plan that you consider to be successful. Web designers and developers will take your marketing strategies into consideration while also making suggestions (if the company provides such a service).
Provides Training and Assistance
Regardless of whether you choose to manage the site yourself, you will require training and assistance. A reputable business will offer these things at no cost.
How Much does Web Design Cost in Ottawa?
| | | | |
| --- | --- | --- | --- |
| Service | Small Blog | Medium Blog | Large Blog |
| Domain Registration | $1-$2 | $1-$2 | $1-$2 |
| Hosting | $0-$20 | $0-$20 | $0-$20 |
| Website design | $0-$20 | $0-$20 | $0-$100 |
| Technical website maintenance | $0-$20 | $0-$20 | $0-$100 |
| Additional plugins and tools | $0-$10 | $0-$10 | $0-$50 |
| SSL license | $0-$10 | $0-$10 | $0-$10 |
| | | | |
| --- | --- | --- | --- |
| Service | Small Ecommerce | Professional Ecommerce | Enterprise Ecommerce |
| Domain Registration | $1-$2 | $1-$2 | $1-$2 |
| Hosting | $30 | $80 | $300 |
| Website design | $0-$20 | $0-$20 | $100-$200 |
| Technical website maintenance | $0-$20 | $0-$20 | $100-$200 |
| Additional plugins and tools | $0 | $0-$50 | $100-$200 |
| SSL license | $0-$10 | $0-$10 | $0-$10 |
Web Design Services in Ottawa
Let's move on to our list of the top website design firms in Ottawa now that you know what to look for in a firm and what to anticipate in terms of pricing.
WebSuitable
WebSuitable is a website design and development company that specializes in creating custom strategies for businesses to achieve success. They have a team of experts who work closely with each client to create a unique plan that fits their specific needs. The company has a 97% client satisfaction rate, which is due largely to the fact that they only do one thing – website design and development. This allows them to be experts in their field and provide the best possible service to their clients.
Experienced team of web designers and digital marketing experts

Top-notch customer support

Friendly & fun team to work with

Excellent reputation and positive client reviews 
Customer Reviews
Let's take a look at what their clients have to say:
"WebSuitable has been a huge asset for my business and they designed a fantastic website for me. Any concerns are always addressed immediately and the customer service is fantastic. I highly recommend WebSuitable!" – Michael Kim
"Best help I got with my website! The team at WebSuitable provides very helpfully, professional support. They take the time to understand what I want and make it happen. Highly recommend them!" – Tatianna Noble-Gandemer
N1D
BEST FOR
Customized Packages for Web Design
SERVICES
Web Design, Web Development, Content Marketing Strategy, SEO (Search Engine Optimization), Local SEO, Social Media Marketing, Email Marketing, Pay Per Click (PPC) Management, Conversion Rate Optimization, Online Presence Growth
WEBSITE
https://n1d.ca/
ADDRESS
Ottawa
CONTACT DETAILS
Phone: 613-909-3547
Email: contact@n1d.ca
N1D has been designing websites for clients for over 14 years. They also offer other web services to help their partners' businesses grow and increase their presence throughout the internet.
Aside from web design and development, N1D also offers Search Engine Optimization (SEO) and Pay-per-Click strategies to help businesses increase their online visibility and increase their profits. They can also create email, content, and social media marketing strategies to help reach as many people as possible.
What makes N1D unique is that it can create custom packages for each client to make the process more streamlined. By doing so, local businesses can focus on gaining more leads and increase their chances of making more profit.
So whether you need a website designed from the ground up or need your content optimized, N1D offers a complete all-in-one solution for those who want to take their business to the next level.
Complete hub for all web design and online marketing needs

Can create customized packages for each client
No rates are posted online

No physical office address
Customer Reviews
Let's take a look at what their clients have to say:
"We needed somebody to fix our broken down website and Robert was able to step in and fix it for us while making our website faster. He even added some extra services for free, for us. We have never been happier." – Michelle Highter

"We needed a company to take care of our AdWords as that was never our skill. N1D was able to deliver for us and double our leads in a matter of weeks." – Dominic Hodgkin
Azuro Digital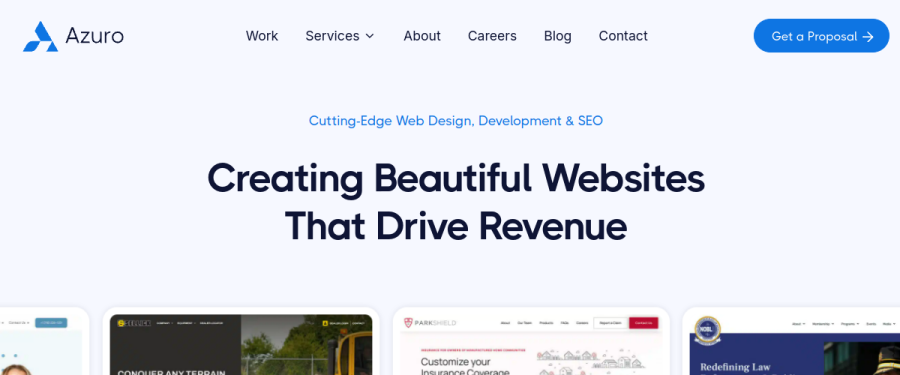 Azuro Digital is a top-rated Canadian web design and development company that specializes in creating websites from scratch. They also offer search engine optimization, logo design, and branding services. Their clients come from both local and international markets, and they are known for providing high-quality work that meets or exceeds client expectations. Azuro Digital has a 4.99 rating on review platforms such as Clutch, GoodFirms, and Google, and their portfolio can be accessed on their website.
The team is composed of top-rated Canadian WordPress developers

Open Everyday

5-Star Google Review ⭐⭐⭐⭐⭐

Has 3 branches
Customer Reviews
Let's take a look at what their clients have to say:
"Azuro Digital was able to build us a brand new website in WordPress and gave it a great design. Daniel was extremely professional and did an amazing job of getting to understand our needs. Our pages were built out one at a time to ensure no details were missed, and to do iterations of each layout. Daniel implemented features on our websites such as an integrated illustration, and a password-protected page, and figured out many other workarounds to make our vision a reality. He was so incredibly patient with our many requests! Even after our initial launch, he was very quick to implement changes and help us work toward the final product. Now that the website is live, we have been seeing an increase in inquiries from individuals across different sectors who have come across our website, and are interested in working with us. We couldn't be happier with the way everything turned out. Thank you Azuro Digital!" – Alexandra Forest
"Azuro Digital built a great website with a lot of nice features. It's also very easy to use. Users have mentioned that the site was built very well. Daniel was great. No matter what, he always got back to me quickly. He always did what he said he'd do on time. Daniel's understanding of web development stands out. He absolutely knew what he was doing the entire time; he was never guessing and it showed." – Terry Waselnuk
Ottawa Web Design & SEO Services
Ottawa Web Design and SEO Services are a team of Web Design experts based online that started in the outskirts of Ottawa in Barrhaven. They stay updated with the latest SEO and Web Design updates on a daily basis. Their unique and hands-on approach to SEO allows them to increase your Google organic keyword rank. They can increase the search engine rank and site traffic of any business with their SEO expertise.
Their team of experts will design a modern and high-quality Website that will rev up your business and increase your organic traffic. They will determine what option will be best to get your business running online. Visit their website to check the customized packages for all our business growth needs.
Affordable prices

Quality work

Quick turnaround times
Limited experience with SEO
Customer Reviews
Let's take a look at what their clients have to say:
"To say that Martin and the entire team at OttawaSEO Company are incredible, would be an understatement. My business's website experienced an issue out of nowhere that led to an SEO ranking disaster. We were in need of an SEO and Digital marketing expert as fast as possible. Not only was the response time fast, but their level of knowledge and quality of service matched the same quality standards. If you are in the market for any service that SEO Companies provide, I highly recommend speaking with this team. It is clear to see how focused they are on results, problem-solving, and customer service." – Santiago Ponce
"Ottawa Web Design and SEO Services did a fabulous job developing our website. I was well informed throughout the process. They moved quickly and efficiently with designing the site and making changes. The team is very easy to work with and is always available to answer questions or to guide you on the right path. Highly Recommended!" – Sumon Shah
Web Design Ottawa Agency
The Web Design Ottawa Agency is a team of six experts in website design and digital marketing services based in Ottawa, Ontario, Canada. Half of the team works on the product (designing, developing, and coding), while the other half works with search engines to grow businesses. The team loves what they do and who they do it with.
The Director of the Agency, Ahmed Rashid, has stated that the team consists of award-winning marketers, web designers, and developers. They know what it takes to get real results online and keep the focus on metrics that matter most to businesses, like leads and revenue generated. The Agency believes that their client's success is the best measure of their own performance. Through their years of experience, they've also learned that while each channel has its own set of advantages, they all work best when strategically paired with other channels. For this reason, the Agency offers full-service strategies to each of their clients and uses a combination of digital channels to increase visibility, conversions, and revenue.
Web Design Ottawa Agency Canada is a professional web design company that has been in business for many years

They have a team of experienced and skilled designers who can create beautiful and functional websites

Their prices are very competitive, and they offer a wide range of services including SEO, branding, and marketing

5-Star Google Review ⭐⭐⭐⭐⭐
Some customers have complained about the quality of the work they received, saying that it was not up to par with what they were expecting
Customer Reviews
Let's take a look at what their clients have to say:
"Having Web Design Ottawa to design my site was such a great experience, they are so professional and efficient, they delivered right on schedule and offered amazing business advice along the way. They offered me design options according to what I wanted to achieve and were accessible step by step through the whole process. I highly recommend this great business." – Reem Al-Rawi
"Innovative and prompt service! Ahmed and his team have propelled our company through the SEO ranking and continue to do great work for us. He takes his time to explain the plan of action and works with our budget to get it done! This is now our second time using Web Design Ottawa Agency for our website design and we are very pleased with the work they have done. I highly recommend them to anyone looking to design a website and for SEO ranking!" – Fadi Salama
FullView Design Fullview Design is a web design and development agency that was founded in 2006. The company has a team of highly creative designers and developers who have the experience and skill to bring any vision to life. Fullview takes pride in every project they work on, and their approach of having all team members working on production allows for direct communication and no bouncing between management. This hands-on approach has proven to be the most effective process.
Local Company

Very experienced team

Affordable prices

Quick turnaround times

Excellent design work
Customer Reviews
Let's take a look at what their clients have to say:
"When I was in the market for a new website I was referred to Stephane & Full View design. From our initial meeting, I was impressed with Stephane's attentiveness, and ability to understand what my limited technical mind was trying to express. Stephane asked questions and clearly listened to the answers so that he could provide solutions and options for my needs. Never once did I feel that I was being "SOLD" on a product or service or something I did not need. Stephane took the time to get to know me, my business, and my goals. Stephane offered a unified branded solution from the initial logo offering straight through to marketing and collateral pieces. The response I have had to my website design and content has been overwhelming and has brought in new & unsolicited business. Stephane's patience & professionalism through our journey was exceptional and I have come to consider him a reliable partner and friend." – Yasmin Fues
"Working with Stephane at FullView Design to create our company website was a great experience. He worked diligently to make our ideas come to life: a unique main page providing individualized entrances to separate divisions of the company; a rotating client spotlight with live icons; and attention to detail with the remaining aspects of the site. He went above and beyond, going to job sites to take photographs of our work to include throughout the website and updating information when required. His work was timely, efficient and of utmost quality at all times. We have received many compliments regarding the design and accessibility of our website." – Maggie Gaffney
FAQs About Web Design
What is Ottawa Canada known for in terms of web design?
Ottawa Canada is known for its high-quality, cutting-edge web design. The city has a thriving tech scene, and its web designers are among some of the best in the world.
What makes Ottawa Canada's web design so special?
Ottawa Canada's web design is special because it is constantly evolving. Web designers in Ottawa are always on the lookout for new trends and technologies, and they are always working to create innovative and unique websites.
What are the benefits of web design?
Some benefits of web design include improved communication, increased sales, and better branding.
How long does it take to create a website?
It typically takes around two to four weeks to create a website. However, this can vary depending on the size and complexity of the website.
---
And with that, we bring to an end our list of the top website designers in Ottawa!
Did we overlook a business you'd suggest? Please let us know; we're eager to hear from you.