A wedding dress is typically more than just an item on a woman's wedding wish list. This bridal accessory frequently represents a dream coming true.
Therefore, it makes perfect sense for a future bride to take her time choosing the ideal wedding gown. Choosing your wedding attire would be simple if Ottawa had the best wedding dress boutiques.
The cost of the wedding dress is a significant deciding factor. The cost of a bridal gown will be discussed in the section after this one.
How Much Do Wedding Dresses Cost in Ottawa?
The price of wedding dresses varies depending on the type of fabric used and how intricate the design is. For those who have particular requirements for their wedding dress, a customization is an option that exponentially increases the cost.
The price of a bridal gown is significantly influenced by size. When they find a dress they like but doesn't fit them, some have it altered.
Practical brides are more likely to rent wedding gowns than purchase them. Renting is significantly less expensive than buying.
The price range of the wedding dresses in our selected entries is displayed in the table below.
WEDDING DRES'S BOUTIQUE
ESTIMATED PRICE RANGE
Revelle
$ 2,500 to $ 6,000
La Maison
Off-rack wedding dresses
Custom wedding dresses
$ 400 to $ 2,000
$ 1,000 to 6,000
With Love Bridal Boutique
$ 1,200 to $ 4,500
With Love Bridal Boutique
$ 2,000 and up
Poshfair Bridal
$ 1,000 to $ 10,000
Best Wedding Dress Boutiques in Ottawa
Shopping for a wedding dress can become a nightmare if you enter subpar bridal shops. Finding the top wedding dress stores in Ottawa, however, would be a lovely experience.
How will you recognize it as the right one? Observe these indicators.
The selection of dresses at upscale bridal boutiques is extensive. They are aware that every bride has a distinctive personality that is reflected in their wedding dresses.
Soon-to-be brides are always appreciative of reasonable pricing. It's helpful to be reminded that looking beautiful doesn't have to cost a fortune.
The gown selection process must be stress-free. From consultation to fittings to alterations, everything should go without a hitch.
Any package must always include flawless customer service. Shopping for a wedding dress is more enjoyable when the staff is available to answer your queries and address your concerns.
We were able to find the best in this field thanks to these criteria. Let's learn more about each submission and be astounded by what they have to offer.
Revelle Bridal Boutique Ottawa's Bridal Boutique provides the perfect solution. With a focus on providing each bride with a personalized experience, this boutique offers an intimate setting in which to find the dress of your dreams. With a location in trendy Westboro, this boutique provides the luxury experience that all brides deserve. Whether you are looking for a traditional ball gown or something more modern and unique, the experts at Ottawa's Bridal Boutique can help you find the perfect look for your big day.
Beautiful wedding dresses

Good customer service

Offers virtual consultations
Quite expensive

Does not carry many plus sizes in store

No return, refund, or exchange policy
Customer Reviews
Let's take a look at what their clients have to say:
"From the moment I walked into Revelle I knew I was going to enjoy my experience. I was greeted by my consultant, Claire, to who I automatically felt connected. She took the time to hear what I was envisioning and walked me through their selection of gowns. With everything I tried on, she made sure I looked my best and felt comfortable before leaving the dressing room. After my appointment, Claire was available to chat over email and went above and beyond to get me the information I needed to make my decision. A big THANK YOU to Claire and all the lovely ladies at Revelle for making my experience so special." – Mary Scott
"The team at Revelle were so thoughtful and earnest! I came in for a trunk show and had to rush to accommodate my mom the next day as I didn't think I'd find something I loved so much I had to have it. They were so kind to book me in a slot the next day to see it, and it was only a couple of weeks later they actually had it in for me ready to pick up! The styling appointment was done with my same bridal consultant (Claire) who kindly helped me pick my veil, and jewelry, and advised me on minor adjustments and tailoring I should get. I had a Luxe appointment so they had custom cookies, bubbly, and a little gift bag." – Nicole Desjardins
La Maison Bridal Boutique
La Maison Bridal Boutique is an Ottawa-based bridal shop that offers an array of gowns, accessories, and services to brides and their wedding parties. The boutique has been in business for a long time, and during that time it has established a reputation for quality products and excellent customer service.
The boutique's gown selection includes both contemporary and classic styles, giving brides the opportunity to find the perfect dress for their special day. In addition to gowns, the shop also offers a wide range of accessories, including veils, headpieces, jewelry, and shoes. And for those who need help with wedding planning, La Maison Bridal Boutique offers a range of services including hair and makeup styling, alterations, and on-site parking.
Beautiful dresses

Excellent customer service

Range of prices to suit all budgets
Customer Reviews
Let's take a look at what their clients have to say:
"I had a bridal appointment at La Maison bridal boutique, and I must say this was by far the best experience I had after a long day of dress shopping. My consultant was Kate and she was an absolute joy! She was super personable and friendly! She really listened to my preferences( she asked if she could make a suggestion of a dress she had in mind, and when I tried it on it was exactly what I was looking for.) She joked with us and made me feel confident and comfortable, all while making my bridal guests feel involved every step of the way. I will be purchasing my dream dress at this location, purely based on the quality of the dresses and the exceptional customer service!" – Kyann Day
"I loved my experience shopping here! I went in having vague ideas of what I wanted but my consultant, Alisha, worked with me to find what I wanted. She was fantastic! I tried on a variety of dresses and ultimately ended up finding THE dress for me with her help. The booking process was easy, the follow-ups were helpful, and their staff was great at setting out a timeline for me and alterations. Since my wedding is a short timeline, I was able to buy my dress off the rack (I understand that is an option for most dresses here). I definitely recommend La Maison Bridal Boutique to anyone looking to buy their wedding dress, especially if you are on a short timeline." – Danielle Eberley
White Satin Bridal Boutique White Satin is a bridal house in Ottawa that was founded in 2010 with the goal of bringing something unique and fresh to the world of bridal fashion. Since then, they have grown into a beautiful bridal house that provides an intimate and exclusive experience for brides of all sizes and budgets. In 2017, they moved to their current location in a beautiful stone house in Kanata, which allowed them to carry an even wider selection of Ottawa-exclusive dress designers for their brides.
Wide variety of wedding dresses to choose from

Experienced staff who can help you find the perfect dress for your big day

Affordable prices compared to other bridal boutiques
A limited selection of bridesmaid dresses

No online store, so you have to go in person to purchase a dress
Customer Reviews
Let's take a look at what their clients have to say:
"I had the pleasure to find my dress last week-end at White Satin Bridal Boutique. I could not have hoped for a better experience. My bridal stylist was Dominique and she was truly a gem. She was patient, calm, mindful, and easygoing. Her advice and vision were so helpful to guide me toward the perfect dress for me! I felt listened to and respected and I had so much fun! For me, it had been stressful in the past to shop for my wedding dress and I am happy to say that Dominique and her team made it so easy for me I did not feel stressed at all and I had the best time with them and my guests! I am so happy with my dress and the whole shopping experience and I can only recommend this boutique when you are looking for your wedding gown! Thanks again!" – Marie-Michelle Tremblay
"Had an incredible experience finding my dream dress with the help of white satin bridal. I found a specific dress that I couldn't find in any stores- white satin bridal found a sample dress from Texas that they brought in so I could try it on! If I hadn't had my heart set on a dress I'm sure I would have found one already at their store, the selection is absolutely amazing and there is a dress for every bride. They went above and beyond to make me happy and were so accommodating with the follow-up appointments for alterations. The ladies were friendly and welcoming, and the vibes were always immaculate. Love my dress and cannot wait to wear it! Thank you Shannon and Dominique for all your help." – Sabrina Arrizza
Poshfair Bridal Boutique
Poshfair is a bridal store that offers exclusive designer and couture bridal gowns. They have gowns from the latest designers and can customize any dress to fit the bride perfectly. If they don't have the exact dress the bride is looking for, they can create it for her within 5 months. There is no need for alterations when a custom dress is ordered from Poshfair.
Poshfair Bridal Boutique has a wide selection of wedding gowns to choose from

The boutique also offers a variety of other services like flower girl dresses, bridesmaid dresses, and tuxedo rentals

Poshfair Bridal Boutique is conveniently located in the heart of Ottawa
Some customers have complained about the high prices at Poshfair Bridal Boutique
Customer Reviews
Let's take a look at what their clients have to say:
"I highly recommend this Bridal Shop! I had the best experience. There were so many beautiful dresses to choose from. I was so impressed with their customer service, and attention to detail. The store is clean and very well organized. We set up an appointment and the staff took a look at the type of dresses I was looking for and pulled out so many that fit my description. We had their full attention and practically the whole store to ourselves during our appointment. It was completely relaxing and very much enjoyable." – Josee Lavigne
"The Poshfair experience was memorable and an absolute joy! Would highly recommend it for prom dresses, my daughter was thrilled with the service and the visit resulted in the dress of her dreams! Beautiful options, and incredible care! Thank you for everything!" – Teresa Fournier
Laysieng Couturier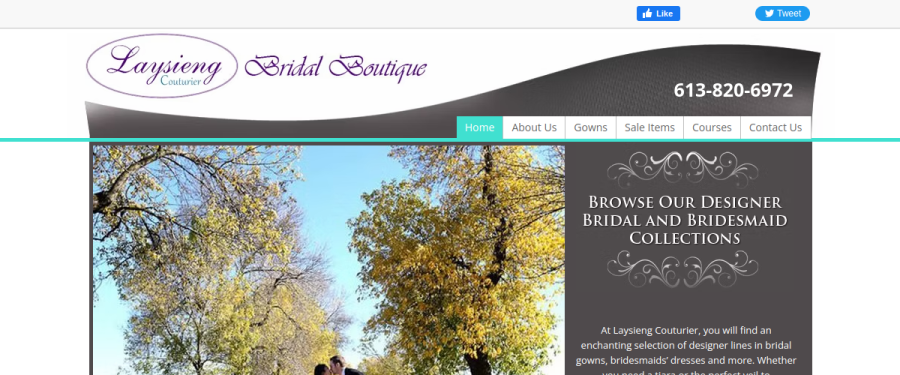 Laysieng Ngo is a talented fashion designer who graduated from the Richard Robinson Academy of Designs in 1995. After completing her studies, she opened her own couture fashion house in 1997 and was awarded the Award of Excellence and Outstanding Collection for her work. Her collections are inspired by the latest trends and feature exquisite fabrics, intricate detailing, and flattering cuts. Laysieng's designs are popular with celebrities and fashion lovers around the world and have been featured in magazines and on television. She is a highly respected member of the fashion industry and continues to create beautiful garments that make women look and feel amazing.
Unique and stylish designs

Made-to-order garments

Excellent customer service
Limited selection of styles

No online store
Customer Reviews
Let's take a look at what their clients have to say:
"Amazing place to buy and alter wedding dresses! I could not have been happier with my experience at Laysieng. The owners were very patient with me, allowing me to stay for many hours trying on different wedding dresses, unlike the large chains that kick you out after one hour. They also met with me on numerous occasions to discuss several different alteration options to ensure a perfect fit. If that wasn't enough, they agreed to alter my bridesmaid dresses at a tight turnaround time, which were bought elsewhere and unfortunately arrived too big. I highly recommend Laysieng to all brides! The photos speak for themselves <3" – Julia Cieslukowska
"I bought my prom dress here nine years ago, just last week we revisited in hopes of finding my sister a prom dress. We found a unique dress that she fell in love with AND my mom also found her dress for my wedding. We later returned that same week and my bridesmaids bought their dresses. Needless to say – we love this place, love the people, and love the selection. They are very patient, kind, and are very approachable." – Aubrie Mowat
FAQs about Wedding Dresses in Ottawa 
When should I start shopping for my wedding dress? 
The best time to shop for wedding dresses is 12 months prior to the big day if you want a lot of lead time. To guarantee that your dress will be delivered and altered without a rush, however, 8 months before the wedding is a good window of time.
Why do I need an appointment when shopping for my wedding dress?
In order to provide prospective brides with the best service, bridal boutiques request that they make an appointment. When hurried or without assistance, buying bridal gowns may seem overwhelming.

When you make an appointment, a stylist will work with you for, on average, 90 minutes. You can discuss your goals with them, try on dresses that suit your taste, and make a decision without feeling rushed.
How many should I bring along when I choose my wedding dress?
Bridal shops are aware that women want to tell their loved ones about their special experiences choosing their wedding dresses. They let a few people accompany the soon-to-be bride because of this.

Three to four people are the ideal number of shopping partners when selecting a wedding dress. Here, the bride can hear from a variety of people without losing sight of her own preferences.
What are some helpful guidelines when shopping for a wedding dress?
When you visit for your appointment, wedding dress shops will give you some advice. Wearing light or naked-colored underwear is one of them.

When worn with strapless bras, most wedding gowns look their best. When you arrive for your appointment, make sure to wear this kind.

Don't wear a lot of makeup to prevent staining any wedding dress you will fit. Food and beverages are not permitted either when looking for wedding dresses.
---
You could easily obtain the gown of your dreams if you used the best wedding dress stores in Ottawa. You would undoubtedly cherish the day you agreed to it.
Did we overlook any enchanting wedding dress stores in Ottawa? Your suggestions and recommendations are greatly appreciated.