There are numerous requirements for special occasions like weddings and birthdays. The ideal venue for the event and the top photographers to capture the moment a couple of these.
However, because using professional photographers can be costly, many people search for less expensive alternatives. Now, this is where photo booths are useful.
Let's first go over the price of getting a photo booth before we look at some of the best photo booth rental businesses in Ottawa.
How much do photo booth rentals cost in Ottawa?
A photo booth would typically cost $550 to rent. Consequently, a $400–$750 budget would be needed to purchase one for an event.
The rental period, the number of guest prints, and any additional features or add-ons all affect the price. Naturally, the cost increases as you add more extras.
We have included the table below to give you an idea of the cost of these extra features:
| Types of Add-Ons | Average Prices |
| --- | --- |
| Additional hour | $125 |
| Custom prop signs | $75 |
| Unlimited prints | $150 |
| Social media kiosk | $125 |
| USB flash drive | $45 |
| Guest book | $160 |
| Green screen | $100 |
| Red carpet event | $100 |
| Custom step & repeat backdrop | $450 |
Best Photobooth Rental Companies in Ottawa
To help us select the candidates we think are the best, we used the following criteria in our selection process:
Price – We included those whose costs are fair and within the range of average rates.
Variety of options – Our list contains businesses that provide various photo booth options.
Accessibility – Because events can occur at any time, we also selected companies that could offer services on weekends and holidays.
Customer comments – In addition to our accounts, we also took into account the first-hand accounts of previous customers.
Social Photo Booth
Social Photo Booth is your premier photo booth rental provider in Ontario & Quebec serving Ottawa, Toronto/GTA as well as Montreal. Social Photo Booth is the perfect addition to any event to make it more fun and memorable while engaging guests of all age groups.
First, gather a group of friends, let them choose the funniest of our props, then touch the screen to start taking the funniest pictures you've ever seen. Our Photo Booth rental is in high demand at Parties, Weddings, as well as Corporate Events. It is also the perfect attention grabber at Store openings, Brand & Marketing Activations, Fundraising Events as well as Graduation parties or any other special occasion!
Fun for all occasions

Great way to capture memories
Customer Reviews
Let's take a look at what their clients have to say:
"The Social Photo Booth did an awesome job at our wedding on July 25th, 2015. We had a Roaring 1920's wedding and they even provided props to go with the theme! Our guests said it was the best photo booth they had ever seen and people were constantly getting their pictures taken. The Social Photo Booth provided so much fun for all that attended. I would highly recommend the Social Photo Booth to anyone for any party. They are professional, go the extra mile to make your occasion amazing and the staff are excellent as well :)" – Michelle Pilon
"We were so happy we went with the social photo booth! We had debated having a photo booth for our wedding, and upon meeting them at the wedding show, I knew we had to go with them! Their packages are great we did 3 hours and this was perfect for our guests! I highly recommend adding on the guest book- they glue pics from the booth into a nice book and have your guests leave a message! Tarek was resting at keeping in touch, making us as an album, and mailing us our USB! They have wonderful customer service, and I wouldn't hesitate to recommend them to anyone looking for a photo booth for their event :)" – Andrea Farrell
GoBooth – Photo Booth Rental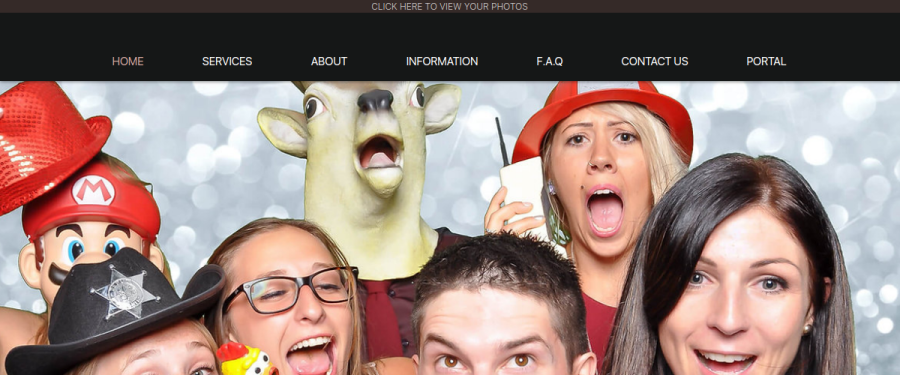 | | |
| --- | --- |
| Website | https://www.gobooth.ca/ |
| Address | 2058 Melette Crescent, Orléans, ON K4A 4X2, Canada |
| Phone | +1 613-663-3776 |
| Email | info@gobooth.ca |
| Category | Photography service |
GoBooth is a photo booth rental company that offers booths for various occasions, such as weddings, holiday parties, birthdays, and corporate events. They have different packages that suit both your needs and your budget. All of the packages come with perks like unlimited photos and a free online album. They also have a wide array of backdrops to choose from.
For companies that need professional shots for their employees, GoBooth also offers on-location headshots. This package can cover up to 35 employees in 2 hours.
They have a lot of photo booths to choose from

The pricing is affordable

Their customer service is excellent

5-Star Google Review⭐⭐⭐⭐⭐
Customer Reviews
Let's take a look at what their clients have to say:
"GoBooth did our photo booth at our wedding and our guests all loved it! They were very easy to work with and were extremely professional and punctual. They had tons of options to choose from so that we could personalize our service from choosing the backdrop of the pictures, to the printouts from the booth with our custom design. Before the weekend was over we already had access to our online photo album. Thank you so much!" – Kathleen
"Loved! We used GoBooth for a corporate celebration and it was a huge hit! The photo booth was a fun way to engage our guests and show off our new logo. The booking process was so easy, as was the creation of our template for the photos. Recommend to anyone! As a bonus, everyone looks amazing in black and white :)" – Kristen DeArman
MDRN Photobooth Company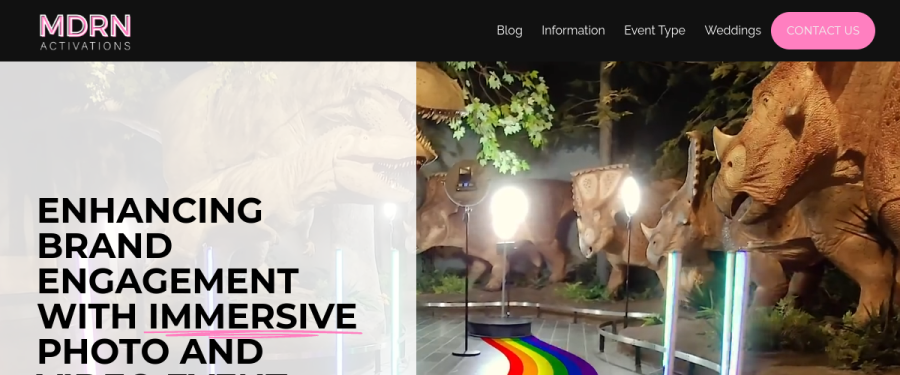 MDRN Photobooth Company is all about creating immersive and memorable engagements for virtual events and in-person events with photo booths. They are committed to providing top-notch quality services that will leave a lasting impression on their guests. Whether you're looking for a virtual photo booth experience or an in-person photo booth experience, MDRN Photobooth Company has you covered!
Photo booths are always a hit at events

A fun, interactive way to capture memories

Lots of different options and designs to choose from

Professional and high-quality products
It May be too expensive for some budgets

It May require extra setup time depending on the event
Customer Reviews
Let's take a look at what their clients have to say:
"As an Ottawa-based Wedding Planner, I can say that MDRN's photobooths are the highest quality booths available and the ones I recommend first to my clients. Their team is extremely organized and professional as are their booking services and follow-up. The quality of the prints guests will get is worth it. My clients especially love the Glam booth in black and white, that's a popular one! I also like that you can add on a photo bamboo guest book where a photo booth attendant is the one encouraging guests to add a photo and sign it! Then with their new Gushline phone voicemail guest book as well, you not only give guests something to do but the newlyweds get to listen to a sweet or funny message after their wedding day! Highly recommend MDRN!" – Erica Irwin
"Hired MDRN photobooth company for a corporate awards night that I planned at the company where I work. They finished set up early and everything ran smoothly. It was a pleasure working with Ryan. The pictures came out better than expected and were aligned with our corporate branding. I would love to hire these guys for my next event!!" – Krish Khurana
Dynamix Photo Booth Dynamix Photobooth Rentals provides sleek and simple photo booth designs that are perfect for any event. Whether you are looking for a traditional enclosed photo booth or an open-air style set-up, Dynamix has you covered. Our Kiosk and Social Photo Booth take up minimal space and are easy to angle for photographing guests of varying heights.
Dynamic and interactive photo booths

Fun for all occasions

Great quality photos
It May be too costly for some
Customer Reviews
Let's take a look at what their clients have to say:
"Dynamix Photo Booth is run by the nicest, most professional people! The photo booth was a huge hit at our wedding – everyone had a blast using it and the photos turned out great. I couldn't recommend them more!" – Amanda
"The Dynamix Photo Booth was a lot of fun at my wedding! The staff were super friendly and made sure everyone had a chance to use the booth." – Bride, Ottawa
LexiBooth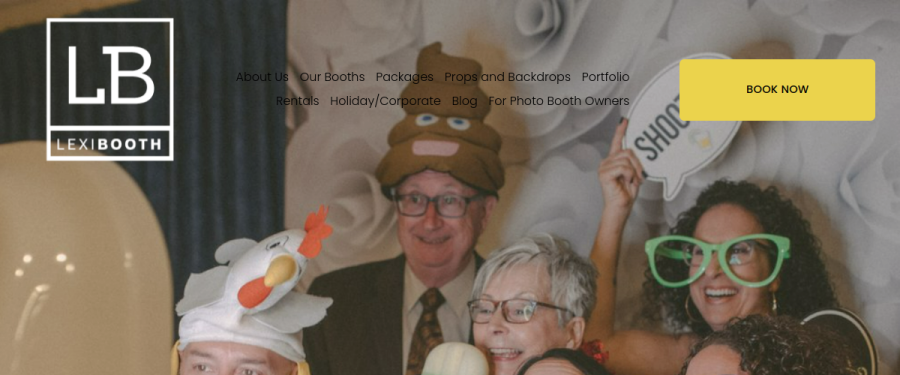 LexiBooth is a bilingual photo booth rental service that strives to make your event experience fun and easy. They offer a wide range of services, from creative direction to props and poses, to make sure your photo booth experience is one you'll never forget. The team is energetic and passionate about making your event amazing, and they are fluent in both English and French. LexiBooth is the perfect choice for any event, whether it's a wedding, corporate function, or birthday party.
Affordable pricing

Quality products and services

Wide range of photo booth options

5-Star Google Review⭐⭐⭐⭐⭐
Limited customer service hours
Customer Reviews
Let's take a look at what their clients have to say:
"LexiBooth is the real deal! From the moment I saw their kiosk, I knew I had to book them for our wedding this October. On top of having an excellent product, their customer service is outstanding! They are very responsive to questions, professional and they are so nice. It is reassuring to have this type of quality service while you're in the chaos of planning a wedding. They were proactive in designing our template and they had many backdrops to choose from. Cannot say enough good things about this business! Would highly recommend LexiBooth ✨" – Cynthia and BJ Cox
"I rented lexibooth for my wedding & it was the best decision. My guest enjoyed it so much & it was very memorable. Everyone was able to leave with good quality printed photos from the wedding which they loved. Isabelle who did the setup and took care of the photos was absolutely amazing and so much guests told me how much they liked her & mentioned how helpful she was. I'm very grateful to lexibooth for making my wedding special." – Zeinab Borj
FAQs about Photo Booths in Ottawa
What are the various kinds of photo booths?
The traditional, open-air, and inflatable types are the most prevalent. Inventions have also made it possible for people to enjoy 360-degree, slow-motion, and vogue photo booths.
What supplies are necessary for a DIY photo booth?
You may need a digital camera, a tripod, a backdrop, some lighting, and nice props when setting up your DIY photo booth.
Why do people like using photo booths?
Because they offer guests a nice form of entertainment, photo booths are well-liked. The pictures make wonderful party favors as well.
---
Because they add an extra element of fun, photo booths are fantastic for any event. We therefore hope that the list we have provided will assist you in finding the one that meets your requirements and your budget.