The best waxing salons in Ottawa can get you smooth and hair-free quickly if you're feeling a little hairy in a few places.
Today, we're examining a few reputable waxing facilities with expertise in body hair removal for various areas of the body.
We'll also discuss and contrast some of their waxing rates in the section after this.
How Much Does Waxing Cost in Ottawa?
The majority of waxing salons provide hair removal services for the legs, bikini area, upper torso, and face.
Although the costs are fairly reasonable, you may want to have waxing done on more areas of your body if you have more hair.
To keep certain body parts smoother for longer, some salons can also use additional tools like threading, sugaring, tweezers, and electrolysis. Of course, this might result in a higher bill after the hair removal procedure.
The majority of the Ottawa waxing salons we're reviewing today have service rates that are fairly comparable to one another, as you can see in the table below.
WAXING SALON
ESTIMATED COST
Nova Wax Bar
Eyebrows $16
Upper lip $10
Half arms $25
Underarms $15
Brazilian $49
Lower legs $30
Precision Styling
Eyebrows $18
Upper lip $16
Half arms $25
Underarms $17
Brazilian $52
Lower legs $28
tBeauty Lounge
Eyebrows $15
Upper lip $6
Half arms $28
Underarms $15
Brazilian $50
Lower legs $35
H2T-Esthetics
Eyebrows $12
Upper lip $10
Half arms $25
Underarms $12
Brazilian $42 – $54
Lower legs $27
Tropix Gal Wax Studio
Bikini $33.90
Brazilian $62.15
Underarms $25.99
Full Arm $50.85
Half Arm $28.45
Full Leg $62.15
Half Leg $33.50
Please take note that HST and other taxes and fees are typically not included in these rates just yet. It's best to first contact the salon for an evaluation.
Best Waxing Salons in Ottawa
Ready to have a buttery smooth texture? Let's take a closer look at Ottawa's best waxing salons to see how they can help you achieve hairlessness.
Tropix Gal Wax Studio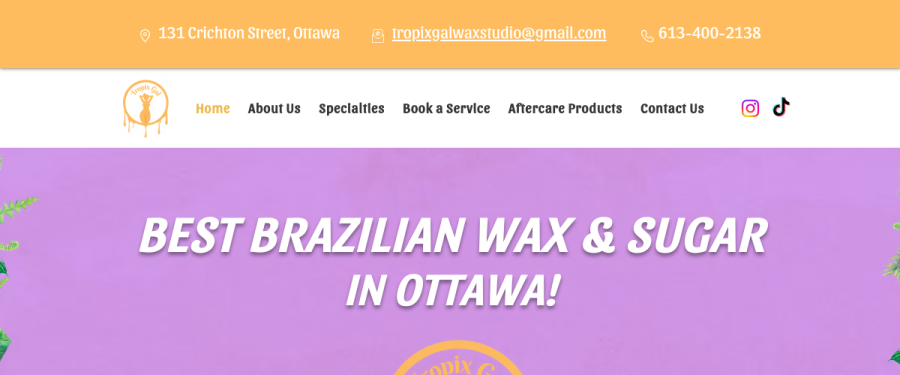 | | |
| --- | --- |
| Website | http://www.tropixgal.com/ |
| Address | 131 Crichton St, Ottawa, ON K1M 1V8, Canada |
| Phone | +1 613-400-2138 |
| Email | kl@tropixgal.com |
| Category | ['Waxing hair removal service'] |
As a waxing expert, it is Tropix Gal's goal to take care of any hair removal needs as quickly and painlessly as possible. This includes providing a safe space for women to feel comfortable getting their hair removed. In addition to using high-quality products and refined techniques, Tropix Gal is dedicated to restoring the confidence of clients who may feel insecure or uncomfortable with waxing. By providing excellent service, Tropix Gal hopes to make waxing a necessity rather than a luxury.
Affordable prices

Wide range of services

Experienced staff

5-Star Google Review⭐⭐⭐⭐⭐
Customer Reviews
Let's take a look at what their clients have to say:
"Katrina is amazing at what she does! I have been going to her for Brazilian waxes and she never disappoints. Katrina is welcoming and her spa is a judgment-free zone. Brazilian waxes are personal but when you are there you just feel like you chatting with one of your friends and catching up. Great service very professional and clean. Best place in Ottawa for a Brazilian wax. 10/10 recommend." – Reese Eason
"Katrina is the whole reason this is such a great experience. I have been going here for almost a year for waxing and I highly recommend it to everyone I know. Katrina is very welcoming and makes it a very comfortable experience. Very thankful to have found her!" – Bryelle Steffen
H2T Esthetics
H2T Esthetics Waxing Salon is a top-rated salon in Ottawa, Canada. They offer a wide range of services, from hair removal to waxing to massage. Their team of experts is highly skilled and dedicated to providing the best possible service to their clients.
The salon is located in an upmarket area of Ottawa, and they offer a range of package deals which include discounts on multiple services. They also have a loyalty program that rewards regular customers with free services and products.
The salon has a relaxed and informal atmosphere, and the team strives to make all their clients feel comfortable and welcome. The staff is happy to discuss any concerns or questions that clients may have, and they are always happy to help with recommendations.
H2T Esthetics Waxing Salon is the perfect choice for anyone looking for a high-quality beauty treatment in Ottawa. The staff is friendly, skilled, and professional, and the salon offers great value for money.
Great location

Professional and experienced staff

Wide range of services offered
Customer Reviews
Let's take a look at what their clients have to say:
"AMAZING!!! Hands down the best waxing experience I have ever had. Shanna did my Brazilian quick and painlessly, finishing the whole thing in under 20 minutes. She was lovely to chat with, super thorough and this was overall an incredible experience!! I have never left a wax so happy. Cannot recommend enough!!!" – Alex Kouri
"Like many other ladies, I've been to several different places for waxes and pedicures. I found Shanna through a friend, and I'll never look back! The location is convenient (lots of parking), the prices are the best I've ever seen, and Shanna is simply the best at what she does! Her facility is extremely comfortable and clean as well. Make an appointment ASAP! You won't regret it!" – Michelle Wood
Nova Wax Bar Ltd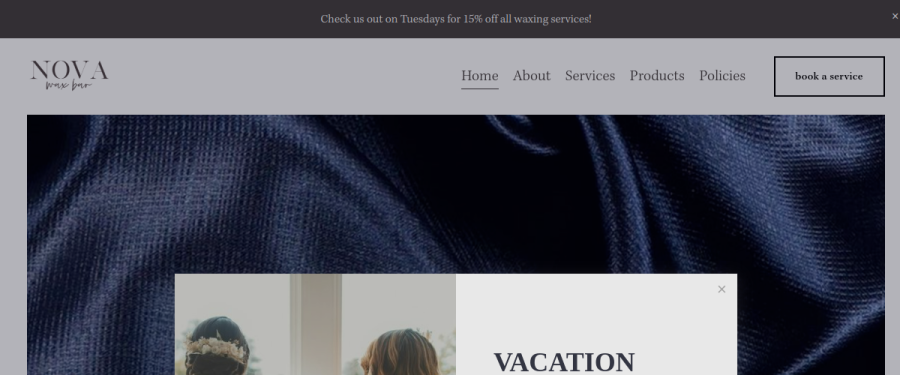 | | |
| --- | --- |
| Website | http://novawaxbar.ca/ |
| Address | 180 Preston St Level 3, Ottawa, ON K1R 7P9, Canada |
| Phone | +1 613-880-6227 |
| Email | novawaxbar@outlook.com |
| Category | Waxing hair removal service |
Nova Wax Bar Ltd. is a new business in Ottawa that offers waxing services. The owner, who has over 10 years of experience as an esthetician, promises that her salon will provide efficient and affordable services. She has worked in other waxing salons in Halifax, Ottawa, and Toronto, so she has a good idea of what customers are looking for. There is no double dipping at Nova Wax Bar Ltd., which means that customers can be assured that their service will be quick and affordable.
Excellent customer service

Convenient location

Wide range of services

Affordable prices
Parking can be an issue at times
Customer Reviews
Let's take a look at what their clients have to say:
"I have had amazing waxing experiences with Brenna!! I could not be more impressed. I only have positive things to say. I have tried many different waxing bars in Ottawa and she is levels above anywhere else I have been. Her services are wonderful. She is super professional, runs on time, is very quick, has no hairs snapping, has minimal pain and just does a great job. The wax bar is clean, modern & welcoming. The receptionist is lovely and will try her absolute best to get you in. The prices are very reasonable. I Feel lucky to have found Nova wax bar, I will be recommending this place to all my girlfriends & will be going to Brenna exclusively for all of my waxing services. Thank you" – Ellie Kaye
"I only have positive things to say about Brenna and Nova Wax Bar! I have been a client of Nova Wax Bar since October 2019. The space is always clean as well as very stylish and welcoming. When I was new to coming to her wax bar, she was able to make me feel very comfortable and I have trusted her for all my waxing needs ever since! Brenna takes time to build rapport with her clients and has gotten to know me and my preferences over my time coming to her wax bar. She is professional, friendly, and the absolute best!" – Ashlyn Hickey
Flirt Wax Bar
Flirt is a new home-based studio that offers waxing services and a great chat with Ash. They only use quality products and provide professional results, while also offering amazing customer service. This studio is a great alternative to high-end spas that are often overpriced and have terrible bird soundtracks. At Flirt, you can get quality services at an affordable price.
Great location

Friendly and experienced staff

Wide range of waxing services

5-Star Google Review⭐⭐⭐⭐⭐
Customer Reviews
Let's take a look at what their clients have to say:
"I had the best waxing experience ever with Ashley. The best prices in the city, a clear website, and easy to book an appointment, and Ashley is so fun and funny and easy to talk to. Her waxing is very well done, and very clean, and I have had no in-grown hairs at all, which is almost to be expected like waxing, but the way she does it, it just doesn't have any in-grown. She is a waxing magician, and I think I have found my lifetime esthetician." – Penghui Carrie Sun
"I found Flirt by reading reviews online, and am I ever glad I did! Recently moved to the area and this will now be my go-to! Ashley did a GREAT job (extremely thorough) and even gave me some great recommendations for aftercare. Her home-based business is clean and professional. I also received a client loyalty card, although prices are already reasonable." – Abena Addo
Gorgeous Brows and Lashes
Gorgeous Brows and Lashes is a high-quality beauty company with four locations and growing rapidly. Indulging in some occasional pampering is the key to looking as good as you feel, and Gorgeous provides an immaculate, stylish, and serene experience that is affordable. Services include brows and lashes, which are at the highest standard of quality and care. With locations all around Los Angeles, there's sure to be one near you!
The company offers a wide range of services including brows, lashes, and makeup

The staff is highly trained and experienced

Gorgeous Brows and Lashes uses the latest techniques and equipment
The prices are a bit high compared to other companies
Customer Reviews
Let's take a look at what their clients have to say:
"I always have an incredible experience at this location! The ladies working are very professional and love to socialize as well! Definitely my number one and favorite spot to get my eyebrows done, as not only do my brows look amazing after, but I get a lot of compliments from others as well." – Nagham Fawaz
"I have been seeing Lipsa for months now for my lash extensions, brow waxing/threading, and tinting and I have never been disappointed! Always amazing service and results! Great price too! She is very professional and loves what she does and it shows! Very impressed!" – Cassandra-Ève Leduc
FAQs About Waxing in Ottawa
What length does my hair need to be before I can get it waxed?
To get your hair waxed, it must be at least ¼ of an inch long. Waxing removes the hair from the root, so if it is not long enough, the technician will not be able to do a good job.
Before my waxing appointment, do I need to take a pain reliever?
You should not take a painkiller before a waxing appointment. Waxing is a relatively painless process, and taking a painkiller may make you too numb to feel any discomfort.
What should I avoid after getting waxed in a salon?
You should avoid getting wet for at least 24 hours after getting waxed in a salon. The water will soften your skin and make the wax less effective. It can also cause the pores to close, trapping bacteria inside and leading to infection. Additionally, you should avoid sun exposure, as it can cause skin irritation.
I get my skin chemically exfoliated. Is it safe to get it waxed in a salon?
It is safe to get a waxing treatment when you have a chemical peel treatment. The acids in the peel will break down the hair follicles, making them less likely to grow back. It is important to avoid sun exposure after a peel, as this can cause skin irritation.
---
Without breaking the bank, the best waxing salons in Ottawa can keep your skin smooth and hair-free.
Do you think we should have listed another reputable waxing business? Send us your suggestions, and we'll review them as soon as possible.