Today might be your lucky day if you've been having trouble getting people to notice your goods or services. What the best advertising firm in Ottawa can do for your brand will be discussed.
At the end of this listicle, we also included some helpful FAQs to further your understanding of the sector.
How Much Does a Marketing Agency in Ottawa Charge?
There might be various methods for paying for services. In order to provide clients with a full range of digital marketing solutions for a single fee, an advertising agency in Ottawa may offer its services via monthly subscriptions.
Some clients, however, might already have websites and would only require the kind of social media presence that can advance their brand. Then, as shown in the table below, a la carte services can be provided.
| | |
| --- | --- |
| ADVERTISING AGENCY SERVICE | ESTIMATED COST |
| Social media management | $500 – $1,000 per month |
| Consultation/creative development | $85 – $200 per hour |
| Digital marketing subscription | $950 – $10,000 per month |
| Website design, hosting, and SEO package | $5,500 – $10,000 per package |
Please take note that some of the sites are under review today and national averages were used to determine these estimated costs.
The best way to determine the most affordable price for your advertising needs is to take advantage of some agencies' free initial assessments.
Top Advertising Agencies in Ottawa
It's time to look more closely at what the best advertising agencies in Ottawa can do for your company now that you have a better understanding of costs and rates.
For the organizations under review today, we used the following standards:
Has reasonable pricing plans and competitive rates for some services
Both pre-packaged and a la carte services are available
Has a solid communication system in place and offers ongoing client support
Has a strong client base that clients can use to determine whether they're a good fit for their needs
GrowME Marketing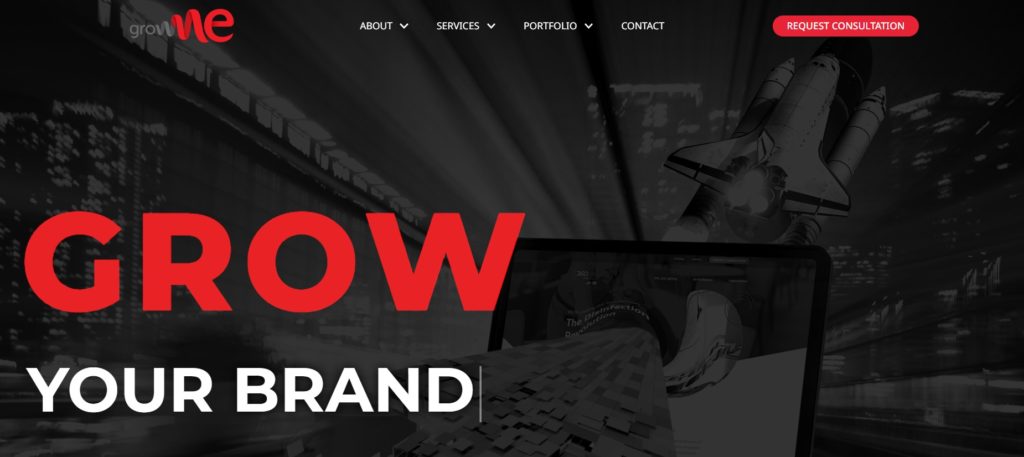 | | |
| --- | --- |
| Website | https://growmemarketing.com/ |
| Address | 1950 10 Ave SW Unit 201, Calgary, AB T3C 0J8, Canada |
| Phone | +1 403-547-6963 |
| Email Address | info@growme.ca |
| Category | Advertising agency |
GrowME Marketing is a high-impact creative agency that specializes in helping businesses unleash the potential of their brand. The company was founded by Tarek Mohajer in Canada during the midst of a financial crisis. Mohajer had the idea of using social media to help businesses grow, and thus, The Social Media Group was born. Over the years, the company has evolved and grown, and now employs over 25 people and serves hundreds of clients across North America. GrowME Marketing is dedicated to putting their clients first and helping them achieve success.
Good customer service

Provides marketing consultation

Helps with SEO and online marketing
Customer Reviews
Let's take a look at what their clients have to say:
"Very helpful. Professional. Respectful. Communicative. Upon organizing a consultation call the Founder & CEO Tarek calls you personally to discuss your needs and speaks to you like I believe he would talk to a friend. He is down to earth and speaks calmly like he has nothing better to do than to discuss your business plans and goals.10/10 Would recommend it (I haven't even given them my money yet)Update: Now that I have started funding my custom campaign that GrowME and I agreed on for my tutoring company fun things are happening and I notice that GrowME really takes the initiative and really does do, and starts right away, what they say they are going to! It feels like working with an incredibly organized team." – Tim Howie
'We started using GrowMe in 2022 and were impressed with their approach. The staff was professional and very knowledgeable. They dignified us when we asked any 'dumb' questions. The kickoff meeting left us feeling that we were in good hands, and that's exactly what happened. So glad that we decided to use GrowMe.' – Keenan Vincent
Mediaforce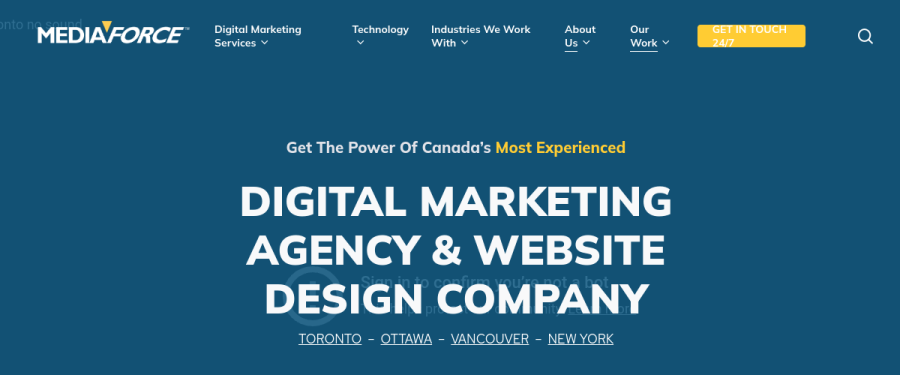 | | |
| --- | --- |
| Website | https://www.mediaforce.ca/ |
| Address | 150 Elgin St Floor 10, Ottawa, ON K2P 1L4, Canada |
| Phone | +1 613-729-0500 |
| Email | jbon@mediaforce.ca |
| Category | ['Marketing agency', 'Advertising agency', 'Business management consultant', 'E commerce agency', 'E-commerce service', 'Internet marketing service', 'Web hosting company', 'Website designer'] |
MediaForce has been in business for over 20 years, and during that time they have partnered with some amazing businesses and organizations from a wide array of industries. Their partners are businesses that provide digital marketing guidance, expertise, and results. MediaForce is dedicated to providing their clients with the best possible service, advice, and support in order to help them achieve their marketing goals. They strive to create partnerships with businesses that are committed to excellence and success.
Experienced marketing staff

Many years in business

Specializes in SEO and digital marketing
Customer Reviews
Let's take a look at what their clients have to say:
"Mediaforce Marketing Agency is a top-notch marketing agency that can help your business grow. I have worked with them for a while now and the results have been phenomenal. The team is extremely knowledgeable and talented, and they always go above and beyond to deliver quality work. I highly recommend working with Mediaforce if you want to see success in your marketing efforts!" – Ali
"Mediaforce Marketing Agency has been a huge asset to my company. They are responsible for increasing our online visibility by 300% in just 3 months! The team is very experienced, knowledgeable, and effective in their strategies. I couldn't be happier with the results we've achieved together." – Brent
Xactly Design & Advertising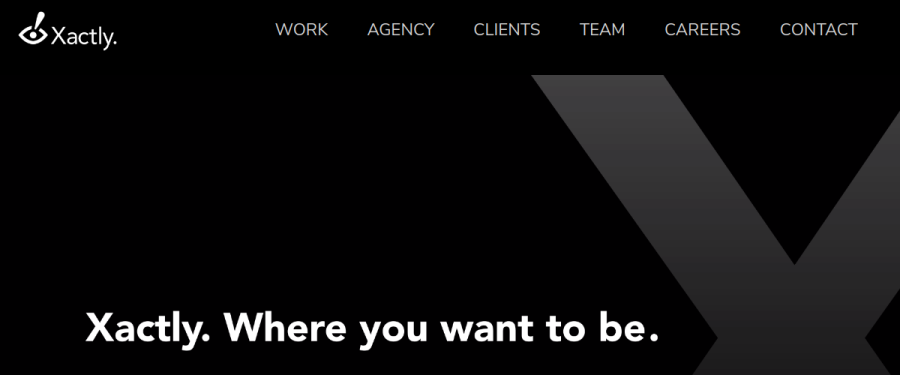 | | |
| --- | --- |
| Website | http://www.xactlydesign.com/ |
| Address | 311 Richmond Rd #204, Ottawa, ON K1Z 6X3, Canada |
| Phone | +1 613-745-2225 |
| Email | info@xactlydesign.com |
| Category | Advertising agency |
Xactly Design & Advertising is a full-service Design and Advertising Studio. We specialize in graphic design, website design & development, social media strategy & management, SEO, strategy, and content development. Our team has a wealth of experience and knowledge that we bring to every project we work on, ensuring that our clients are always satisfied with the end product.
Whether you need help creating a new branding identity for your company, developing a website that will showcase your products and services, or creating an effective social media strategy to reach more customers, Xactly can help. We have a proven track record of delivering quality work that meets our client's needs and exceeds their expectations. Contact us today to discuss your project and see how we can help you achieve your goals.
Very experienced and qualified design and advertising team

Strong focus on customer service

Produces high-quality work quickly
Customer Reviews
Let's take a look at what their clients have to say:
"Overall an amazing experience. The Xactly team understood my needs and then put forth a comprehensive and creative plan. This group is great at what they do and if you want positive results I highly recommend them." – Brent Wallace
"I had a great experience designing my new website with the team at Xactly. They were professional and patient with me throughout the whole process and were able to navigate any questions I had or any issues that came up. Especially when we ran into a few snags with transferring hosting sites as well as linking all of our social media sites. I really appreciate all their hard work and love the whole look of the new site. It's easy for our patients to navigate and communicates information about our office effectively. Thanks again to Coleen, Craig, and Denis." – Jennifer Winn
Billingham Agency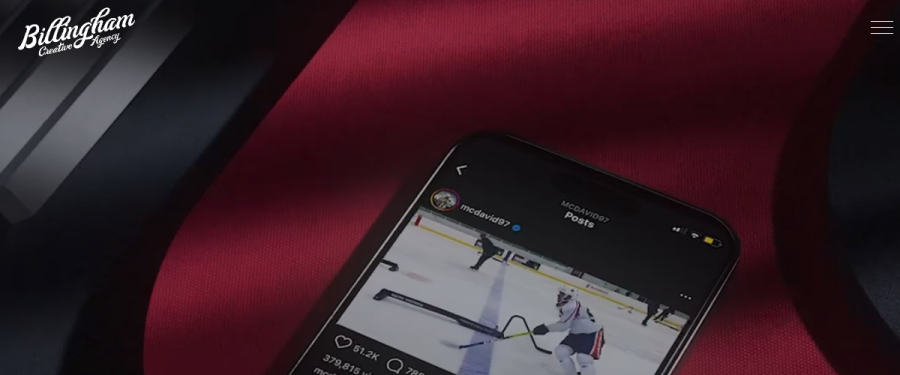 | | |
| --- | --- |
| Website | https://www.billinghamagency.com/ |
| Address | 335 Catherine St, Ottawa, ON K1R 5T4, Canada |
| Phone | +1 613-422-3183 |
| Email | team@billinghamagency.com |
| Category | Advertising agency |
Billingham Advertising is a full-service agency that helps businesses of all sizes get the attention they need and be remembered. With creative storytelling and stunning visuals, Billingham makes sure your advertising is top-notch. Whether you're looking for online or offline advertising, Billingham can help you create an ad campaign that really shines.
Experienced team

Great customer service

Excellent reputation
Customer Reviews
Let's take a look at what their clients have to say:
"I've had the pleasure to work with Robin on many projects dating back to when he was operating from his parent's home. The agency expansion comes as no surprise as his (now team) brand vision is on full display through their performance. They challenge creative boundaries and work tirelessly to lead with action but above all, they demand the same from their clients. Collaboration is felt with mutual respect through each interaction and long after. The new studio is a huge plus for efficiency and it's a vibe on it's own but don't take it from me, see it for yourself!" – Skyler Winsor
"Creative energy. That's what you get when commission Billingham to help disseminate your message. Your clients will be captured by the still of the work produced. In particular, the Billingham team meshes novelty, imagination and quality into their final products. My experience with their work has ensured that message was delivered and kept my clients attention. I recommend Billingham if you want your idea into a product that delivers flair, fun, and force." – Trevor Banks
Ranger MediaLab | | |
| --- | --- |
| Website | https://www.gregranger.com/ |
| Address | 963 Harkness Ave, Ottawa, ON K1V 6N9, Canada |
| Phone | (866) 910-6297 |
| Email | greg@rangermedialab.com |
| Category | Advertising agency |
Ranger MediaLab is an Ottawa marketing agency that offers digital marketing services, including Google Ads, Facebook, and Instagram Ads, and marketing strategy. They also offer copywriting services. Ranger MediaLab is a full-service agency that can help businesses with all of their digital marketing needs.
Experienced team with a lot of knowledge and skills

Variety of services offered

Quick turnaround times
Sometimes lacks creativity

Prices can be high
Customer Reviews
Let's take a look at what their clients have to say:
"I stood up my Google Ads campaign alone and saw some OK results. As soon as I had spare money, I spent it on Greg to take over the campaign. The results were instantaneous. Greg showcased very high skills in optimizing the strategy on our allowed budget. I am very grateful for his enthusiasm and dedication to our project, even so, we are still a small start-up business. His marketing knowledge and understanding of the Google platforms are unique. He was a force multiplier in taking our online marketing to the next level. Thanks!!" – Marc-Antoine Sigouin
"Greg is excellent at meeting objectives as well as being flexible with original goals that change into new goals lol! He was able to clean up my Shopify and make me a distribution portal without having to pay for plug-ins. Most importantly he is punctual and available for consult. Thanks, Greg!" – Rose Thompson
FAQs About Advertising Agencies in Ottawa
How can a website design help with my business's marketing and sales?
Because it is both user-friendly and engaging, a good advertising agency in Ottawa can implement the kind of website design that will actually engage visitors (and, as a result, customers).

A successful website optimizes its content, design, and usability to rank first in searches, produce leads, and actually drive sales. Some websites simply serve as information portals.
Does my business really need SEO?
Considering that most transactions today take place online, hiring an SEO expert can help your website generate new leads (and sales). This is what it means if you've ever Googled a good or service to see if it's worth buying.
What can content marketing do for my brand?
Plenty! To begin with, it's what can convey your brand's "story"!

Original content can help you establish yourself as a professional or expert if you want to be taken seriously in your industry or field. It aids in giving potential customers the impression that someone is there who is aware of their needs and offers enough details for them to try their brand.
Do I need to be present on all existing social media platforms to get sales?
No, you only need to focus on those that will matter and whose audience you are trying to reach. Because of this, a good advertising agency should be adaptable in creating social media marketing strategies that are specific to your goals and requirements.
---
Your brand can receive the kind of online awareness it needs to drive sales by working with the best advertising agency in Ottawa.
If you are considering reviewing an advertising agency, please send us a message.