Are you hoping to turn your unfinished basement into a man cave or extra living space for your entire family? Whatever your plans are, we have the best basement renovations in Ottawa for you to consider right now.
We've weighed all of the advantages, disadvantages, and potential costs so that your basement makeover plans can finally come to life. If you want to do more than store holiday decorations or do laundry in that dark basement space, keep reading.
What Are the Prices of Basement Renovations in Ottawa?
Renovations are generally expensive due to the amount of labor and materials required. Basement renovations, on the other hand, can be particularly costly because they add value and usable space to your home (in case you want to sell it in the future).
There's also a lot of foundational support there, which necessitates extra caution from contractors and builders. This is why some of the best basement renovation companies in Ottawa have credentials and years of experience.
You can always do a DIY renovation project because it will be more cost-effective in the long run. Hiring an experienced contractor, on the other hand, will ensure that the work is completed on time and within budget.
To give you an idea, a basic basement renovation contract lasting anywhere from a month to 60 days could cost anywhere from $20000 to $60000. However, many factors influence the final cost, including the size and shape of your basement, as well as the scope of the renovation (see table below for reference).
BASEMENT RENOVATION SERVICE
ESTIMATED COST
Basement finishing (per sq. ft.)
$65 -$100 per square foot
Basement remodeling
$10000 – $30000 (depending on the number of features to be replaced)
Basement finishing package (per 1000 sq. ft.)
$32000 up (inclusive of design, materials, labor, and clean-up)
Basement bathroom installation
$10000 – $15000
Upgrades
Hardwood floor $7000 – $10000
Foundational expansion $10000 – $30000
System remodeling $1000 – $4000
Again, these are rough estimates based on the fees and costs of most basement renovation contractors. Keep in mind that the cost of drywall, framing, flooring, and ceiling per square foot will all add up to the overall cost.
5 Best Basement Renovations in Ottawa
Now that you've made the decision to go ahead with the project, it's time to research the best basement renovation companies in Ottawa:
1. Ottawa Renovation & Construction Corp
Ottawa Renovation and Construction is a company that was founded in 1995 and specializes in home renovations. The company has a team of architects, engineers, and renovation finishing trade specialists who work together to deliver quality craftsmanship. Clients can trust that they will be guided through the entire construction process, from start to finish, and that they will be able to see the project through themselves. This ensures quality control on all aspects of the renovation.
Well-established company

Many years of experience

Excellent customer service
Higher than average prices
Customer Reviews
Let's take a look at what their clients have to say:
"My husband and I have hired Aurelio and his team to help us with our kitchen renovation. A project that was thought to be very straightforward became more complex when Aurelio uncovered the shoddy workmanship done during previous renovations (done under a previous owner). The floor of the kitchen was in very bad shape and was spongy. His professionalism had him reaching out to us with options for improving the structural issues. While our renovation project is not yet complete, the results of his efforts have resulted in a very solid floor. One that will help ensure that we will be happy with our completed kitchen. Thank you for your quality work!" – Cynthia Piche
"Aurelio and his company's team from Ottawa Renovation and Construction Corp were Very Professional, Super Polite everyday, Very Knowledgeable in guiding me through selecting finishing materials from their suppliers, did a Great Job on our basement renovation finishing, way to go guys! Thanks, ORCC from our whole family. Theresa" – Theresa Forbe
2. The Anything Guys Inc
The Anything Guys were founded in 2005 by Tom Rheaume. The company has since grown to a strong 20-person team. Their focus is to supply Ottawa residents with a professional, affordable service that is a one-stop shop for both commercial and residential clients. They pride themselves in their ability to offer a large variety of different household and property-related services, big or small, irregular or mainstream. This can be found on their services page.
Great customer service

Quick response time

Insured

Free estimates

Offers a variety of services including all types of home renos and landscaping 
Limited geographical area
Customer Reviews
Let's take a look at what their clients have to say:
"We recently had a new deck built by the folks at TAG. From the first encounter ie the estimate (fall 2020, with Tom), to full completion just last week (Jul 2021) the project went smoothly, was very well coordinated throughout, and most professionally done by two experts (in our opinion) tradesmen (Steve and Andrew). Notwithstanding the significant "jump" in the price of cedar, my wife and I couldn't be happier with the final product. We would not hesitate for a moment to recommend TAG to anyone wanting to have quality work done. Well-done TAG! Thank you. John and Jo Orleans ON" – John Dicker
"TAG did an excellent job transforming our backyard into an amazing outdoor living space. We hired their team to replace our cedar fence, design and install interlock for most of our yard, and create custom stairs. Given the exceptional circumstances of this year with COVID-19, Tom was great to deal with and was still able to complete the work on time. Pricing was reasonable and Tom and the TAG teams were great to deal with. We would certainly recommend TAG for landscaping projects." – Rik Sorensen
3. SPOK Home Renovation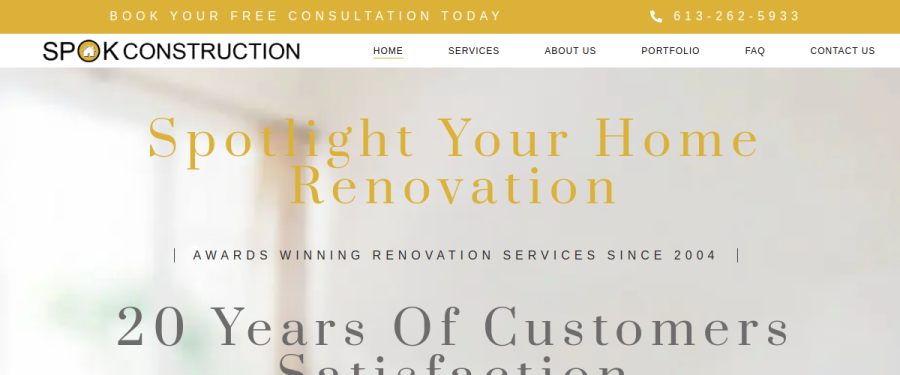 SPOK Home Renovation is a company that specializes in home remodeling and restoration. They have been in business since 2004 and relocated to Ottawa in 2015. They pride themselves on their customer satisfaction and personalized attention to each project. Their goal is for clients to know who they are, what they do, and trust them with their homes. They accomplish this through close personal relationships with clients and careful communication of ideas and goals. The company has won awards for their work, which speaks to their quality and dedication.
Licensed and insured

Professional staff

A variety of services offered

Free estimates
Customer Reviews
Let's take a look at what their clients have to say:
"Recently had a basement completed with SPOK. Sergiy and his team are professional and friendly, at the end of every day the team would clean up, and they gave helpful advice when required. They went above and beyond what we expected, paying extra attention to details. We were very pleased with their service and quality, we would definitely recommend SPOK, and will use them again in the future if we have more home renovation needs." – Alex Korolkevitch
"Highly recommend SPOK Home Renovation and Sergiy. Recently had a basement reno completed on time and on budget. The quality of their work is great and they gave helpful advice when required in deciding on finishes. You won't be disappointed and their price is great!!" – Tim Blackmore
4. To Do Done: Renovations and Handyman Service If you're in need of some home renovations, or just a handyman to help you out, Ottawa is the place to be. There are countless service providers in the area who can help you with just about anything you need to be done. Whether it's a small job or a large renovation project, there's someone who can help.
One great option for finding a provider is to check out reviews online. This can give you a good sense of what others have thought of the service and whether they were happy with the work that was done. It can also be helpful to get recommendations from friends or family members who have had work done in the past.
Licensed and insured

Professional staff

A variety of services offered

Free estimates
Customer Reviews
Let's take a look at what their clients have to say:
"I had a great experience working with Tonya and her crew. I hired To Do-Done to rebuild my stairway with new tread, risers, and trim and to install unfinished hardwood flooring for 800 sq feet of my upstairs area. This was a big job that involved sanding the unfinished wood, staining it, and applying polyurethane. Sully, Sondos, and Dave were all great to work with. They always arrived on time, were tidy, very polite, and were good at communicating with me by text or phone. The finished product looks amazing. Tonya is pure pleasure! I totally trust her. She always answers texts, phone calls or emails quickly, she visits the site to make sure things are going well and she was very upfront and fair with her pricing of the job. This is my second time working with To Do-Done (the first one was rebuilding my screened in porch a couple of years ago) and I would definitely use them again for any other projects, big or small." – Lynne Evenson
"Not sure how we came across 2DoDone when we needed renovation work done in our store, but we're really glad we did! The entire process was smooth; the initial consultation, the scheduling, the renovation day itself, the teams (construction, painting, electrician, and project manager), and the follow-up. We were so pleased with the first job that we contacted them again to build fabric bins and a cutting table for us. We have other reno plans, and when it's time, we'll definitely have them 2DoDone!" – Catherine Fournier
5. Terry Construction
Terry Construction is a full-service contracting and renovation company that has been in business in Ottawa since 2001. They offer homeowners the highest quality services available, regardless of the size or type of project. From design to finished results, they can handle every aspect of your project. They are dedicated to providing clients with what they want and need and always work closely with them to ensure they are happy with the end result. No project is too big or too small for Terry Construction!
Well established company

Many years of experience

Good reputation
Limited geographical area

Pricey
Customer Reviews
Let's take a look at what their clients have to say:
"I needed some parging repair work done. Daniel at Terry Construction was my contact. I was very impressed with the communication that he maintained throughout the process. It was greatly appreciated. Steve did the actual work. He was pleasant and skilled. Good work and done within the price quoted. I will definitely call upon these people again." – Dennis Devine
"Eric was great all the way through, I had hired him to parge the exterior of my residential building. Upon arriving to quote me, he went through the details of his work plan and provided valuable suggestions which we went ahead with. He's very professional, I'll be calling him up for more work next year!" – Hani Habbal
FAQs About Basement Renovations in Ottawa
What value will a basement renovation add to my home?
To begin with, you'll gain an extra room (or rooms, depending on the size) from what was previously an unfinished extra space beneath the main house. This space could be used as a personal gym, a home office, a guest bedroom, a gaming room, or a man cave, depending on your preferences.

You're not only gaining more usable space, but you're also increasing the value of your home. If you plan to sell your home in the future, a finished basement will appeal to more potential buyers.

Once it has its own bathroom and private entrance, you can use it as a second source of income. Why not rent it out as a nice basement apartment or studio once the debris is cleared?
What potential hazards are associated with unfinished basements?
Aside from the risk of structural damage, people who spend time in an unfinished basement face a number of health risks. It invites bacteria to thrive if it isn't waterproofed and is constantly damp, which can lead to a variety of respiratory illnesses.

If you don't clean your basement thoroughly, dust mites and other pests such as roaches, mice, and termites will thrive. Each one could result in a veritable petri dish of diseases, so it's best to deal with the issue as soon as possible.
What are some basement renovation ideas I can do for my home?
As long as you have the vision, budget, and patience for a finished basement project, the possibilities are endless. However, an in-suite guestroom is a popular transformation for when out-of-town relatives visit and don't want to stay in a hotel.

Others prefer a separate rec room, particularly when they want their main living rooms to look spotless. These projects typically include installing a small bar, soft lighting, gaming and television binge-watching areas, and comfortable seating areas in the basement.
---
We hope that after reading about the best basement renovations in Ottawa, you have a better idea of which companies provide the best services at the best prices.
If you think we missed any other basement renovation companies in this review, please let us know. Send us a message and we'll look into it right away!