Physiotherapy isn't just for athletes and people who live an active lifestyle. If you spend all day at work in front of a computer, your body, particularly your spine, maybe under stress.
Fortunately for you, we've compiled a list of the best physiotherapy clinics in Ottawa. These clinics will provide expert care to help you restore, maintain, or improve your mobility.
Best Physiotherapy in Ottawa
In this list, we've only included clinics that provide the best physiotherapy in Ottawa. Other clinics in the city, in our opinion, cannot match the types of services they provide.

One of the top-rated physiotherapy clinics in Ottawa was voted to be Kent Chiro-Med Wellness Clinic for people interested in Ottawa Physiotherapy
Orleans Physiotherapy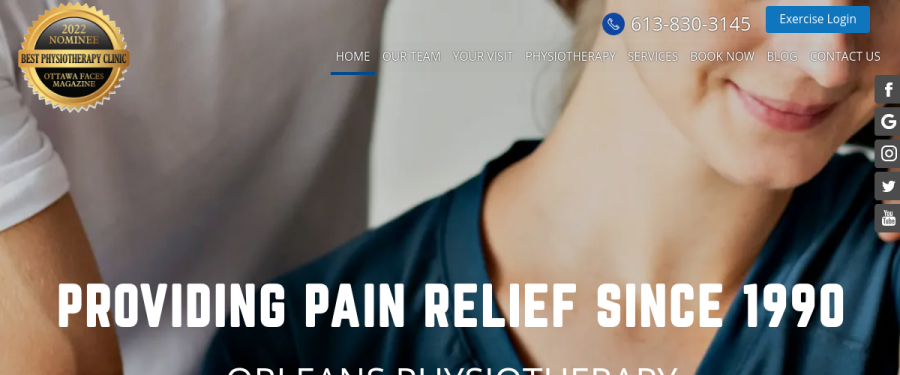 Orleans Physiotherapy is a professional physiotherapy clinic that has been in business since 1990. The clinic is centrally located in the heart of Orleans and offers quality 1-on-1 care in private treatment rooms. They have a reputation for providing quality care and are well-respected by many local physicians. The clinic offers flexible hours, with early morning or late evening appointments available, and generally does not have a waiting list. They are able to accommodate your needs within a week.
Provides 1-on-1
bilingual, personal care in private treatment rooms

They offer a variety of services, including physiotherapy, massage therapy, and acupuncture

They have a number of experienced therapists on staff

Convenient location

Affordable Rates

5-Star Google Reviews⭐⭐⭐⭐⭐
Customer Reviews
Let's take a look at what their clients have to say:
"Celine is a very friendly, caring, and knowledgeable physiotherapist. I have had two sessions with her thus far and have noticed an improved difference already. She takes the time with you to listen and puts forth a treatment plan that works! I would highly recommend her." – Tanya Wakefield
"Natasha provided evidence-based treatment and advice at every stage of rehab for my rotator cuff condition. The treatments gave excellent pain relief, which was especially important early on. The exercises helped me to gain strength and regain mobility for ordinary tasks. She adapted the plan perfectly as I progressed and I feel well-prepared to restart activities I enjoy. Many thanks!" – BBarnz
Activa Physiotherapy Ottawa

| | |
| --- | --- |
| Website | http://www.activa.com/ |
| Address | 200 Rideau Terrace #202, Ottawa, ON K1M 0Z3, Canada |
| Phone | +1 613-744-4188 |
| Category | Physical therapist |

Activa Physiotherapy Ottawa is a clinic that provides modern electrotherapy and modalities to help patients recover from injuries, chronic pain, and other physical problems more quickly. Barbara Stefanska, the clinic's head physiotherapist, has completed more than 40 courses in physiotherapy, modality, and other therapeutic and rehabilitative treatments. With her extensive knowledge and experience, you can rest assured that you're getting the best care. During your initial appointment, you can expect to receive a diagnosis. Then, you and your assigned physiotherapist will set goals together and discuss the best course of action for your specific case.
Convenient location

Staffs are friendly and knowledgeable

Personalized treatment plan and health goals

The latest equipment for electrotherapy and modalities

Flexible hours for pre-booked appointments
Often busy and appointments can be difficult to get

Expensive treatments

Only one clinic in the city
Customer Reviews
Let's take a look at what their clients have to say:
"I really liked this clinic. Mrs. Barbara was amazing, welcoming, and energetic. She was dedicated and worked really hard to ensure that I was 100% again. She gave me exercises and her treatment worked wonders. I was able to see amazing results within a week. Due to her dedication and commitment to helping, I was able to fully recover. I would highly recommend seeing her and going to this clinic." – Mar P
"Barbara helped me with major shoulder pain, hip pain, and wrist pain. I was a server for 10 years and then a desk worker for 5 so my shoulders became underworked and tight with serious winging, weakness, and inflammation. Barbara relieved the pain in my shoulder almost immediately, and then evened out the differences between both shoulders over five sessions. I was taped at the end of each session and have been following the exercises she gave me. My strength is returning and I feel much more even! She also helped me with my hip and wrist issues in between shoulder work. She's knowledgeable and explained/recommended different techniques. I'm better now but almost want to go back again because it was a great experience." – Renata
Ottawa Physiotherapy & Sport Clinics – Westboro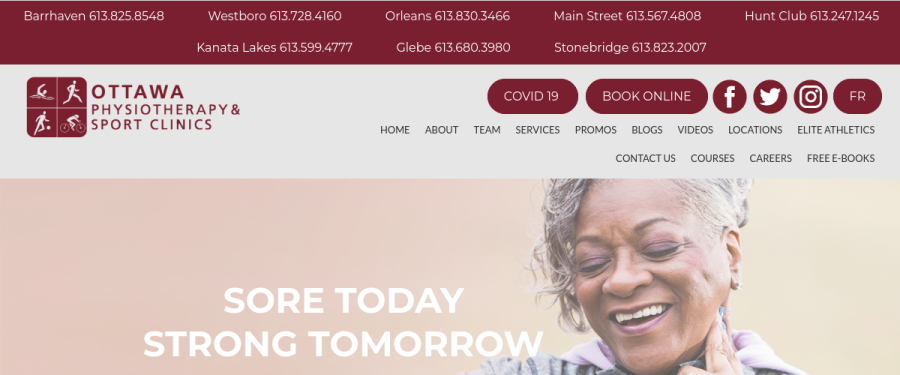 | | |
| --- | --- |
| Website | https://www.optsc.com/ |
| Address | 347 Churchill Ave N, Ottawa, ON K1Z 5B8, Canada |
| Phone | +1 613-728-4160 |
| Category | Physical therapist |

The Ottawa Physiotherapy and Sport Clinics provide full-service physiotherapy to residents in the Barrhaven, Westboro, Orleans, Old Ottawa East, Hunt Club, and Kanata Lakes areas of Ottawa. The clinics offer a variety of treatment techniques, including manual therapy, exercise prescription, medical acupuncture, Intramuscular Stimulation (IMS), custom knee bracing Ottawa, custom orthotics, bike fittings, running evaluations, and massage therapy. The clinics strive to provide quality care to their clients and communicate with other health professionals to ensure that their clients are receiving the best possible care.
The company is located in a convenient location

Westboro location offers convenient parking and is close to downtown Ottawa

Open seven days a week

Multiple locations in Ottawa and nearby areas

Offers fitness classes on top of physiotherapy services
The company is often busy and may not be able to accommodate walk-ins

Need special request for private treatment

Clinics lack some basic amenities like a rack for winter coats

Small Clinics
Customer Reviews
Let's take a look at what their clients have to say:
"The Physio treatment I was given at Ottawa Physiotherapy for an injured MCL was very thorough and key to my recovery. Luca was an excellent therapist who provided a wonderful variety of exercises along with his treatments to ensure I would be able to return to my activities as soon as possible. The Sunday morning vibe amongst the staff and patients was also super. I will surely be back the next time I need a physio." – Diane Spencer
"One of the best physiotherapy clinics by far. Theo is a great professional and well knowledgeable by providing great rehab programs and treatments. With his help, I'm now back on the soccer field at my best. Also, great staff with a great atmosphere!" – Alexandre Bellevue-Halaby
Glebe Physiotherapy and Sport Medicine | | |
| --- | --- |
| Website | www.glebephysio.com |
| Address | 200 Marché Way Unit 106, Ottawa, ON K1S 5J3, Canada |
| Phone | +1 613-237-3750 |
| Category | Physical therapist |
Glebe Physiotherapy and Sports Clinic are one of the leading physiotherapy clinics in Ottawa. They specialize in providing rehabilitation services for people who have suffered from injuries, are experiencing chronic pain, or are recovering from surgery. Their unique approach, known as the "Learn More, Move More" approach, involves educating patients about their condition and what they can do to take care of themselves at home. This helps patients become more independent and better educated about their condition, which leads to a faster recovery. Glebe Physiotherapy and Sports Clinic also provide expert care for people in Ottawa who are experiencing chronic pain or recovering from surgery.
Virtual care service available

The best option for patients recovering from surgeries

A unique but effective approach in treatments
Small clinic

One Location only

Closed during the weekends
Customer Reviews
Let's take a look at what their clients have to say:
"My experience with chiropractor Remi was great! I was having terrible chronic back and shoulder pain, and Remi relieved the pain and provided me with guidance to continue on my own at home. A very professional experience, I really enjoyed my experience with Remi!" – Rebekah Campbell
"Marjolein and staff have provided comprehensive and thorough treatments for me over the last several months. The staff was always willing to listen and provide caring timely advice. I highly recommend Marjolein and the team at Glebe Physio." – Matt Legassick
Function Physiotherapy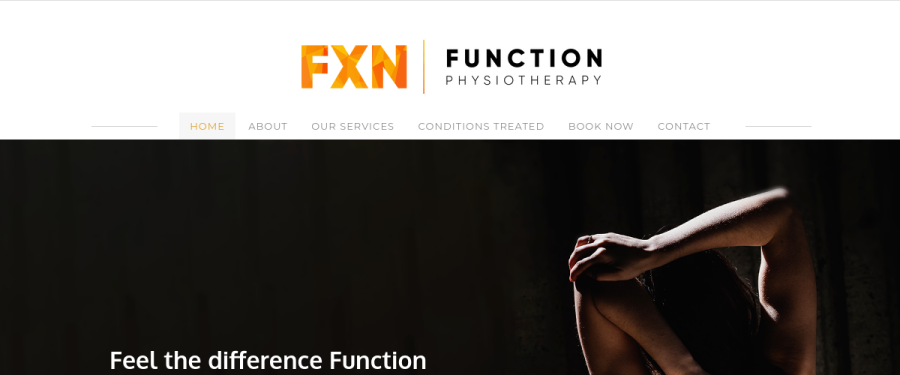 | | |
| --- | --- |
| Website | http://www.fxnphysio.com/ |
| Address | 1185 Bank St, Ottawa, ON K1S 3X7, Canada |
| Phone | +1 613-680-6505 |
| Category | Physical therapist |
Function Physiotherapy is a clinic that specializes in hands-on treatment. They believe that this type of treatment is the best way to ensure a successful and effective recovery. Their physiotherapists are highly trained and dedicated to providing the best quality service possible. Whether you are experiencing chronic pain, an injury, stiffness, or are recovering from surgery, Function Physiotherapy can help you achieve your goals.
Free parking

Movement Education

Private rooms

o machines
Customer Reviews
Let's take a look at what their clients have to say:
"I really enjoyed my experience at Function Physiotherapy. The staff is very welcoming and helpful, the clinic is clean and comfortable. I worked with Justin who was fantastic. He seems very knowledgeable, really takes the time to assess the situation, has great bedside manners, and goes above and beyond to help you heal. He was even available via email to answer questions. I'd fully recommend this clinic." – Jessica Samson
"I had a positive experience working with Justin at Function Physiotherapy. I went to Justin with knee pain, and he helped me get back on my two feet. The exercises and the positive reinforcement that he gave me were exactly what I needed and my knee has improved so much and is in great condition now. The clinic is clean and comfortable and the staffs are super friendly. I'd fully recommend this clinic." – Jeroniya Inparajan
FAQs about the Best Physiotherapy in Ottawa
What happens during my first appointment?
If you've never visited a physiotherapy clinic before, you might be nervous. Your first appointment, on the other hand, will take care of all of your concerns.  Your physiotherapist will do an interview with you, inquiring about your symptoms as well as your medical history, including any injuries, surgeries, or other disorders that may require treatment, and will then conduct tests to arrive at a diagnosis. Your physiotherapist will devise a treatment plan that you are comfortable with once you know what the problem is. You can talk about your expectations and goals so you can stay on track.
How long do I need to be in treatment?
The length of physiotherapy treatment varies from instance to case. It all relies on the severity of your injury or discomfort, as well as your commitment to following your treatment plan even when you're at home. However, sessions might range anywhere from 45 minutes to an hour. Your physiotherapist should discuss the number of sessions with you.
Is physiotherapy medical treatment?
Physiotherapy is a healthcare profession that requires a bachelor's degree. Physiotherapists apply their knowledge and expertise to treat a variety of ailments related to the body's many systems, including: Stroke, multiple sclerosis, Parkinson's disease) are all neurological conditions.
What can a physiotherapist diagnose?
Back pain, neck pain, shoulder discomfort, and sports injuries are examples of injuries to bones, joints, and soft tissue. Movement issues caused by a stroke, multiple sclerosis (MS), or Parkinson's disease affect the brain and neurological system. heart and circulation – for example, post-heart attack rehabilitation.
Can I do physiotherapy on my own?
Yes, is a quick response. However, there is a catch to this response. Your at-home physical treatment regimen is unlikely to succeed if you plan to seek up a number of exercises online and try them out whenever you have free time. Physical therapy can help with a variety of ailments and illnesses.
---
Nowadays, one's health is the most crucial aspect of one's existence. So, visit one of Ottawa's premier physiotherapy clinics to ensure that you're taking care of your general health.
If you require additional assistance with your health difficulties or simply require a routine exam, please review our list of the best doctors in Ottawa.