Do you have any food allergies or medical conditions? Want to get in shape? The best dietitian in Ottawa should be consulted at that point for advice from a professional.
These nutrition and food specialists can identify the factors that contribute to stressful or less enjoyable eating experiences. In order to start eating healthier, they can help you plan nutrient-dense meals around any chronic illnesses or conditions you might have.
Are Dietitian Services Expensive in Ottawa?
A number of variables will affect how much it will cost to see a dietitian. The biggest one has to do with having health insurance of some kind or not.
Numerous insurance plans pay for dietitian or nutritionist services, which can bring down consultation costs to an average of $30. Depending on the dietitian you choose to consult, it may end up costing $125 or even more if you don't have insurance.
You must also take into account any illness or condition you may have that could be the source of a specific food allergy or intolerance. You could add at least another $100 to that because once you receive a diagnosis, a meal plan that takes your condition into account will be added to your dietitian's costs.
In addition to all the counseling, follow-up, and meal planning from your dietitian, you can add up the special components and supplements of a recommended diet. But if you only want to learn about the fundamental services, here is a table of those services along with their approximate costs.
| | |
| --- | --- |
| DIETITIAN SERVICES | ESTIMATED RATES |
| Nutrition counseling | 1-hour session $125 – $130 (without tax) |
| Nutrition counseling with a meal plan | 1.5-hour session $250 (without tax) |
| Continued support (for eating disorders, food intolerances, stress eating, etc.) | 1 hour $125 – $150 (without tax) |
| Nutritional assessment for family | 1.5-hour session $180 |
| Nutritional follow-up (individuals) | 30 minutes $60 |
Taxes are not yet factored into the pricing structure, as was previously stated. Asking for a billing estimate from your dietitian will help you avoid being caught off guard.
Best Dietician Clinics in Ottawa
When you're prepared to adopt a more wholesome eating style, it's time to locate the top dietitian clinics in Ottawa.
JM Nutrition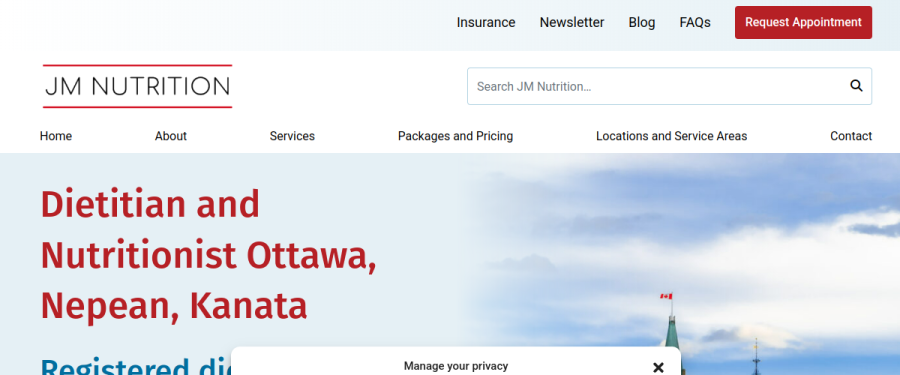 | | |
| --- | --- |
| Website | https://www.julienutrition.com/locations/nutritionist-dietitian-ottawa/ |
| Address | 35 Beechwood Ave. Suite 3, Ottawa, ON K1M 1M1, Canada |
| Phone | +1 613-909-7565 |
| Email | admin@julienutrition.com |
| Category | ['Dietitian', 'Eating disorder treatment center', 'Health consultant', 'Health counselor', 'Holistic medicine practitioner', 'Nutritionist', 'Sports medicine clinic', 'Weight loss service', 'Wellness program'] |
JM Nutrition is a trusted source for registered dietitians and nutritionists. Our team of experts has a wide range of areas of specialization, allowing us to provide our clients with the highest level of care possible. We come highly recommended by our clients and many doctors, due to our unparalleled level of expertise.
Great location

Has a lot of variety in terms of products

Offers online shopping

5 Star Google Review⭐⭐⭐⭐⭐
Customer Reviews
Let's take a look at what their clients have to say:
"Searching the web I came across JM Nutrition when I was in need of a diet change due to medical reasons and personal goals. I am so grateful that I did as Julie was very accommodating and very mindful and considerate of my health concerns and personal goals. She did an amazing job of matching me with the best dietician for my concerns and goals.
Kirsten was the perfect match! She is attentive and professional and gave tips and advice according to my health concerns that were realistic and practical. When it came to my personal goals she was very caring and understanding and made suggestions that were healthy and accommodating to my busy work/school schedule. I've noticed a significant difference in my energy levels and definitely have a much better relationship with food and nutrition. 10/10 would recommend this service to anyone with any nutrition concerns!" – S Nasr
"Melanie has been a great resource while I've been dealing with diverticulitis. She's been there to answer any of my questions and has been extremely helpful in giving me details on what I should be looking out for in food while I'm currently recovering and how to maintain my diet in the future once I've recovered. Greatly recommended." – Jason Walsh
The Balanced Practice
The Balanced Practice is a multidisciplinary team of health care providers who take an anti-diet and weight-inclusive approach to support you in having a better relationship with food and your body. We are here to support you in your journey! Scroll down to learn more about each of our team members!
At the Balanced Practice, we believe that everyone deserves to have a healthy and positive relationship with food and their body. Our team of health care providers takes a non-judgmental and inclusive approach to support you on your journey to better health. We understand that everyone's journey is different, and we are here to help you find the path that works best for you.
Our team includes nutritionists, dietitians, psychologists, and doctors who all specialize in helping people have a better relationship with food and their body. We know that diets don't work, and we are here to help you find a healthy and sustainable way of living that works for you. If you are ready to start making changes for the better, the Balanced Practice is here for you!
They offer a wide range of services

They have a lot of experience

Their staff is qualified and experienced

5 Star Google Review⭐⭐⭐⭐⭐
Customer Reviews
Let's take a look at what their clients have to say:
"Marie-Pier is incredibly helpful in navigating recovering from an eating disorder/disordered eating. It's been a truly eye-opening and beneficial experience and Marie-Pier is a joy to work with. I highly recommend The Balanced Practice!" – Darcie Dillon
"Working with Marie-Pier has been a life-changing experience for me and I will never find words strong enough to express my gratitude. I did her 6 months program and it changed everything for me in terms of my relationship with my body and food & exercise. After years and years of dieting, having an eating disorder, kind of recovering, and falling back right into it, this has been the biggest shift I have experienced in my life. Marie-Pier is so kind and compassionate. Her knowledge and down-to-earth approach make the whole recovery process a safe environment where you can learn more about yourself and slowly find you way. She is always there to support you and the materials she has made available for her clients are incredible. I found her at a time when I saw no light at the end of the tunnel and I can safely say that I am walking in the light now, on the other side of the tunnel, on a new path of growth. Thank you, Dear Marie-Pier, for everything you do. You are amazing!" – Lilas Bombeau
Ottawa Weight Loss Nutritionist
If you're looking for a weight loss program that is both fast and sustainable, then you should definitely check out the services offered by Daniel Triumbari. Daniel first got interested in health and fitness when he started helping clients lose weight, and the satisfaction from seeing them succeed drove him to do more research into the best way to lose weight. Now, Daniel and his team are dedicated to providing their clients with the best possible service, so you can achieve your weight loss goals without any hassle.
The team at Daniel Triumbari understands that everyone is different, which is why they offer a range of services to suit each individual's needs. Whether you're looking to completely overhaul your lifestyle or just want some guidance on how to start eating healthy, they have a program for you. Plus, if you have any questions or concerns along the way, the team is always happy to help.
So if you're looking for a weight loss program that is reliable, easy to follow, and tailored specifically for you, then look no further than Daniel Triumbari.
A nutritionist has experience in the field

Offers personalized service

5 Star Google Review⭐⭐⭐⭐⭐
Customer Reviews
Let's take a look at what their clients have to say:
"If you are searching for a nutritionist in Ottawa I strongly recommend you use Daniel's services. He is very supportive and will provide you with all the help you need to lose weight. I personally lost 38 pounds and never felt hungry using his program and strategies!" – Stephanio Bogas
"I was looking for a Nutritionist or Dietitian in Ottawa and this place came up. I scheduled a free 15-minute phone consultation with Daniel to discuss the silver package (6-month weight loss program) because I had 80 pounds to lose. After the call, I signed up and now 6 months later, I am down 81 pounds and am in the best shape of my life! My cholesterol and blood sugar are normal too now!" – Thalia Gona
Living Science
The Living Science Wellness Centre opened in Ottawa, Canada in order to enrich, educate, and energize people through higher vibrational health and wellness experiences. The centre blends the best of science and nature to provide their guests with the most holistic and beneficial experience possible. Their mission is to help people achieve their highest potential for health and well-being.
The Living Science Wellness Centre was created out of a passion for helping others achieve better health. The team at the centre is dedicated to educating themselves as much as possible about all aspects of health so that they can provide their guests with the best possible experience. They believe that standing for something and not wavering in one's values is the key to success.
Living Science Nutritionist is a trusted source of information for healthy eating and lifestyles in Ottawa

The staff are knowledgeable and passionate about helping people improve their health

There is a wide range of services available, from individual counseling to group programs

The company offers both online and in-person consultations
The cost of services can be high compared to other options in the area.
Customer Reviews
Let's take a look at what their clients have to say:
"Bruce's knowledge and insights were incredibly valuable. He knew detailed information about my health instantly and was able to recommend real solutions that addressed the root cause rather than the symptoms. I would highly recommend this to everyone." – Anja Pujic
"Dr. Karim Alami was presented to me as a strong referral from my Chiropractic Doctor. Upon meeting Dr. Alami, I immediately sensed that I am in good hands and I appreciated his straightforward communication method. He prioritized what is most important at present and I look forward to a step-by-step approach to help ease my areas of concern." – RoxFit Inc
Caven Nutrition Group
| | |
| --- | --- |
| Website | http://www.cavennutrition.com/ |
| Address | 870 Campbell Ave, Ottawa, ON K2A 2C5, Canada |
| Phone | +1 613-608-4047 |
| Email | info@cavennutrition.com |
| Category | Nutritionist |
Making the change to a natural, healthy lifestyle is more than just a diet. You may trim some inches off your waistline, but you'll also discover an all-around improvement in your health and happiness. That's the true benefit.
Switching to a healthier way of living means making changes in all areas of your life – from what you eat to how you exercise to how you deal with stress. It can be difficult to make all of the changes at once, but it's worth it in the end.
One of the best things about making these changes is that they're not just good for your physical health, but for your mental health as well. A healthy lifestyle can help you feel more energized and optimistic, and can even help protect against conditions like depression and anxiety.
Affordable prices

Wide variety of products

Good quality products

5 Star Google Review⭐⭐⭐⭐⭐
Customer Reviews
Let's take a look at what their clients have to say:
"Jenni has truly changed our lives! We came to Caven looking for education about our eating habits and wanted to address some food sensitivities we thought we had. We got what we were looking for and SO much more. What we have learned through Caven will truly last a lifetime and has instilled positive habits in us. With Jenni's support and encouragement, we feel the best we have felt in our bodies in years – maybe ever! Jenni has empowered us to feel our best through the foods we put in our bodies and helped us unpack and adapt to the food sensitives we have. We would highly recommend seeing Jenni! It will change your life for the better." – Meghan Graham
"Jenni and the team at Caven Nutrition have helped me feel my best. Not only were they able to help me adjust my diet after figuring out I had a gluten intolerance, but they taught me how to keep eating with love and care! I credit my current health and fitness achievements to them. If you're looking for a team of nutritionists who truly care for you and your health, you've found them." – Christianna Alexiou
FAQs About Dietitian Clinics in Ottawa
I just want to lose weight. Should I still visit a dietitian for it?
Yes, you should still visit a dietitian even if you just want to lose weight. A dietitian can help you create a healthy eating plan that will help you lose weight and maintain your results. They can also offer support and advice throughout your weight loss journey.
Aside from dietitian fees and services, what else can I expect to pay after seeing one?
You may need to purchase nutritional supplements, special foods or equipment, or attend occasional support group meetings. Some insurance policies cover dietitian services, while others do not. Check with your provider to see if there is a specific dietitian in your network.
What can a dietitian do for someone with an eating disorder?
A dietitian can help someone with an eating disorder by creating a meal plan that is healthy and meets the person's needs. They can also provide counseling and support to help the person recover.
Can a dietitian endorse trendy diets for quick weight loss?
No, a dietitian cannot endorse trendy diets for quick weight loss because they often involve severe calorie restriction or elimination of entire food groups, which can lead to nutrient deficiencies. Additionally, these diets are not sustainable in the long term and are often ineffective at helping people lose weight and keep it off. A dietitian can help you find a healthy way to lose weight that is sustainable and fits into your lifestyle.
---
After reading about the top dietitian clinics in Ottawa, here's hoping you'll be on the road to healthier eating practices.
Send us a message if there is a dietitian service you would like us to cover.