Nothing is more inconvenient than a faulty air conditioner on a hot summer day! Here's a list of the best air conditioner repair services in Ottawa if you're suffering from this problem right now (or want to avoid it).
In addition, we'll provide you with additional information such as common AC problems, solutions to frequently asked questions, and, most crucially, the average cost of having your unit repaired.
Typical Air Conditioner Problems
While you shouldn't try to solve significant problems yourself, knowing what problems your air conditioner could be having and what you can do while waiting for help will be beneficial.
There are leaks
It could be one of the following, depending on where the leak is occurring:
If there is a water leak inside, the drain system is most likely either damaged and leaking or obstructed by some form of growth. It has to be cleaned or replaced in any case.
If there's a water leak outside, there could be a variety of causes, including a dirty air filter, a faulty AC seal, or a damaged condensate pan. Outdoor leaks can lead to more significant problems, so it's best to address them as soon as possible.
A refrigerant leak is the ultimate type of leak. If you have a big leak, get a professional to inspect it and determine whether you need to replace the system; a tiny leak may not necessitate the replacement of the entire system.
Debris and dirt
Because an AC unit has so many parts, dirt can easily become caught in different places and require cleaning from time to time. Here are a few examples:
The filter ensures that no dust or tiny particles enter your home via the air conditioner. All you have to do is open your unit, pull it out, and clean away the dust.
It is advised that the filter be replaced every four months. If you have a pet, though, you should change it every two months.
Coil that has been frozen
The evaporator coil can practically freeze at times. Turn off the air conditioner and leave it off for the following 24 hours to thaw out a completely frozen coil.
If the ice isn't too bad, set your air conditioner to fan mode and wait for it to melt. Then, to ensure that no further damage has occurred, contact a repair service.
How much does it cost to install and repair an air conditioner in Ottawa?
We've included the average cost of the equipment, installation, and general repairs. Because air conditioners come in a variety of parts, brands, and models, the price will vary.
| | |
| --- | --- |
| Service | Estimated Average cost |
| Installation of an air conditioner unit | $3,000-$6,000 |
| General repairs | $300-$500 |
5 Best Airconditioner Repair Services in Ottawa
Let's get down to business with the best air conditioning repair services in Ottawa!
1. Parent Heating & Cooling
Parent Heating & Cooling is a company that specializes in furnace repair, air conditioning repair services, heating system repair, and more. They have been in business for over 40 years and have a reputation for providing quality services. They offer a wide range of services, from heating to cooling to air quality, and they work with the best brands in the industry. Its mission is to provide every client with quality service that exceeds their expectations. Its vision is to be the most trusted and reliable heating and cooling company in Ottawa. And their values are integrity, reliability, and innovation.
They offer a wide range of services

They have a team of qualified and experienced technicians

Excellent Customer Service
A bit Expensive

Their products can be difficult to install for some people
Customer Reviews
Let's take a look at what their clients have to say:
"I want to thank my Parents' for their excellent service and support over the years with my home's heating and air conditioning. I know that this is a very demanding time for your company with emergency calls and must be quite stressful. I wanted to make a highly positive review of your company but didn't see a way to do that on this site so am just sending this message. Specifically, Greg has on many calls (some critical) done excellent work for us keeping costs reasonable, doing highly effective work, and being informative as well. All Parent staff has been very good in my experience but I would also like to acknowledge Wendy's good work in setting up appointments expeditiously and even putting me through to a technician a couple of times. Anyway, it's been at least 15 years of excellent service.
Thank you, Parent Heating and Cooling for your important work." – Steve Max
"We general contracted our custom home and after a problem with our original HVAC contractor, we had Parent Heating/Cooling take over. It was a great decision as Luc (the owner) is very knowledgeable about all HVAC systems. We have an elaborate boiler system that runs our hot water as well as radiant heat in the basement and garage. We then had him install a 1700 sq feet snowmelt radiant heat for our driveway as well as utilize the boiler to heat our in-ground pool. It was tough to find somebody who knew all the systems but Luc does. Follow-up service has been great too as we had a problem on a long weekend and Luc came himself on a Saturday and was quick to resolve the problem." – Mark Shepherd
2. Francis Home Environment Heating and Air Conditioning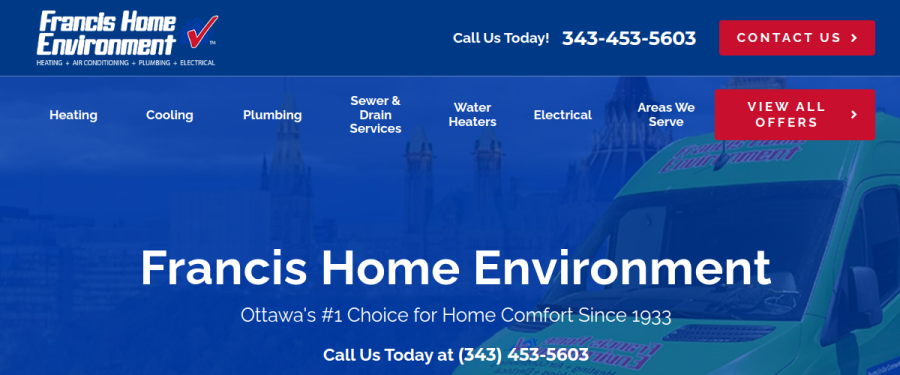 | | |
| --- | --- |
| Website | https://www.francishome.ca/ |
| Address | 38 Antares Dr. Suite 400, Ottawa, ON K2E 7V2, Canada |
| Phone | +1 613-723-4700 |
| Category | Air conditioning contractor |
Heating and air conditioning are essential in any home, and when something goes wrong, it's important to have a reliable company to turn to. Francis Home Environment Heating and Air Conditioning have been providing quality service to Ottawa residents for years, and they stand by their work with a 100% satisfaction guarantee. Whether you need a new furnace installed, a repair completed, or just some advice on how to keep your home comfortable all winter long, the experts at Francis Home Environment are here to help.
The company is certified

They have a wide range of products to choose from

The company is knowledgeable about their products
The company is not always available

Expensive

They do not offer many services
Customer Reviews
Let's take a look at what their clients have to say:
"Francis Home Environment is worth the money for the after-sales service alone. I was able to book the installation of a gas furnace and hot water tank the week after I got the quote. They installed a humidifier on the furnace this winter and Matt, the technician who did the installation, was on time, efficient, cleaned up, and left nothing behind. He was courteous and didn't leave until showing me how to operate the humidifier and answered all my questions. Matt, like all technicians and sales representatives at Francis Home Environment, is the best in the business. This is my third residence and the best service I've had in 25 years. I recommend this company's services without hesitation." – Jean Trahan
"We had Scott come over twice in the last month or so, the first time for a quick diagnostic and repair and the second time for annual furnace and fireplace maintenance. Scott was a pleasure to have in our home: he was both efficient and thorough, as well as extremely professional and friendly. He was happy to answer all of our questions and took the time to make sure everything was done right. It's a relief to know that we have friendly, trustworthy service only a quick phone call away." – John Howat
3. Oria Heating And Cooling
Oria Heating and Cooling is a leading HVAC contractor in the Ottawa area. They provide their clients with a comprehensive approach to contracting and specialize in a wide range of services. Since they started out in 2013, they have been committed to their clients' needs and satisfaction. Get in touch to receive your free estimate today.
Affordable

Open 24 Hours

They offer free estimates on all services
Small team

Always Fully Booked
Customer Reviews
Let's take a look at what their clients have to say:
"We contacted Mansoor at Oria Heating and Cooling and he, Mike, and Cole came the next day with a new 50 gallon Bradford White hot water heater. They were professional and their expertise was clear. Their cost was reasonable especially given the quality of the products they install and their level of knowledge during the installation. We highly recommend their work and plan to engage them again as our air conditioning comes due for replacement." – Diana Wyman
"Our furnace got red-tagged, so needed a new one quickly. Reached out to a few companies. Wide range of options and prices. Mansoor from Oria showed up quickly to see how he could help. Helped talk me through the world of furnaces and what he thought I needed. In addition to being competitively priced, he also gave me a better understanding of furnace operation which was helpful. And just the next day the furnace system was installed. Would highly recommend Mansoor and Oria H&C for anyone who needs to upgrade their furnace." – Greg Roscoe
4. Mazgan Air Conditioning & Heating Repair
Mazgan Air Conditioning & Heating Repair is a company that specializes in the repair and installation of air conditioning, heating, and hot water systems. They are factory trained and have the tools to troubleshoot issues that other companies may miss. They mainly focus on repairing steam boilers, hot water boilers, water heaters, furnaces, heat pumps, and ductless/ducted systems in the winter. In the summer they mainly focus on repairing poor installations of ductless units and leaks.
Reliable and Experienced Company

Affordable Rates

Offers a wide range of services
Customer Reviews
Let's take a look at what their clients have to say:
"Our furnace started making a very horrible noise suddenly when it would turn on and turn off. We couldn't any appointment with anyone till 4 days later. When I called Mazgan, they had an appointment open for the next day at 9 AM and Luis showed up around 9:15 that morning. He assessed the situation and immediately started fixing the issue. It took him longer than he expected but he did great work and was very timely and professional. I would recommend Mazgan to anyone who needs home repair help." – Brad Bell
"Highly recommend Zak and Mazgan. I needed a nest thermostat installation done, which proved to be quite complex given the way my home was wired. Zak put in the effort to understand how to make it compatible with my home and came back multiple times to get the job done. I had gotten 3 other companies to try doing the job prior to Mazgan, and all of them said it wasn't possible. Very professional and high-quality service" – Prateek Janardhan
5. Reliance Holmes
Reliance Holmes is a company that has been in business for 50 years. They specialize in heating and cooling systems and have an A+ rating on BBB. They are licensed by the TSSA and are HRAI accredited. In addition to their installation and repair services, they also offer other services such as plumbing and water purification systems. Their customer line is open 24/7, so you can call them anytime for emergency repairs.
Open 24 hours

24/7 customer hotline

Wide variety of home services
Customer Reviews
Let's take a look at what their clients have to say:
"Great experience! Costa and Bobby went above and beyond to do meticulous work. It was a pleasure to have them in our home for the day. They took the time to answer any questions about our new furnace and thermostat and were extremely patient. Our installation required many additional fixes on account of the age of the home and these fellas took it all in stride and made us feel that they were enjoying the challenges! Excellent representatives for Reliance and very kind human beings." – Olivia Green
"Reliance is a great company for my heating, A/C, and water heater. Over the past 6 years, any problem was quickly handled. Every service call was handled in a very professional manner. After which I was provided a detailed follow-up as to the problem and what was done to correct it. There was never a rush to leave until my questions were answered and always added that if I have any problems or questions to call. The technician this time explained why my furnace did lock down after 3 attempts to start and why it was successful on the next cycle. I really appreciate his explanation as this was the first time this happened." – Rick Fussell
FAQs About The Best Air Conditioner Servicing in Ottawa
How often is an AC unit supposed to be serviced?
Though there is some leeway, you should generally have your air conditioner serviced twice a year: once in the fall and once in the spring. This is to ensure that it is clean, that its parts are in good working order, and that it is performing at its best.
What happens if AC is not serviced?
Neglecting HVAC maintenance can result in an inefficient system that raises energy bills, a system that breaks down frequently, and a system that will almost certainly need to be replaced before its expected lifespan is up.
Can we use AC without servicing?
If you can't stand the heat any longer, you can service the air conditioner on your own. While you won't be able to perform technical maintenance, such as gas filling, you will be able to clean it up for some fresh air.
 How do I know if I should have my AC repaired or if I should just replace it?
If you're on a budget, having your air conditioner repaired is usually much less expensive. If it's an older model, however, this may not be the case. This is because, as an AC unit gets older, it becomes less efficient due to wear and tear as well as the fact that energy efficiency standards improve each year. If your air conditioning unit is more than ten years old, it's time to replace it. Your power bill may even drop the following month, allowing you to save even more money in the long run thanks to your new unit.
What type of air conditioner should I go with?
This is entirely dependent on your requirements. A central air conditioning system is the most common, but it may not be the best option for everyone. If you live in a small apartment or rent out a room in a larger house, for example, you may want to invest in something that suits your needs. A portable air conditioner or a window air conditioner would be your best bet because they're much less expensive and easier to transport when you move out.
---
And there you have it: a list of Ottawa's best air conditioning repair services. Any issues you may have with your unit can be resolved quickly with any of these services!
Please let us know if there is a servicing company that you swear by that we haven't listed. We'd be delighted to hear from you and update our database.