When the awareness that we have much too much garbage dawns on us, we have two choices: freak out and go about our day, or get the best junk removal service in Ottawa to clear your hands of all unnecessary items.
We recommend the latter, and here are a few tips to get you started!
What Should You Know Before Hiring a Junk Removal Company?
The procedure of hiring a rubbish removal business isn't complicated, but there are a few things to consider and confirm before selecting the best one for you. Here is a handful of them:
Find out whether they provide free estimates
It's usually preferable to hire a firm that provides free estimates because it allows you to determine whether or not you can afford their services without having to pay for an estimate. Even though most companies provide these, it's always a good idea to double-check.
Find out how they dispose of their waste
You'll want to know how they dispose of the trash they collect from you in order to maintain a clean environmental conscience! Inquire about what they do with the trash afterward, and if you're satisfied with their response, that's a plus.
Be aware of their cleaning procedures
The rubbish that individuals want to get rid of is usually already piled up, and all they have to do is grab it and leave. However, if you want them to sort through and organize everything with a nice clean-up, ask them if they do this as well!
Inquire about their assets
This, of course, is dependent on the type of garbage you're having removed. By telling them exactly what you're getting rid of, you can ensure that the service you're choosing is physically capable of hauling it away.
Verify if they are properly licensed and certified
This is to ensure that they know what they're doing and won't mess up the job by destroying your property by accident. It will also keep you safe because you will be in close proximity to them.
How Much Does Junk Removal in Ottawa Cost?
Junk removal services typically charge based on the amount of space you take up in the truck and the firm you choose, but here's an idea of how much you might pay:
| | |
| --- | --- |
| Service | Estimated Average Cost |
| One item regardless of size | $100 |
| 1/6 | $200 |
| 1/4 | $300 |
| 1/2 | $400 |
| 3/4 | $500 |
| Full Truck | $550 |
The above-mentioned average cost is based on a 12ft x 8ft x 6ft truck. Because the vehicles differ based on the company, I recommend first inquiring about their truck size.
5 Best Junk Removal Company in Ottawa
There are numerous rubbish removal firms in Ottawa to select from, but here is a list of the best!
1. Junk that Funk
| | |
| --- | --- |
| Website | http://junkthatfunk.com/ |
| Address | 50 Florence St Office 4, Ottawa, ON K2P 1Y7, Canada |
| Phone | +1 613-884-0456 |
| Category | Waste management service |
Junk That Funk is a company that was founded in 2007 and provides junk removal services to the Ottawa Carleton region, including Gatineau, Hull, Cumberland, Rockland, Bourget, and Stittsville. The company is licensed by the Ministry of Environment and Climate Change as a fully insured junk removal company servicing residential, industrial, and commercial customers. They pick up over 150 tons of mixed waste every month. Community is something important to Junk That Funk, and they participate in the City of Ottawa's "Take It Back Program". Since 2015, they have been working with the registered charity Their Opportunity which provides low-income families with the means to enroll their children in local sports programs.
Online booking

Environmentally-conscious

Competitive pricing

Free estimate

Flexible timing
Customer Reviews
Let's take a look at what their clients have to say:
"Excellent service! Nice truck too! Thumbs up to Cory for the quick response and scheduling, and to Kevin and Ryan for the very efficient work. I definitely recommend Junk That Funk and I would definitely use their services again." – Ramona Badescu
"These two fellas were kind, brought positive energy, and had a great attitude doing something that the vast majority of us don't even want to get close to doing. As someone who hired many companies in this field, I fully recommend putting them at the top of your list!" – Alex Harden
2. Junk Ninja – Junk Removal Service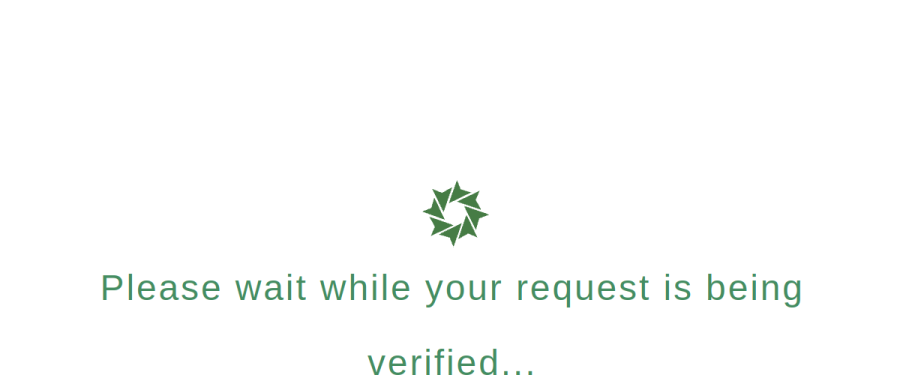 | | |
| --- | --- |
| Website | https://junkninja.ca/ |
| Address | 15 Grenfell Crescent #6, Nepean, ON K2G 0G3, Canada |
| Phone | +1 613-825-0707 |
| Category | Waste management service |
Junk Ninja is a locally owned and operated Ottawa junk removal company that is renowned for delivering outstanding services to residential and commercial clients in Ottawa-Hull-Gatineau and the surrounding areas. Our diverse clientele relies on us again and again for our dependable full-service junk removal services that are simple, cost-effective, and most importantly: environmentally responsible. We will safely remove, haul and properly dispose of your items such as furniture, renovation debris, household waste, yard refuse, or construction materials. No job is too big or too small for Junk Ninja.
We are seasoned professionals and will adjust our services to suit your specific needs. Need someone to take down and dispose of that old shed? Junk Ninja can help.
They provide quick and efficient service

A reputable and reliable company in Ottawa

They offer free estimates

The crew is friendly and efficient

Affordable and provides good value for your money

Open 24 Hours
Expensive

There have been some complaints about the crew being late for appointments
Customer Reviews
Let's take a look at what their clients have to say:
"Juan and his crew were excellent from start to finish. My property came with a playhouse that I wanted to be removed, but I had no luck with Craigslist or Marketplace- even giving it away for free. People came and looked at it and wanted it, but ultimately walked away. It simply couldn't be removed without piece-by-piece disassembly due to the location. I disassembled a portion of it but after an entire day of prying and sitting on the precarious roof, and with a pile of wood and shingles under my deck, I finally had enough and reached out to Junk Ninja. Juan came over that same day and we agreed on a price and a date. He was there with his team at the agreed-upon day and time and they got it done. It was an unusual job and for his help, I am very grateful. They left the area clean and without a trace of the playhouse left. Thank you, guys!" – Hayden Cogswell
"Great job from the Junk Ninjas. I would highly recommend it. They were here on time, got right to work cleaning up rocks and cement from a small retaining wall. Then cleaned up, and now you can again see my terraced walls." – Teresa Kitchens
3. JUNK GODS Junk Removal | Ottawa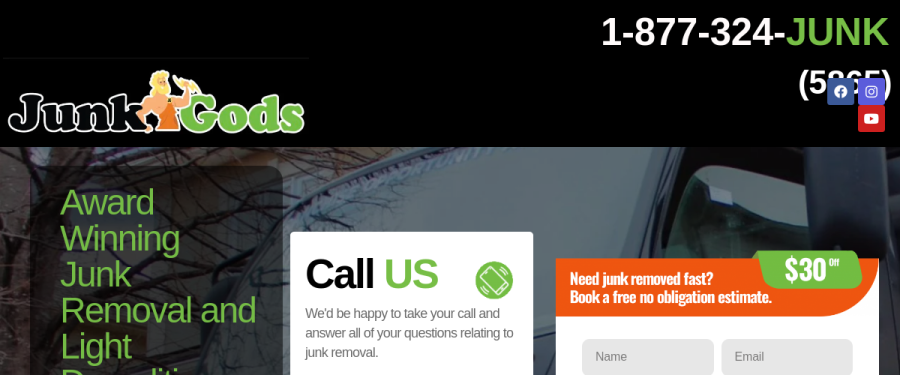 | | |
| --- | --- |
| Website | https://www.junkgods.ca/ |
| Address | 2555 Blackwell St, Ottawa, ON K1B 4E4, Canada |
| Phone | (888) 992-5865 |
| Category | Garbage collection service |
Junk God is a junk removal company that was founded in February of 2019. The company specializes in providing exceptional customer service and detailed work. Junk God is expanding rapidly and will soon have locations throughout Canada and the United States. In addition to providing junk removal services, Junk God will also be opening second-hand stores in most cities.
Free estimate

Flexible scheduling

Same-day services

Online booking

Open 24 Hours
Customer Reviews
Let's take a look at what their clients have to say:
"This is the first time we hired JUNK GODS to pick up our construction waste and we are very satisfied. It was easy communicating and scheduling with Robert and the staff was also great. The estimated value was pretty close to the actual amount we paid for. Thank you for your service." – Bienvi Fe Dy
"Junk Gods came for a pool an above-ground pool removal and were incredibly kind, and thorough. They made sure no harmful debris was leftover that our dogs could find, and were just great in general. Highly recommend. Thank you!" – Michael Ieradi
4. Ottawa Dumpster – Bin Rental and Junk Removal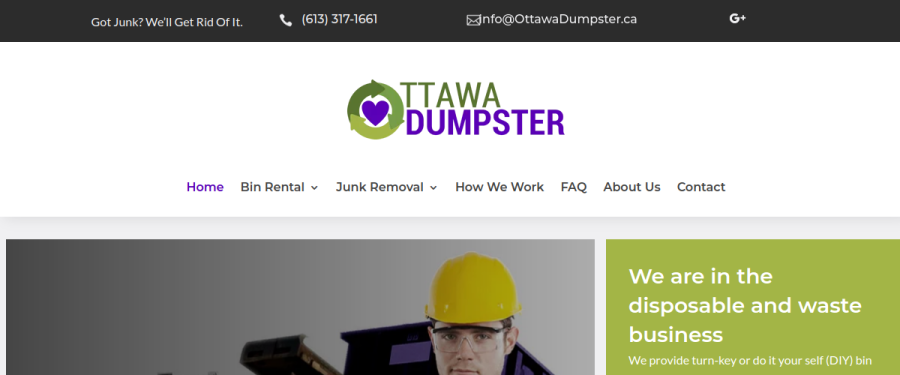 | | |
| --- | --- |
| Website | http://ottawadumpster.ca/ |
| Address | 78 George St #204, Ottawa, ON K1N 5W1, Canada |
| Phone | +1 613-317-1661 |
| Category | Garbage collection service |
Ottawa Dumpster is a company that takes pride in providing great customer service and quality dumpster bins. They always arrive on time and are able to remove any type of waste. They are environmentally friendly as well.
Available 7 days a week

Quick, reliable service

Prices are very reasonable
Customer Reviews
Let's take a look at what their clients have to say:
"They were timely, friendly, clean, professional, reasonably priced, and good value. This is my second occasion using them and both experiences were excellent. I am pleased to recommend Bin There Dump That to others planning to downsize and move." – Randy Gaw
"I ordered a 14-yard bin to dispose of an old shed and other yard clutter and construction materials. The bin was delayed by a day apparently because of issues with the delivery truck; they called me to inform me of the delay and the bin arrive promptly the next morning. The driver managed to get the bin all the way up my steep driveway right next to the pile of materials, so it was easy to fill it up. I called to have the bin picked up on a long weekend and it was gone by 9 am on Tuesday. I went over the 1.5-ton allotment but was only charged a pro-rated amount for the extra, not for a whole extra ton. Good service and communication and worth the cost not to have to do multiple dumps run." – Nick Ochoski
5. UnJunk – Moving, Junk Removal, and Cleaning
| | |
| --- | --- |
| Website | http://unjunk.ca/ |
| Address | 338 Clemow Ave, Ottawa, ON K1S 2B9, Canada |
| Phone | +1 613-627-2943 |
| Category | Garbage collection service |
UnJunk is a concierge service in Ottawa that offers assistance with tasks like moving, furniture assembly, cleaning, and junk removal. Their services are designed to make life easier for their customers. They travel throughout Ottawa to help with whatever needs to be done. When life gets busy, UnJunk can handle the big tasks so customers don't have to.
Reliable, affordable services

Fast, efficient work

Excellent customer service
Customer Reviews
Let's take a look at what their clients have to say:
"They were so good and professional. They were very careful with the furniture. Both movers communicated with each other to ensure that they worked as a team. They were so good that I hired them again when I moved back into my condo." – Filomena Silva
"These guys were great, just what I needed. They arrived on time and even brought a spare truck! They were professional and really working to grow the business. The late-day I blew a couple of tires on a trailer and they even helped pick up new ones and get us back up and mobile. Good guys all around and I wish them the best in their business venture!" – Rick OGSS
FAQs About Junk Removal Services
Is it true that garbage removal takes a long time?
Certainly not. The amount of time it takes depends on how much rubbish you have, but most companies try to keep these pickups quick and sweet.
What happens to my junk if I hire a junk removal service?
Your trash usually ends up in donation centers, recycling facilities, or landfills. It depends on the state of your belongings.
What happens if my home is too tiny for the junk removal service's truck to fit?
When this occurs, the team normally parks nearby and transports the garbage to the truck.
SaIs there any form of garbage that junk removal businesses refuse to remove?
Most rubbish removal firms would only refuse hazardous materials or chemicals, but they will take up almost everything else.
---
One of the most liberating feelings a homeowner may experience is getting rid of garbage! We hope our recommendations for Ottawa's best rubbish removal services helped you simplify your home.
We'd love to hear if this post was helpful in any way, so please don't hesitate to send us a message about how your experience with your chosen rubbish removal company went.