As the saying goes, cleanliness is next to godliness, and we don't disagree. This list is for you if you're looking for a cleaning service to keep your home nice and tidy.
We'll show you how to choose the best cleaning services in Ottawa, how to make an informed decision, the average cost of services, and answers to a few frequently asked questions.
What Should You Know Before Hiring a Cleaning Company?
If you're having trouble deciding which cleaning service to hire, here are a few things to think about as you shop around:
Insurance and bonding
The cleaning service you hire must have insurance and bonding to protect you, your home, the workers, and everything in between if something goes wrong.
Avoid those that lack these features because if something is damaged, goes missing, or someone is injured, it will be a much more difficult situation to handle. Professional cleaning services are more expensive, but they're worth it for these reasons!
Expertise
Inquire about the company's history. To be sure they're the real deal, you should hire a company that has been in the running for at least a few years.
Stick with companies that have a good reputation and a lot of testimonials and reviews that you can read. If you can get a referral from someone you trust, that's even better.
Quality assurance
This could be one of the more difficult problems for a cleaning company to overcome. Some companies will ask you to fill out forms at the end of the cleaning or will take calls and messages if you have any complaints, to ensure that you get the quality you expect every time.
Some businesses even guarantee customer satisfaction with a money-back guarantee. These are, without a doubt, the ones you should look into.
Timetables
Do they have a set schedule that you can choose from, or can you call them whenever you want? This is crucial to consider because cleaning crews cannot be everywhere at the same time!
Most companies will provide routine cleaning services on a set schedule and at a discounted rate, allowing you to schedule them ahead of time and avoid fighting for a spot. This could turn out to be a much better deal and save you a lot of money compared to booking them at the last minute.
Substances and Equipment
A cleaning service's ability to perform depends on its equipment. While they don't always need the most up-to-date cleaning equipment, having ones that are well-maintained and clean should suffice.
Additionally, pets, children, and people with sensitive skin should all be considered. Many cleaning services, including eco-friendly ones, offer alternative cleaning substances for these situations.
What Does a Cleaning Service in Ottawa Cost?
Actual costs vary depending on the cleaning service and whether or not you require any special attention (such as alternative substances). Cleaning is charged hourly and ranges between $25 and $50 per hour.
Best Cleaning Services in Ottawa
Let's get started on the list you came here for now that we've covered the fundamentals.
Y&M Maintenance & Commercial Cleaning Services Ottawa
| | |
| --- | --- |
| Website | http://www.ymcsl.com/ |
| Address | 5509 Canotek Rd Unit 16, Ottawa, ON K1J 9J8, Canada |
| Phone | +1 613-255-6366 |
| Email | info@ymcsl.com |
| Category | Commercial cleaning service |
Y&M Commercial Cleaning Services is a company that strives for excellence when it comes to providing property maintenance services to their clients. They offer unique and unparalleled employment and sub-contracting program that enables them to deliver business people who have a considerable investment in their own work and business, and who have the necessary training and dedication to provide high-quality service. Every authorized Y&M worker or sub-contractor has completed an extensive training program, and they utilize the services of a third-party company to manage their health and safety and WHMIS training. Their employees are constantly trained on new processes, as well as, SOPs that may be edited or changed depending on the needs of their clients.
The company's key to success is the selection, training, evaluation/auditing, and connective training of personnel. They select personnel that "fit" the environment, can accommodate unique hours of work, have the right attitude to perform the work, and are conscientious in their performance. They also offer years of experience and a full line of cleaning services.
Affordable Prices

Multi-Location

Effective Customer Service

Professional & Quality Services

Punctual and reliable

Friendly and Professional Staff

Eco-friendly products and practices

Trusted by thousands of people & companies.
Customer Reviews
Let's take a look at what their clients have to say:
"Y&M is a great company who I've personally conducted business with for three years. Whenever I needed help with anything they were always available. They've even helped me in emergency situations, life savers." – Dogan Sanli
"I had Y&M Maintenance clean my carpets at my house. Boy, did they need it. !! Now i don't have to replace them! They did a really good job. I had a cat that was dying on me and it bleed and puked all over my carpet and sadly she died. My carpet shows no traces of that sad episode." – Peter Hadchity
Enviropure Home
Enviropure is a company that prides itself on its high level of service and expertise. Not only does it clean surfaces to a visible level, but it also cleans deep down to get rid of harmful bacteria, mold, and allergens. It also uses natural cleaning methods that don't involve any dangerous chemicals. This makes Enviropure a safe and healthy choice for anyone looking for quality cleaning services.
The company is environmentally friendly

They offer a variety of services

Budget-friendly rates
Limited availability due to high demand
Customer Reviews
Let's take a look at what their clients have to say:
"From the beginning, I had nothing but an amazing experience with Enviropure. From Melissa who was really cordial and amazing taking my request for a quote and handling my case to the two cleaners who were cordial, respectful, prompt full with great people skills. I felt in good hands from the start. I will definitely relay the information to my now ex-landlord for all his other dwellings. Thanks for the great service and of course, the carpet is super clean and the whole house smells amazing." – Steve Pierre-Louis
"Very professional from the first phone call. Asked questions to understand exactly what I wanted and then provided 3 people on time and with all the supplies needed. The work was excellent – the apartment was spotless. And they wore masks the whole time, which I really appreciated. Would definitely hire them again." – Amanda Dexter
Windsor Home Cleaning of Ottawa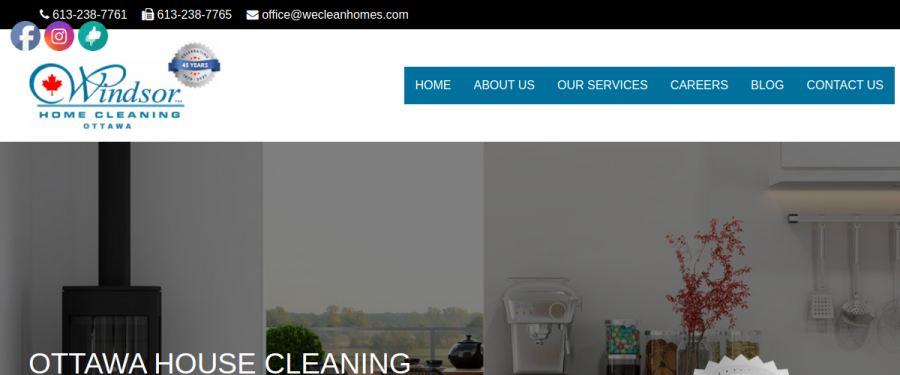 Windsor Home Cleaning is a successful Ottawa-based home cleaning service that was started in 1978. The company's success can be attributed to its comprehensive training and certification program for house cleaners, as well as its recruitment and training programs. Windsor also offers regular cleaning services, as well as light & Heavy Duty Cleaning and an excellent HandyMan Service.
They are insured and bonded

Windsor Home Cleaning of Ottawa is a locally owned and operated company

They offer a wide range of services
Windsor Home Cleaning of Ottawa is a small company, so they may not have the manpower to meet your cleaning needs

They don't offer deep cleans
Customer Reviews
Let's take a look at what their clients have to say:
"Windsor home cleaning is a great company.  I have worked for Windsor for almost 9 years. I am one of three trainers and quality control officers. Windsor offers extensive training programs between 1 and 3 weeks depending on your experience. We offer benefits and life insurance. The best part is that it is a Monday to Friday job, which is great for families.  I love working for this company." – Sherry Lamorie
"I've been a cleaner at Windsor for almost 5 years now, hands down the best company I've ever worked for. The staff is amazing, they treat you like family, and they provide in-depth training to all cleaners to ensure that they provide thorough and detailed cleaning services. I love working for a locally owned business that treats its employees well!" – Brittany Raymond
ATC Cleaning
| | |
| --- | --- |
| Website | https://www.we-clean.ca/ |
| Address | 1300 Fernwood Dr, Ottawa, ON K1V 7J9, Canada |
| Phone | +1 613-355-8134 |
| Category | House cleaning service |
ATC Cleaning is a professional cleaning company based in Ottawa that offers both commercial and residential cleaning services. They provide a variety of services, including regular house cleaning, move-in/out and one-time cleaning, weekly, biweekly, 3-weekly, or monthly house cleaning, and more. They have the best rate in the cleaning industry and are therefore able to cater to any of your cleaning needs.
Affordable prices

Quality service

A variety of services offered

Punctual and reliable

Friendly and professional staff

Eco-friendly products and practices
Limited availability in certain areas

Cannot accommodate large cleaning projects

Website is not very user-friendly
Customer Reviews
Let's take a look at what their clients have to say:
"ATC cleaning is a very good company. Toni is extremely responsive and nice. Anna, who is also very friendly, is doing an excellent job: Everything is cleaned extremely well, very pleased. Thank you very much, very satisfied with the service." – Roxane Cleirec
"I was introduced to ATC cleaning through the Children's Aid Society. As a mother of three and foster mother to two infants, I became overwhelmed by all the household cleaning demands and needed help getting it done properly. ATC cleaners are so pleasant to work with. They are kind, courteous, and trustworthy. They easily work around our young children and our pets. They work fast and efficiently without cutting corners. Most importantly, our washrooms and kitchen never look cleaner than when they've cleaned them! Not to mention all the dusting and floor cleaning! I am always pleased with their work and would highly recommend them to anyone!" – Melanie Merkley
Tina's Cleaning
Tina's Cleaning Company Inc. offers customizable cleaning plans that fit the needs of each client. They have a variety of services and pricing to choose from, so no matter the size or complexity of the job, they can create a plan that works for you. They are also committed to providing quality service and follow-up to ensure that the job is done properly.
The company is small, which means that the owner is able to provide quality services and pays attention to detail

The company is reasonably priced

The company is licensed and insured

The employees are friendly and experienced
Closed on Weekends

They are not licensed, insured, or bonded
Customer Reviews
Let's take a look at what their clients have to say:
"By far the best and greatest cleaning company I have ever had the chance to witness the work of. Tina is an absolute professional and perfectionist when it comes to cleaning. Everyone can rely on her expertise to get everything done. Everything. Even places you didn't know were dirty she will clean. She and her team are amazing and nothing short of it. Nothing escapes her eagle eyes I swear !!!" – Férox Amarokk (Fierce Wolf Physique)
"There is construction happening all around my house and the dust is maddening. When I hired Tina's cleaning company, I was expecting a superficial cleaning of high-use areas, and I would have been happy with that. I was blown away by how THOROUGH the cleaners were! They got behind furniture, and even dusted my walls in the hard-to-reach area above my stairs! It is very clear they hold themselves to a very high standard. They went above and beyond and I am so happy with how clean my house is ☺" – Lynn Kirkpatrick
FAQs about the Best Cleaning Services in Ottawa
Will I always get the same cleaning crew?
While most cleaning companies, especially large ones, send you a rotation of teams, you can certainly request that the same team come to your house every time. This is made even easier if you invite them over on a regular basis, such as once a week, twice a month, or more.
Is it necessary for me to be at home for the cleaning service?
If you're hiring a cleaning service for the first time, staying home might be a good idea until you're comfortable and have established a good relationship with them enough to trust them to be home alone with your things.

This is why you must hire professional cleaning services with a good reputation and even better reviews.
What happens if something breaks or goes missing?
Professional cleaning services should be covered by insurance in case of damage or loss of items from your home. If something goes missing, verify it first before filing a report, as theft is a serious matter that should not be taken lightly.
Is it necessary for me to bring my cleaning supplies?
No, the cleaning service should be equipped with everything necessary to leave your home immaculate.

It's also a good idea to let your cleaning service know if you have any specific cleaning preferences. It's even more crucial to inform them about any allergies or sensitivities you may have!

If you have children or pets, make sure they are aware of the situation. They must be able to adapt to your requirements.
---
That's all we have to say about Ottawa's best cleaning services! Whatever type of cleaning you require, our picks are certain to meet your expectations.
Do you have any other cleaning companies that you think should be on our list? Send us a message and we'll look into it as soon as possible.