So, you've just gotten engaged — congrats! It's now time to start planning your dream wedding and all of its details.
The importance of capturing unforgettable moments during wedding ceremonies cannot be overstated. And what better way to do so than by hiring Ottawa's best wedding photography services?
It's best to leave the photography work to professionals for your special day unless you already know someone who can expertly handle a camera. Today, we'll take a look at some of the best wedding photography studios and see what sets them apart in terms of techniques and results.
What Does Wedding Photography in Ottawa Cost?
If you're on a tight budget, it's important to understand that wedding photography isn't cheap. In fact, some services may be prohibitively expensive (think international destination weddings).
A photographer with a good eye may be born with it, but professional photography necessitates more than talent. Photography, like any other art form, necessitates years of practice and refinement.
Remember that photography equipment, such as cameras, lights, lenses, tripods, backdrops, and other accessories, can be costly. Then there's the photography studio, which includes computers, printers, editing software, and assistant photographers who must be paid on a consistent basis.
However, this does not rule out the possibility of finding affordable photography services in Ottawa. There are still ways to include professional photography in your wedding without blowing your budget.
It will be determined by the photographer you select, their experience and background, as well as the amount of their talent fee. You have the option of hiring a photography student with sufficient skills or a well-known professional with the desired brand.
Take into account how long the photographer will be hired. Professional photography is required for some weddings for several days (from engagement to reception), while others only require it for a few hours.
Then there are wedding packages, which include a variety of services and products for a single price. Depending on the items, scope, and hours included, these can cost anywhere from $150 to $3000 for engaged couples.
Here's a table of estimated wedding photography costs in Ottawa to give you a better idea. It covers a wide range of photography styles and scopes, from the most basic to the most extravagant, and from amateur to professional.
PHOTOGRAPHY SERVICE
ESTIMATED AVERAGE PRICE RANGE
Engagement photography
$100-$1,000+
Single Portrait photography
$100-$400+
Elopement Photography (1-4 hours)
$1,000-3,000+
Wedding & Reception photography (6-12 hours)
$3,000-$8,000+
Destination wedding photography
$5,000-10,000+
Drone/ aerial photography
$100-$500+
Wedding photographer talent fee (minus assistant photographers)
Beginners from $25 per hour
Photography student from $50 per hour
Freelance semi-pro from $75 per hour
Professional from $100 per hour
Please keep in mind that these are just estimates. As previously stated, the final cost will be determined by a number of factors that you can examine and evaluate prior to signing up for them.
Best Wedding Photography Services in Ottawa
It's time to think about where to get the best professional services for your big day now that you've set aside a photography budget for it. Take a look at these five wedding photography studios in Ottawa to see what makes them so popular.
Christophe Viseux – Wedding & Events Photography in Ottawa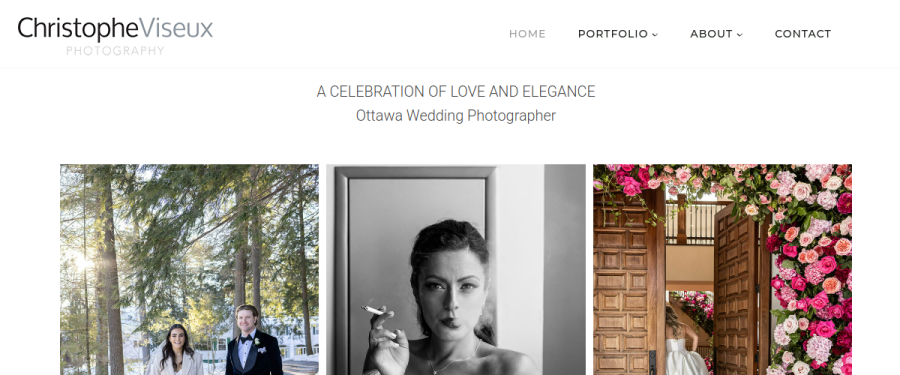 Christophe Viseux is a wedding photographer who takes pride in capturing authentic moments and telling love stories through his photographs. He focuses on capturing the unscripted interactions and emotions between the bride and groom, family, and friends. This is where the magic happens, according to him. To him, wedding photography is a special relationship between the photographer and the couple; connecting on an emotional level is key to capturing meaningful moments and creating beautiful portraits.
 Award-winning Photographer

International Experience

Beautiful Photography

5-Star Google Review⭐⭐⭐⭐⭐
Limited availability

Expensive
Customer Reviews
Let's take a look at what their clients have to say:
"Christophe is a true artist and is amazing at what he does! He was our photographer for our wedding on May 21, 2022, and we also did an engagement shoot with him as well. He is amazing at spotting great shots and really knows how to play with lighting and different sceneries. For our wedding, he captured such a wonderful variety of moments. It was a great mix of artistic shots and wholesome moments. You could really see the emotions and love shine through which is amazing. He caught a couple of funny moments as well which were great to look back on. The slideshow he put together was also outstanding. He put together some of the best shots from the day and constructed it like a story. With our song playing in the background and watching the photos in progression like that, it actually made me a bit teary-eyed. He really is a visionary and I highly recommend him if you're looking for an outstanding photographer for your wedding (or any event really)! In addition to being incredibly talented, he has a wonderful personality as well. One might be intimidated by his portfolio of glamourous shots, but he is completely down to earth and was really a lot of fun to be around. He was a pleasure to work with in every way and always made us feel comfortable. You really can't go wrong and he's the first person we're going to if ever we need another photo shoot!" – Alexandra Rajacic
"Christophe was a pleasure to work with. He's a world-class photographer and it really shows in his work ethic, love for photography, and talent! My husband and I were fortunate to have him as a wedding photographer and we would definitely recommend anyone considering going with him! He delivers quality work and has a professional attitude. Christophe helped us navigate some unusual situations with lots of grace and patience, which was honestly wonderful and helped reduce so much of our stress. Thank you, Christophe! We can't wait to work with you (for other photo shoots) again." – Simran Bathini
Kathi Robertson Weddings Kathi Robertson is a wedding photographer who has years of experience in the fashion photography space. She combines her eye for great compositions with her unique perspective to capture love authentically. Kathi has the distinction of being Ryan Gosling's first photographer, and she uses her knowledge and expertise to create beautiful and timeless wedding photos. Her top dog, Tilda, likes to help out with editing and provides creative feedback.
The company is professional and organized

They have a wide range of wedding packages to choose from

They are creative and can personalize your wedding to fit your needs
Their customer service is not always reliable

The company is expensive
Customer Reviews
Let's take a look at what their clients have to say:
"Kathi was our wedding photographer and wedding planner for our June 2021 wedding. Only two weeks before the big day, we found out that our original venue was going to be closed due to COVID-19 restrictions so Kathi immediately jumped in and suggested alternate venues for us. I was impressed with how well connected Kathi is in the Ottawa wedding industry. She knows everybody! We were so grateful to be able to secure the beautiful Lago Bar and Grill for our ceremony. We are so happy that we went with Kathi. The photos and our wedding day turned out better than we could have imagined!" – Courtney Laidler
"Kathi is an amazing photographer! We absolutely loved our wedding photos. Kathi was flexible with us changing venues and dates throughout the pandemic and she is always quick to respond. I am so grateful to have the most amazing photos of our day!" – Emily Filipcic
Mitch Lenet
Mitch Lenet Weddings is a team of professional photographers that deliver editorial-level pictures. Its basic package, which is at $1,500, includes a second photographer, slideshows, engagement shoots, and liability insurance. Additionally, this basic package comes with digital albums and covers for multiple locations. However, Mitch Lenet's basic package doesn't cover printed photos and other paraphernalia. So, you'll have to pay more if you want more from this wedding photographer.
While Mitch Lenet's team delivers standard photojournalistic photos, each of its photographers still has diverse visual styles.
Large team with diverse visual styles

Video and photo booth packages are available

Award-winning

Second photographer available

Thorough initial consultation
Shorter business hours

Additional payment for physical albums
Customer Reviews
Let's take a look at what their clients have to say:
"I cannot recommend Mitch Lenet Weddings enough! Jasmin was our photographer for our December 2021 wedding and she did a fantastic job! I love that they meet with you beforehand to get to know you and to go over ideas and any special requests you may have. We had our wedding at the Courtyard Restaurant and Jasmin knew the perfect spots to take the best photos. We received so many compliments on our wedding photos and will definitely be recommending Mitch Lenet Photography to everyone we know!" – Kristina Prasil
"As soon as we got engaged we knew exactly who we needed as our photographer! I will admit we were hoping for Mitch's associate Steve, but he was booked. But to our luck, Mitch was still available for our day. We fell in love with the style and finished product my sister had for her wedding 2 years before, and therefore wouldn't settle for any other company! It was absolutely awesome working with Mitch through the entire process (engagement shoot and wedding). Always prompt to respond and willing to go the extra mile. We wouldn't have wanted to work with anyone else on the day of! Mitch kept us cool and calm and we couldn't have asked for anything more! We're being biased but we feel he delivered the absolute best wedding photos that we could have asked for! We would absolutely recommend Mitch and his team to anyone looking for great professionalism, great photos, and people who are able to fit into your day like family! In a good way of course, not the crazy family members! Absolutely 5 stars in every way!" – Samantha Kolupanowicz
Couvrette Photography
Couvrette Photography is a professional photography studio in Ottawa, Canada. The studio has been in business for over 25 years and has photographed notable people, including every Prime Minister from Trudeau to Harper and every Mayor of Ottawa from Dewar to O'Brien. The studio's official portraits have been the choice of The Supreme, Federal, and Tax Courts of Canada for a quarter-century. Couvrette Photography also delivers professional commercial images on time and on budget.
Very talented photographers

A wide range of services offered

Flexible and accommodating
Customer Reviews
Let's take a look at what their clients have to say:
"I have had; the pleasure of meeting and working with Paul. He has photographed me for magazine covers and the man he made this old man look good! Paul must be a magician as his photos are truly magical. His work in the wedding and fashion industry is fabulous! His creativity and artistry amplify a true passion. For photos that create an award-winning story of your event I would recommend Paul Couvrette." – Sid Cratzbarg
"We used Couvrette Studio for our wedding photography and were blown away by the photos we got! Both Paul and Tim were professional and so easy to have our photos taken by (and this is coming from a couple of camera-shy people!). Their service was over and above what we expected, and for the price, incomparable. In my husband's opinion, Couvrette Studios was the best investment we made for our wedding." – Carly and Pat
Green Tea Photography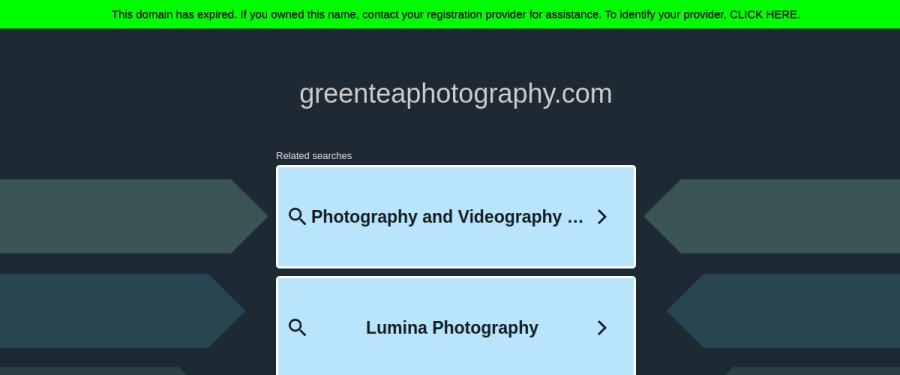 Green Tea Photography is a company that provides wedding photography services in Ottawa. They have won awards for their work, and their portfolio is filled with beautiful photos of engagements, weddings, families, and lifestyle shots. They offer both single-day and multiple-day wedding packages, and their most affordable single-day rate starts at $1800. They also have travel fees for destination weddings.
Very experienced photographers

Great customer service

Beautiful photos
Customer Reviews
Let's take a look at what their clients have to say:
"The absolute best decision we made for our wedding was hiring Green Tea as our photographer. Matt is extremely talented and professional. We were very impressed by the efforts he made to get the perfect shot and his attention to detail, plus he is just the kindest person to work with. Thanks to Matt, our photos are beautiful and we'll be able to treasure them forever. I would highly recommend Green Tea Photography. Worth every penny!" – Christina Mandigo
"Absolutely amazing. We had Matt shoot our wedding and a little session at the cottage. The pictures came out much higher than our expectations. He has such talent and an eye like no other. He's an amazing man with a great personality. Thank you again for everything." – Nadim Dakwar
FAQs About Wedding Photography in Ottawa
What is a reasonable budget for a wedding photographer?
Wedding photographer costs in the United States typically range between $1,150 and $3,000, with the average cost hovering around $2,000.
Are you supposed to tip wedding photographer?
It's not customary to tip the business owner (which wedding photographers frequently are), but if you feel so inclined, you could tip $100 or more. If an assistant is present, tip them $50 to $75.
Why are wedding photography fees so expensive?
Simply put, the more extravagant your wedding visions are, the higher the cost of your photography budget will be as well. The average wedding photography fee ranges from $100 to $250 per hour, but adding an extra photographer, more hours, a distant location, and post-editing can quickly add up to a significant increase in the final cost.

Most wedding photography services, fortunately, encourage a pre-consultation meeting before booking. This is the time to talk about your budget and see if wedding packages can be tailored to your vision and needs.
What are the best wedding photography destinations in Ottawa?
With the exception of COVID restrictions, Ottawa has a plethora of beautiful wedding photography locations. It will all be determined by your personal preferences, vision, or theme.

Consider the Arboretum, which has a canopy of trees, or the Ornamental Gardens, which has a lush layout. Try shooting at the Museum of Nature's butterfly staircases or with the Canadian Museum of History as a backdrop if you want a touch of modern architecture.
---
That's All! If we missed any good photographers in this review, please let us know and we'll make it right.