Ottawa is known for its many talented DJs. Whether you are looking for a wedding DJ, corporate party DJ, or just someone to keep the dance floor packed at your next party, Ottawa has no shortage of talented DJs to choose from. In fact, there are so many DJs in Ottawa that it can be hard to know where to start when looking for the right one for your event. That's why we've put together this list of the top 5 DJ companies in Ottawa.
Best DJ Companies in Ottawa
Pulse Entertainment
Pulse Entertainment is a professional DJ service that has been providing couples with quality music for weddings since 2006. The team of DJs is highly qualified and experienced, and each one has been carefully screened to ensure that they meet the high standards of Pulse. The company is a member of the Canadian Professional Disc Jockey Association, licensed through CONNECT, and carries $2,000,000 in liability insurance.
Pulse takes pride in their attention to detail when it comes to planning weddings. From the time of booking until the last dance, they work closely with their couples to make sure that every aspect of the event is exactly what they want. Whether it's picking out the perfect music for the occasion or ensuring that all the logistics are taken care of, Pulse makes sure that their couples have nothing to worry about on their big day.
Flexible with many different genres of music

Custom music planning App

Recommended by other top vendors

Fair Pricing

Many different additional options
Limited dates are available as we book up quickly

Bilingual DJs/MCs not available
Customer Reviews
Let's take a look at what their clients have to say:
"Mark was SO amazing as our wedding DJ. From the get-go, he was so easy to communicate with and reach whenever I had any questions. I was admittedly nervous about the timing for our processional but Mark was right on top of everything and knew exactly what he needed to do. I gave some pretty general requests for what to be played during dinner and dancing, and Mark ended up playing just what we wanted to hear anyways. We had several compliments afterward that our DJ kept the party going and played some amazing music! Thanks so much for making our wedding so amazing!!" – Emilea Slonosky
"We just had our wedding this weekend and Mark was awesome! He was relaxed and friendly from the moment we met him and was very organized. We had an outside ceremony in the forest and he was able to set up a sound system for music and microphones that worked perfectly. He also set up an app so we could organize all of our music in advance and have friends put in song recommendations before and throughout the night. Our venue also commented on how Mark was incredibly kind and easy to work with! Couldn't recommend him enough!" – Emma Dinneen
Bobby B Productions
Bobby B Productions is taking every measure to ensure the safety of their clients. This includes properly sterilizing all gear before and after every event, as well as honoring any change of date based on availability. Bobby B Productions wants their clients to feel safe and confident in their decisions to work with them.
Experienced team

Quality equipment

Well-organized company
Customer Reviews
Let's take a look at what their clients have to say:
"Had Bobby do the sound for our wedding and reception. Easy, professional, and helpful to work with ahead of time. Showed up early on the day of, with all equipment plus extra if needed. Will certainly be recommending to others." – Trevor Nehring
'Bobby Is passionate Open and friendly. He treats you how you want to be treated! He Listens to your needs. He provides you with a service and Professionalism that is Top notch! I am so confident in what he does that I have become part of his DJ Team! With his roster of super DJs, you will have your family talking about how great the Bobby B Experience is for many years to come! Do yourself a Favour and Hire Bobby B productions for your next event!" – DJ DAN STEEL
Quality Entertainment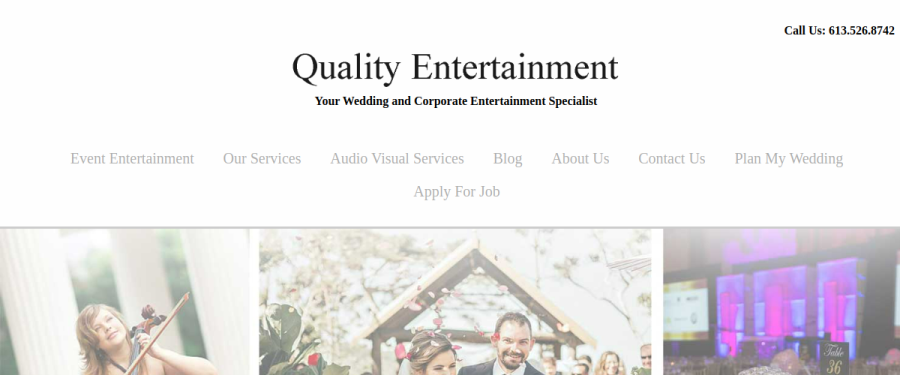 Quality Entertainment has been providing professional wedding DJ services and full-service entertainment in Ottawa, Gatineau, and the surrounding area for over 25 years. That's 25 years of reliable, exemplary customer service by a team of talented entertainers.
They specialize in corporate team-building ideas, private parties, school dances, corporate events, theme nights, and most of all, weddings. They treat every event as if it were their own. There's no event too big or too small. Their dedicated team of experienced wedding DJs and professional entertainers will ensure that your entertainment package matches your unique vision and budget.
Whatever your needs, Quality Entertainment has you covered. From music to lights to entertainment ideas, Quality Entertainment will help you create a party that exceeds your expectations. Contact them today to book Quality Entertainment for your wedding or special event in Ottawa.
Quality Entertainment

Good for events and gatherings
A limited number of services
Customer Reviews
Let's take a look at what their clients have to say:
"We used Quality Entertainment for our wedding and all I can say is that it was an excellent choice. Our DJ (Paul) was an absolute gent, professional and energetic, and kept us dancing until the early hours of the morning. Very easy to recommend, and a huge thank you from my wife and me!" – Jeremy Paul John Gardner
"Amazing DJ service! Our MC loved working with Paul our DJ for the night and he played a great assortment all night keeping the dancefloor full. We had a range of French-Canadian music Country to 2010's pop and more. I need to mention how easy it was to use their online planning platform as well. Included all the necessary planning info all in one spot which made it easy to plan everything. Can't thank you guys enough!!!" – Josée Potvin
Dynamix Productions Dynamix Productions is a full-service event company that strives to provide their clients with the best possible services. They work with their clients to create high-impact, modern, and innovative events, using the latest technologies available. Their goal is to produce events that are memorable and leave a lasting impression on their guests.
Excellent video production quality

Affordable prices

A skilled team of professionals

A wide range of services offered

Strong client base
Customer Reviews
Let's take a look at what their clients have to say:
"Dynamic Pro took our wedding to another level. The service was professional, he was responsive to every detail and executed everything perfectly. The DJ booth and lights he provided kept us and our guests dancing all night, could not recommend him more!" – Nicholas Tessier
"Amazing service! I am a wedding photographer myself and have witnessed Dynamix entertain many events in the past and had them at the top of my wedding dream team list! Steph just hosted our wedding last week and we couldn't be happier with his work. He read the crowd and event perfectly and he was such a pleasure to work with! His equipment is top of the line and he is extremely organized & methodical! Thank you from the bottom of our hearts, Joelle & Mike" – Joelle Martin
Interlace Group Events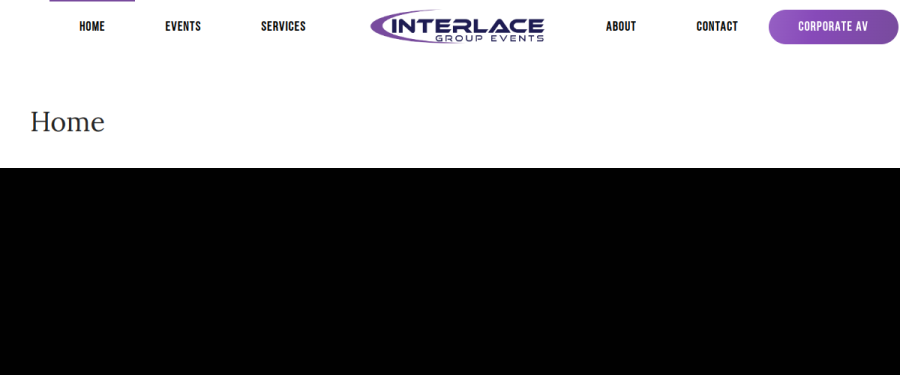 Interlace Group Events, previously known as Interlace Sounds Inc., was established in 2000 with a vision to provide upscale DJ and audio-visual services for individuals, companies, and high schools in Ottawa, Montreal, and the Toronto area. Over the years, the group has gained the distinct honor of providing services for organizations such as the Canadian Cancer Society, numerous wedding couples, birthday parties, and local high school proms by creating magical evenings that will be talked about for decades.
The DJ service offered by Interlace Group Events contains over 25 different styles of music ranging from Top 40, wedding classics, R&B, the '80s to Motown, and Middle Eastern to Latin. This wide range of music styles allows the company to create a party scene that is unique to each client who requests it. In addition to the music selection, Interlace Group Events also offers the latest technology in equipment rentals found in corporate, convention, and seminar environments. This allows them to cater to a wide range of clients with different needs.
Interlace Group Events encourages its corporate clients to visit its sister company Interlace AV for a complete experience.
Good customer service

A variety of services offered

Well-organized events
Limited space for some events
Customer Reviews
Let's take a look at what their clients have to say:
"We hired Interlace Group Events for our wedding DJ services. James was our DJ and he was great to work with! He was professional, and honest and went to great lengths to ensure we were happy with all aspects of our DJ services. I would not hesitate to recommend Interlace Group Events to anyone who is planning a wedding!" – Eugenie Cyr
"James was DJ at our wedding a week and a half ago. He was recommended to us by our venue. James was amazing to work with – very professional, quick to respond, and took the time to meet with us to go over every detail. He did a fantastic job at the wedding, coordinating all the songs for the ceremony and getting everyone out on the dance floor all night long! We can't thank him enough for helping make our day go so perfectly 🙂 We highly recommend Interlace Group Events for wedding DJ services!" – Rachel Wardle
FAQs about DJ Companies in Ottawa
What is the process of becoming a DJ?
The process of becoming a DJ is relatively simple. There are three main steps: learning how to mix and beat match, acquiring some basic equipment, and then practicing.

How do I learn how to mix?
There are a number of ways to learn how to mix. You can take classes at a local dj school, watch online tutorials, or even read books on the subject.

What kind of equipment do I need?
In order to start djing, you will need two things: a turntable and some software. A turntable can be purchased for around $100-200, while software can be downloaded for free online.

How much practice does it take?
Like any skill, becoming a proficient DJ takes time and practice. It's recommended that you start by mixing songs you're familiar with and slowly work your way up to mixing tracks from different genres.
---
That's all! If we missed any good DJ companies in this review, please let us know and we'll make it right.