Your face can show signs of everyday stress from work and other aspects of your life. Fortunately, the best facial services in Ottawa can help you achieve a youthful, clear, and pampered appearance.
Today, we'll look at some of the city's most reputable facial care centers that have a loyal following.
We'll look at how much you can expect to spend on facials and other treatments in the next section.
What Does a Facial in Ottawa Cost?
Depending on your skin condition and needs, there are a variety of facial types to choose from. As a result, different products, equipment, and levels of expertise are required to treat various skin types.
Initial consultations are frequently free, though some may charge a small fee to determine which treatment is best for your skin type or condition.
We rounded up some popular facial treatments with their estimated costs to serve as a rough guide. These numbers and percentages are based on national averages.

FACIAL TYPE
ESTIMATED COST
Cleansing and refreshing facial (30 – 40 minutes, no equipment used)
$50-$150
Restorative facial (up to 90 minutes with special skin products and tools)
$100-$200
Chemical peels (for damaged or wrinkled skin)
Basic alkaline wash $150
Micropeel $135 – $150
Chemical peel $135 – $200
LED light therapy
$50-$250
Please keep in mind that HSTs, as well as other taxes and fees, may still apply. To confirm rates and add-ons for specific treatments, call your preferred facial center.
5 Best Facial Services in Ottawa
Now that you know how much different treatments cost, it's time to learn more about what the best facial centers in Ottawa can do for your skin.
1. Meryann Spa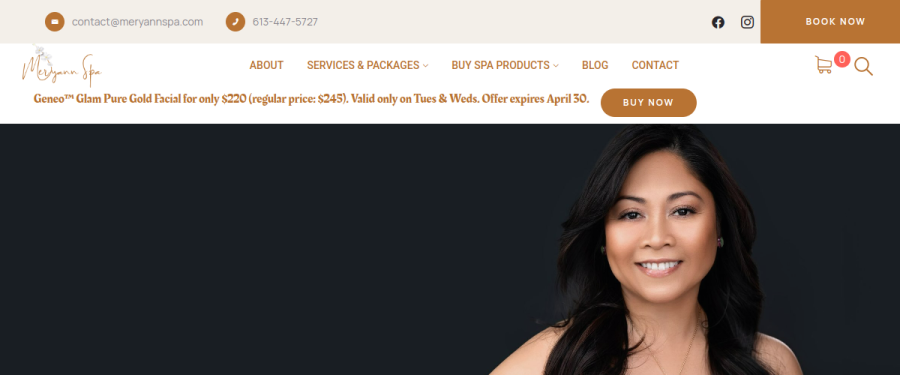 Meryann is a businesswoman and entrepreneur who opened her first salon in Montreal, Canada in 2000. After moving to Ottawa, Canada in 2006, she opened her own spa, which has become successful due to the high-quality service she provides. Meryann's clients are loyal regulars because they appreciate the personal attention and care they receive from her.
The staff is friendly and knowledgeable

The facials are very relaxing

The products used are high quality

5 Star Google Review
The spa is small so it can get crowded at times
Customer Reviews
Let's take a look at what their clients have to say:
"Visited Maryann's Spa today and I can assure you the services were above and beyond. I went in for a facial and she really took her time to explain the whole process and it was worth it 💯💯. I'll definitely be returning cause I did get my money's worth. So if you're thinking of getting an affordable and detailed facial that won't break the bank, worth it, regardless of any skin type. Here's the place for you." – Omotola
"Meryann gave the most holistic facial I've received in a long time. She took the time to understand my skin. Typically other aestheticians spend more time on applying products than facial massage. It's rare to get this level and length of facial and upper body massage – I loved it! The aromas, products, ambiance, and techniques are all impressive. I am so pleased with Meryann's services. Definitely going back to her." – Tanushree Mohan
2. Third Avenue Spa
Third Avenue Spa has been a luxurious spa in Ottawa since 1999. Owner Patricia Bertoli and her team offer an extensive menu of exceptional treatments to help guests feel beautiful inside and out. They use high-quality product lines like GM Collin and Aveda to nourish and pamper guests' skin, and the entire spa experience is filled with quality, luxury, and care. It's all about the guests at Third Avenue Spa, and they look forward to welcoming new guests soon!
Great Massages

Beautiful Interior Design

Friendly and Helpful Staff
The spa is often busy and sometimes has a waitlist

Pricey
Customer Reviews
Let's take a look at what their clients have to say:
I went for a facial here and wow!! The staff is very knowledgeable and friendly. The GM Colin facial was so relaxing, even got a hand and arm massage. Plus she looked at my skin and recommended products that have really helped with my dry breakout-prone skin. I now have a monthly facial booked here. So happy!" – Kala Gray
"Best facial ever! Gina has magical hands and I couldn't have been happier that I was booked with her. I received such a warm welcome as soon as I entered the spa, my appointment started on time and I left so much more educated about my skin. I highly recommend Third Ave Spa. Can't wait for my summer facial!!" – Carri-Lynn Jones
3. The Upkeep Shoppe
Natalie Esau has been a professional in the spa industry for over 18 years. She always knew she would own her own spa one day, and in 2011, she founded The Upkeep Shoppe. The spa is split into two halves: one side that is more vibrant and social, with manicure stations and pedicure couches, and an upstairs area that is more relaxing and features a brow bar, lounge, and treatment rooms. The Upkeep Shoppe prides itself on its honest approach to results-oriented services, which has led to its award-winning success. A spa is a place where customers can feel good and relax while receiving the self-care they deserve.
The staff are very friendly and accommodating

They use high-quality products

It's a great place for a quick facial

Affordable
Customer Reviews
Let's take a look at what their clients have to say:
"This will be my new go-to place for shellac manicures – Andrea did an absolutely amazing job doing my nails, and I love how they turned out. Overall, it was a great time for self-care and relaxation. Will definitely be back!" – Lea Albrecht
"Best nail salon I've found in central Ottawa. Very neat work on both manicure and pedicure, really good massages, very attentive and professional. Shellac lasts forever and they do careful removal too where your nails look perfect after and not damaged at all. Every nail master I've had has been wonderful and fun. Highly recommend! Book in advance! The me-time package is great." – Sonya Gankina
4. Glow Beauty Spa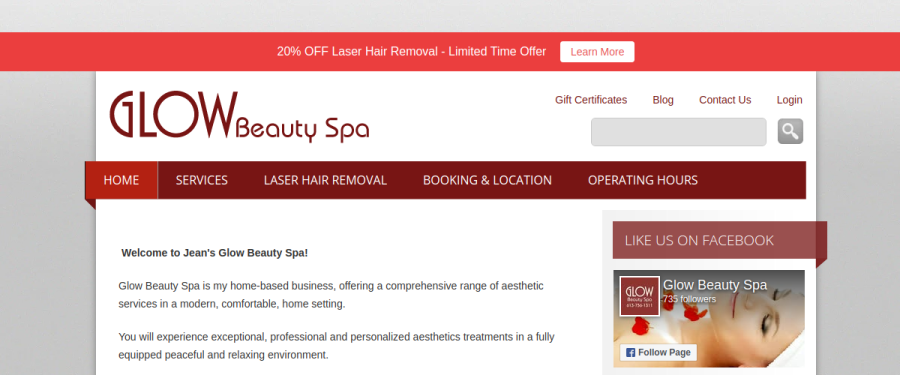 Glow Beauty Spa is a home-based business that offers a comprehensive range of esthetic services in a modern, comfortable setting. The owner, Jenn, provides exceptional, professional, and personalized esthetic treatments in a fully equipped and relaxing environment. Glow Beauty Spa is located in a quiet residential neighborhood at 25 Maurya Crescent, just off Hunt Club Road. The website provides detailed directions, as well as a list of the services offered. Jenn looks forward to meeting you and providing for all your esthetic needs.
Beautiful interior design

A wide variety of services offered

Professional and friendly staff

Convenient location

5 Star Google Review
Limited parking availability
Customer Reviews
Let's take a look at what their clients have to say:
"I'm so glad I found Jean! Her home is beautifully decorated and I feel very comfortable visiting for my wax services. She is very efficient and a perfectionist as well, which is always appreciated. Her prices are reasonable and she is very kind and professional. I recommend Glow Spa for all in the Ottawa area!" – Tamra Pagliaro
"I went to see Jean for the first time this week. It was my first time getting my eyebrows threaded after years and years of waxing. My experience was great. Jean is really friendly and knowledgeable. The spa is extremely clean and inviting. I will be going back for more threading in the future." – Julie Atkins
5. THE TEN SPOT the glebe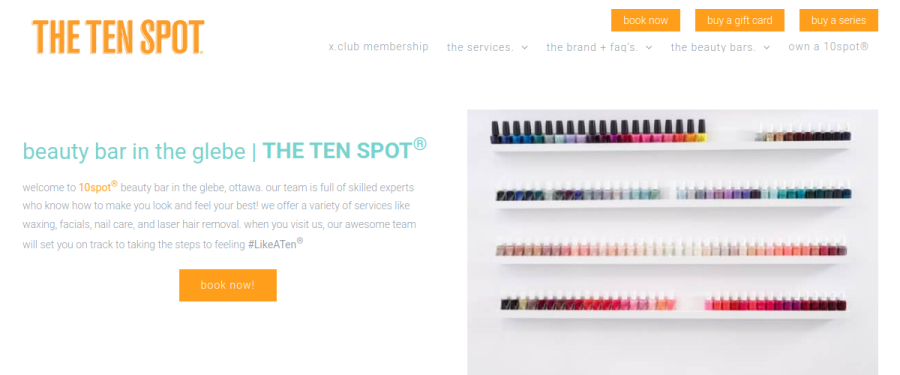 The Ten Spot is a hair salon in the Glebe neighborhood of Ottawa, Canada. It offers a wide range of services, including haircuts, colors, and styling. The salon has a relaxed and comfortable atmosphere, and the staff is friendly and professional. I have been a customer at The Ten Spot for several years, and I have always been happy with the service I received. The salon is reasonably priced, and the staff is always willing to go the extra mile to make sure their customers are happy. I would highly recommend The Ten Spot to anyone looking for a good hair salon in Ottawa.
Unique, one of a kind salon

Creative and stylish atmosphere

A friendly and talented staff
Customer Reviews
Let's take a look at what their clients have to say:
"I've had the pleasure of getting waxed by Nicole as well as getting a pedicure done by her. She's so sweet and kind and ensures comfort during every service. Thank you Nicole for being efficient while being a fun individual!" – Jade Delva
"I've seen Annette at the spa twice now and am very impressed! My first visit was a pedicure and not only does it look great, the service felt amazing. I had laser hair removal this past weekend and I was nervous at first. She made me feel at ease and recommended a great product to help with any irritation following. I also had a lash lift and it gave me the natural look I wanted for my eyes! Check them out!" – Katrina Greer
FAQs About Facials in Ottawa
How often should a woman get a professional facial?
Recommendations in general. Putting those considerations aside, a facial should be done every three to four weeks or once a month. That is the length of your skin's life cycle. Your skin cells regenerate in three to four weeks.
What are the disadvantages of facial?
The most common side effects of the facial are redness and blotchy skin due to the pressure of exfoliation and extraction. Avoid wearing makeup or using any of the products on your skin during the day or two that follow your face to give your skin time to heal.
A good facial will tighten your skin and clear your pores. This reduces wrinkles and, in some cases, completely eliminates them, making you appear much younger. If you wear a lot of makeup, it's also a good idea to get a facial once in a while to help keep your skin and pores clean.
At what age facial should be done?
Many experts believe that around the age of 14, you should begin using facials to care for your skin. That's when your skin starts to change, and blackheads, bumps, and acne start to show up. While some teens may experience puberty sooner or later, the beginning of puberty is a good guideline.
---
In no time, the best facial services in Ottawa will have you looking refreshed and rejuvenated.
Please send us a message if you have any other facial care centers in mind so we can review them as well.