Your heater and air conditioner are two of the items that make your house seem like a home. Naturally, you'd want only the best personnel to keep yours up and running all year – and we're here to provide just that.
Stick around until the end of this post to learn about the average cost of HVAC services and repairs, the finest HVAC firms in Ottawa, and some answers to frequently asked questions.
What Should You Look for in an HVAC Service Provider?
Let's start with what you'd like to see in the businesses you're approaching.
Experience and Licensing
Because your HVAC system is among the most expensive pieces of equipment in your home, you'll want a licensed professional to handle any maintenance and repairs. Inquire about certifications and the length of time they've been in business.
Even better if they have experience with certain HVAC systems (especially one that you own). Each system is distinct, therefore having someone who specializes can be beneficial.
Recommendations and Referrals
Check with references to see if you may call them and ask them the relevant questions.
Did they complete the task in a timely and efficient manner?
Were they sincere and polite?
Were they squeaky clean or did they leave a mess?
While advertisements are useful, they are not the finest source of information – after all, they are paid! Business owners and other homeowners are the best individuals to ask.
Home Assessments
Before beginning work, contractors and repairmen should do a comprehensive inspection of the residence or current system. This is particularly critical when installing new systems.
A full inspection includes factors such as the home's size, insulation and whether it needs to be upgraded, duct system leak detection, and more.
Following the evaluation, you should receive a formal, itemized quotation that includes warranties and energy efficiency rates.
Effectiveness
Though an efficient HVAC system costs more upfront, it saves money in the long term.
Inquire about the most energy-efficient systems and units, as well as the amount of money you could save over the course of a few years.
Promotional Offers
Inquire about rebates and special offers from the firm. You never know where you might be able to save money unless you do some research.
When you're looking, take your time and ask as many questions as you can.
What Does HVAC Service in Ottawa Cost?
The following are the most common HVAC services and their average costs. Keep in mind that actual costs are determined by the company's hourly rates, units, and models.
| | |
| --- | --- |
| Service | Average cost |
| Diagnostics | $50-$100 |
| Cleaning | $80-$100 |
| Gas line installation | $150 per hour |
| Air conditioner | $500-$700 |
| Furnace | $4500-$6000 |
5 Best HVAC Services in Ottawa
Let's move on to the best HVAC service firms in Ottawa now that we have the majority of the information we require!
1. J.C. Robinson & Sons Ltd. Heating & Air Conditioning
| | |
| --- | --- |
| Website | https://www.jcrobinson.com/ |
| Address | 1726 Bank St, Ottawa, ON K1V 7Y6, Canada |
| Phone | +1 613-733-2481 |
| Category | HVAC contractor |
JC Robinson and Sons is a company that has been in business for over 90 years. They are a BBB accredited business, and they offer high-quality air conditioning, heating, and indoor air quality products and services. They also offer $250 incentives for people who would like to have their furnaces replaced with high-efficiency furnaces, as well as up to $5,800 in rebates for people who install qualifying air source heat pumps. JC Robinson and Sons have the tools and experience to provide their customers with cost-effective solutions and maintain equipment at peak efficiency.
They have a lot of experience

They are a local company

They are licensed and insured

Large staff
They are more expensive than other companies

Their website is not very user friendly

Closed on weekends
Customer Reviews
Let's take a look at what their clients have to say:
"I called J.C Robinson…they were able to get someone to my house in hours (even though I have no contract with their company) Caril came to my house was prompt and courteous …and had my furnace online in less than an hour!!! Fantastic!" – Andrew Smith
"We just had our annual furnace inspection, as per the service contract, and everything went as nicely as possible. #1, the technician showed up precisely as planned, and #2 knew precisely what he was doing. Besides that, he was pleasant and thorough and explained details of the function of various parts of the furnace to set my worries aside. This company supplied and installed the furnace a couple of years ago, and every step of the way has been, honestly, just perfect. Thanks very much for your work, JC. Robinson and Sons! I have complete confidence in them. I'll certainly ask them first when it comes time to replace the AC unit." – James Hay
2. Francis Home Environment Heating and Air Conditioning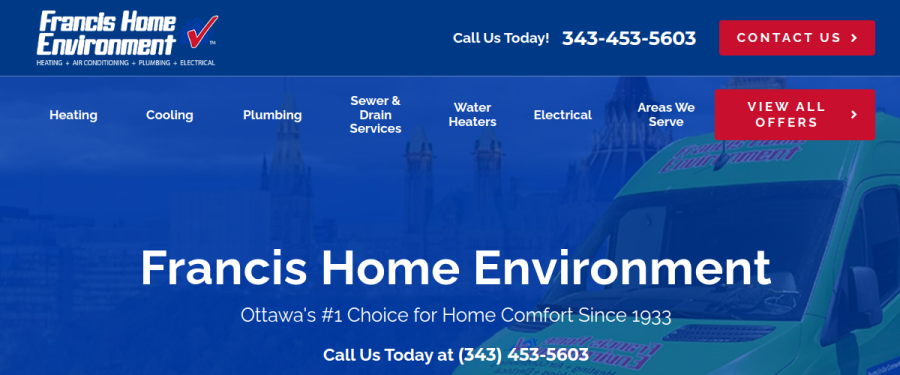 | | |
| --- | --- |
| Website | https://www.francishome.ca/ |
| Address | 38 Antares Dr Suite 400, Ottawa, ON K2E 7V2, Canada |
| Phone | +1 613-723-4700 |
| Category | HVAC contractor |
Francis Heating and Air Conditioning is a family-owned and operated business that has been providing home comfort solutions in Ottawa and the surrounding communities since 1933. They offer 24-hour service with no additional charge for weekend, after-hours, or holiday service. Their technicians are all certified and undergo ongoing training to ensure that their work meets the high standards set by the company. Francis Heating and Air Conditioning only offer products from brands that meet their high standards, so you can be sure that any repairs or installations will be of the highest quality.
They offer a wide range of services, including heating, cooling, and ventilation

They have a team of experienced technicians who are dedicated to providing quality service

A reliable company that has been in business for many years
Limited Availability

Some customer complaints in the past
Customer Reviews
Let's take a look at what their clients have to say:
"Francis Home Environment is worth the money for the after-sales service alone. I was able to book the installation of a gas furnace and hot water tank the week after I got the quote. They installed a humidifier on the furnace this winter and Matt, the technician who did the installation, was on time, efficient, cleaned up, and left nothing behind. He was courteous and didn't leave until showing me how to operate the humidifier and answered all my questions. Matt, like all technicians and sales representatives at Francis Home Environment, is the best in the business. This is my third residence and the best service I've had in 25 years. I recommend this company's services without hesitation." – Jean Trahan
"This is the second experience with Scott in the last week. In both instances, he was extremely professional and very helpful with his explanations and suggestions. He was very efficient in his work and even did extras without being asked. His knowledge was excellent and I knew we had someone that would provide results without being sold things that would not solve our issues. I would highly recommend Scott (Byers) to any of your clients and certainly, want him on our account in the future!
Excellent work Scott!" – Paul Bimm
3. Reliance Holmes Heating, Air Conditioning & Plumbing
Reliance Holmes Heating & Cooling is the leading home comfort provider in Ottawa and the surrounding areas. We offer a wide range of services, including HVAC installation and repairs, water heater installation and repairs, water filtration and softening, and electrical and plumbing services. With our low rates and flexible payment options, we can work with you to find the right solution for your home comfort needs. Our team of trusted advisers will work with you to find the perfect solution for your home and budget.
Reliable

Well-known

Good customer service
Expensive

Not able to meet deadlines
Customer Reviews
Let's take a look at what their clients have to say:
"Great experience! Costa and Bobby went above and beyond to do meticulous work. It was a pleasure to have them in our home for the day. They took the time to answer any questions about our new furnace and thermostat and were extremely patient. Our installation required many additional fixes on account of the age of the home and these fellas took it all in stride and made us feel that they were enjoying the challenges! Excellent representatives for Reliance and very kind human beings." – Olivia Green
"Reliance is a great company for my heating, A/C, and water heater. Over the past 6 years, any problem was quickly handled. Every service call was handled in a very professional manner. After which I was provided a detailed follow-up as to the problem and what was done to correct it. There was never a rush to leave until my questions were answered and always added that if I have any problems or questions to call. The technician this time explained why my furnace did a lockdown after 3 attempts to start and why it was successful on the next cycle. I really appreciate his explanation as this was the first time this happened." – Rick Fussell
4. Rick Menard Heating & Cooling | | |
| --- | --- |
| Website | https://menardheatcool.com/ |
| Address | 1250 Old Innes Rd Unit 516, Ottawa, ON K1B 5L3, Canada |
| Phone | +1 613-834-1415 |
| Category | HVAC contractor |
Rick Menard Heating & Cooling is a full-service HVAC service company that has been operating in Ottawa for the past 31 years. They are a BBB accredited business with an A+ rating and highly trained employees who pass through an in-depth training process.
For repairs and maintenance, they deploy full-service technicians to your home, fixing the problem efficiently. For those services and especially installations, they strictly follow the industry's safety standards, ensuring that all jobs are done right for all makes and models while offering maintenance service plans and warranties.
According to reviews, their technicians carry themselves with professionalism and are also very friendly and approachable.
Very experienced team of professionals

Provides a wide range of services

Has a good reputation

Technicians are licensed and full-service
Customer Reviews
Let's take a look at what their clients have to say:
"The team was very professional and pleasant. They took the time to explain various options to address arisings and particularities during the installation. They ensured that the pros and cons of each option were clearly presented such that I could make the decision that suited my situation. It was clear the technicians were very diligent in their work and that the work was done to a very high standard. They also took some additional time to walk through post-installation details that applied to my future plans. Overall, an outstanding experience with both the technicians on-site and with the office." – Jay Thor Turner
"We are huge Rick Menard H&C fans at our house. They have serviced our furnace and a/c regularly over the years are always excellent. Today, however, was even more impressive than the usual case. Our furnace stopped working overnight. I called for emergency service at 7:30 am, and Benoit was at our door by 9:00 am. Minutes later he had diagnosed the problem, and an hour (and one new motor) later the furnace was back up and running. It is -21 here at the moment, the kids are home from school, and the temps are dropping out to -30 tonight. There is never a good time for the HVAC to go sideways but we are very relieved to have heating restored so quickly with all of that going on. Benoit was excellent throughout the entire process — very informative and professional with lots of good advice around furnace maintenance and options for the future. Huge thanks to him and Charles for the quick response today and we would absolutely recommend Rick Menard." – Craig Riggs
5. AirZone HVAC Services Inc.
AirZone HVAC Services is a family-owned and operated business that has been servicing the Ottawa area for over 15 years. They are specialists in the installation, repair, and sale of residential and industrial heating and cooling systems. AirZone has a reputation for being reliable and professional, with hundreds of satisfied clients. They offer a one-year workmanship warranty on all new furnace and air conditioner installations, as well as free quotes for services and units. They also provide free precision tune-ups and quotes.
Multiple awards won

Free tune-ups
Closed on Weekends

Website not user-friendly
Customer Reviews
Let's take a look at what their clients have to say:
"Recently shopped around for new AC and couldn't have been any happier with Airzone. Price and service were the best by far, they were prompt in providing quotes and installation (Jason/Scott) was problem free and professional." -Tara Bower
"Awesome experience dealing first with Taylor on the sales side. Honest, not pushy with a unit I didn't need or couldn't afford. Awesome install crew (Sean and cam). Super friendly, courteous, knowledgeable. Able to answer all my other HVAC questions. I would definitely recommend AirZone to all my friends and family in the future" -Steven Perry
FAQs About HVAC
Is HVAC mandatory in Ottawa?
The Ontario Building Code (OBC) SB-12 was changed on January 1, 2017, to require heat recovery ventilation or ventilators (HRV) in all new houses. HRVs will significantly enhance the air quality in your home, even if it is older.
How often should I have my HVAC system checked?
To keep your HVAC system functioning efficiently and in good form, get it examined twice a year (once for heating and once for cooling). The optimum time to have these checked is just before the winter and summer months arrive.
What's the warranty on a new HVAC system?
The majority of HVAC systems have a 10-year warranty. Of course, with proper maintenance and care, your systems can last much longer. If your local HVAC service business offers yearly maintenance plans, we strongly advise you to take advantage of them!
---
This brings us to the end of our list of the best HVAC services in Ottawa. We hope you found this information useful.
Is there a firm you recommend that we didn't mention? Tell us everything about it; we'd love to hear about it!