If you're reading this, chances are you're either a business owner or someone who needs help keeping track of their financial data. You will require the services of an accountant.
It's natural to be concerned about entrusting your financial data to a stranger, especially if you're used to doing everything yourself. Hiring an accountant from one of Ottawa's best accounting firms, on the other hand, will alleviate any concerns you may have.
This article will assist you in locating the best accountant for your needs, whether they are business or personal.
What Does Accounting Services in Ottawa Cost?
Accountant services vary in price based on the individual or organization, but here's a rough idea of what they cost in Ottawa:
| | |
| --- | --- |
| Service | Average Cost |
| Accounting | $40-$50 per hour |
| Bookkeeping | $250-$300 per hour |
| Payroll | $10-$14 Employee per assessment |
| Tax Prep | $200-$250 per hour |
5 Best Accountant Services in Ottawa
You'll want the top-rated accounting services in the area for your business needs. Here's a list of those I found after scouring the internet for those who provide excellent service!
1. Zak Accounting Professional Corporation
Zak Accounting is a reputable accounting firm with offices in the Ottawa and Gatineau area. They have extensive experience with small to medium-sized businesses and are qualified to provide total accounting and payroll advice and support to help these businesses grow. In addition to their tax planning services for both professional and personal needs, Zak Accounting also has a Client Portal on their website that lets you upload and download sensitive files safely. Furthermore, they offer an hour-long free initial consultation with no obligation.
Great customer service

Very professional staff

Provides a wide range of services

Free initial consultation

Secure online Client Portal

Total accounting support and advice
Too busy to help you with your specific needs

Not suitable for large companies
Customer Reviews
Let's take a look at what their clients have to say:
"Zak was extremely helpful, and I couldn't thank him enough for the great service he provided. His prices were very reasonable. It made a very stressful situation much easier to deal with as I am not very savvy when it comes to this stuff. A BIG THANK YOU for everything. Very much appreciated." – Colette Lebrun
"Zak was extremely helpful during this very challenging tax year with COVID. His prices were very reasonable and he made himself available to help me any time I had a question without making me feel as though I was being any kind of a bother. It made a very stressful situation much easier to approach." – Devon Honywill
2. Al-Mulla CPAs Professional Corporation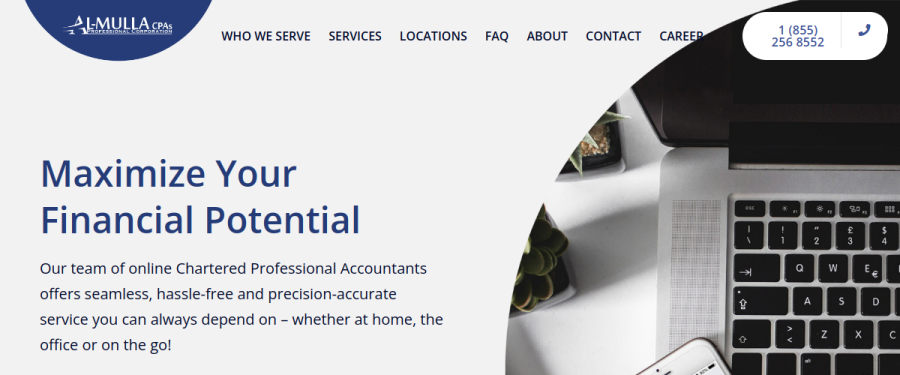 | | |
| --- | --- |
| Website | https://www.almullacas.com/ |
| Address | 2285 St. Laurent Blvd Unit A14, Ottawa, ON K1G 4Z4, Canada |
| Phone | (855) 256-8552 |
| Category | Accountant |
Zaid Al-Mulla and Rami El-Assaad are experienced accountants who have worked in the public accounting field for several years. Both hold undergraduate degrees from Carleton University, and Zaid also has a graduate degree from Brock University. They are both members of the Institute of Chartered Accountants of Ontario and the Canadian Institute of Chartered Business Valuators.
Zaid has worked for Deloitte & Touche and DNTW Chartered Accountants and has experience in auditing public and private companies, as well as planning and compliance with complex corporate and personal tax matters. Rami has worked in business development, finance, and asset valuation for acquisitions and corporate restructuring.
Experienced and qualified accountants

Available for consultation when needed

Provide a wide range of services
Customer Reviews
Let's take a look at what their clients have to say:
"I have been with Al-Mulla CPAs for almost four years now. Zaid and his team of professionals managed my personal accounting as well as my business, in addition to my husband's personal and business accounts. Although very likely to happen in this line of work, I can say with confidence that throughout these years, we never encountered any type of error, omission, or deletion in our filing despite the complexity in some years. They are organized, precise, and always straight to the point. We specifically like Zaid Al-Mulla's professional behavior and his continuous support and advice. His team always seems familiar with our filing and companies' structures saving us a ton of time and effort. Their prices are VERY reasonable given their level of excellence. Do yourself a favor and sign up with them for a headache-free tax season!" – Mayyadah Brykea
"Al Mulla CPAs give their customers all the time needed to clearly explain the working process, they are very professional in carrying out their work, punctual and do proper follow up on their customer's requests. Thank you Al Mulla CPAs." – Rami Kawar
3. Houle & Associates Chartered Professional Accountants
Houle and Associates is a chartered professional accounting firm that provides tailored solutions to their client's tax and financial planning needs. Their focus is on developing strong, long-lasting relationships with their clients. They understand their clients' goals and objectives in order to help them plan for continued success. Their team of knowledgeable and experienced accountants is available when needed. They pride themselves on providing each and every one of their clients with the best possible service. Houle and Associates have served satisfied clients coast to coast, with the majority of their clients located here in Ottawa.
Competitive prices

Experienced staff
Only offers services in Ottawa

They may be too expensive for small businesses
Customer Reviews
Let's take a look at what their clients have to say:
"We have been fortunate to have benefited from the services of Norm and his team for the past many years. He is an expert in the intricacies of both corporate and personal income tax. Norm is personable and takes the time to describe and explain things. He is also accessible and is quick to respond to our questions and concerns as they arise. We value his expertise and advice very highly. Many thanks to you and your team, Norm!" – Anand Prabhu
"Norm is very professional and personable. He is very knowledgeable and shares his knowledge and expertise freely, taking the time to clarify and explain processes. Working with Norm gives me the peace of mind that my paperwork will be done accurately and with great integrity. I'm very grateful to work with norm and am honored to recommend him with no hesitation." – Dalia Dafashy
4. Numetrica
Numetrica City is a firm consisting of chartered professional accountants with years of experience in the field. These accountants are capable of handling corporate tax returns, bookkeeping, payrolls, tax planning, and many more. Their skills and expertise also allow them to give sound advice regarding businesses, finances, and accounting matters. With the help of Numetrica City's accountants, you can watch your business run smoothly without having to worry about the numbers involved in it.
Offers cloud accounting

Experienced business consultants

Full suite of accounting services
Customer Reviews
Let's take a look at what their clients have to say:
"Moe has been my accountant for 15 years now and has looked after both business and personal tax needs. I never hesitate to recommend his services (and the team he now leads) to friends and family. He has saved us time and again. Thanks for the many great years of service!" – Jamie Gibson
"I would highly recommend Numetrica City-Accountants, Tax and Bookkeepers. Exceptional customer service. I am assured that all my company tax services and payroll are taken care of because of the great team that Moe has. I like the fact that I do not have to worry about driving to a physical location for my accounting services, my company's accounting tax preparations are done online due to the excellent cloud service Numetrica City has. Definitely score a10/10. Thank you for all the good work that you guys do. Greatly appreciated!" – Sibeso Kehinde
5. Paterson & Company Chartered Accountants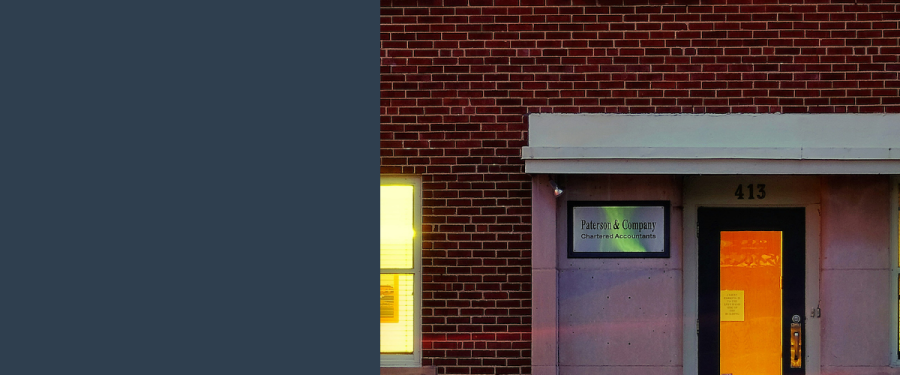 Paterson & Company is a business and financial services firm that provides clients with timely, accurate services. The company strives to provide useful and positive experiences for its clients. Its services include income tax preparation, financial planning, and business consulting. Paterson & Company is dedicated to meeting the needs of its clients and looks forward to assisting them with their financial planning and tax needs.
Professional and qualified staff

Competitive rates

Many years of experience

Provides a wide range of services
Customer Reviews
Let's take a look at what their clients have to say:
"We have been dealing with Sarwar for some time now and he has been but professional. What I do like is the timeliness of his email responses. I take the opportunity, whenever I can, to recommend Sarwar should any of my contacts require the services of an excellent accountant." – Don Armstrong
"Paterson & Company has been handling my accounting needs since my business was founded and they've always been a pleasure to work with. I know I can rely on them to ensure everything is done properly. Highly recommended!" – Eric Rochon
What Should You Know Before Hiring a CPA?
Before you hire an accountant, there are a few things you should know:
Do they have any experience with your sector or type of business?
Different forms of business trends, financial rules, and tax laws exist in different industries. To ensure that you receive the finest advice, you should hire an accountant who is already familiar with your sector.
What kind of services do they provide?
Aside from accounting, find out what other services they provide so you can figure out what else you need to outsource. These could include things like business valuations, investment management, bookkeeping, and so on.
What are their credentials?
You can never be too sure who you can trust in this day and age. This is why it's critical to inquire about the qualifications and certifications of the accountants who will be working with you.
Discuss the fees.
It's crucial to know their prices upfront so that everyone is on the same page and no financial concerns occur later. The majority of organizations bill by the hour, but some bill by the deliverables.
Request a list of references.
If at all possible, inquire if the potential accountant has any references you could contact. In any case, this is a typical procedure for any work.
FAQs About Accountant Services
What accounting services include?
Tax preparation and counseling, as well as tracking expenses and earnings, are all common accounting services. Accounting is concerned with the creation of accurate financial records and the maintenance of efficient recordkeeping procedures.
Can I offer accounting services without a CPA?
Traditional CPAs and EAs can now provide services to new accounting companies. In today's world, being a CPA or EA is no longer required to start or own a successful accounting firm.
Is it better to hire an accountant than to do it yourself?
Definitely! When you hire an accounting service, you save a lot of time and energy, and you also avoid the hassle of probable mistakes because it's done by an expert.
Does hiring an accountant save time?
Yes, accounting services are usually dull and take up much too much of your time when you should be focusing on your business or doing anything else more useful.
How do I know if the accountant firm is right for me?
You can always schedule consultations to acquire a feel for the company. Fortunately, the majority of companies provide free initial consultations, but those that do not are still worth investigating.
---
Our list of the best accountant services in Ottawa is now complete. We hope this information was useful in your quest for the suitable firm to assist you with your taxes and other financial difficulties.
Send us a short message if you have any more companies you'd like to recommend or inquire about! We always appreciate hearing from you.