Whether you want to start a business or are a future homeowner, you must be looking for a mortgage broker to help you locate the ideal location. Fortunately, we've got exactly what you need in this article.
Keep reading until the end because we'll be highlighting some of the top mortgage brokers in Ottawa, outlining typical fees for their services, and answering some frequently asked questions.
What to Look for in a Mortgage Broker?
If you're looking to work with a reputable mortgage broker (which we know you are! ), there are a few things to look out for:
Application Procedure
Ask a few questions about the application process before choosing one broker. Here is where you can decide if they are someone you want to depend on in the future.
An estimated fee sheet with third-party fees and lender fees, as well as the average time to closing and whether they have an online platform where you can upload documents and check on the status of your loan.
Organizations that provide home loan services (appraisal, title insurance, escrow, etc.)
The down payment, debt-to-income ratio, credit score, and other loan product requirements.
The paperwork and due dates for each step in the loan application process
Cost and time required to fix a rate
Knowledge
It's essential to have someone walk you through each step of the underwriting process if you're new to refinancing or purchasing a home. Consider their accessibility, promptness, team, industry expertise, and whether they provide clear and concise responses when responding to inquiries.
Objectivity
Both parties should make a concerted effort to resolve this. Communication is essential in any healthy partnership. Your mortgage broker must be upfront and truthful about all the costs, restrictions, and documents. Additionally, you must inform them if you have a low credit score because this is crucial information that will enable them to find the best option for you.
Rates
Asking this question in the most specific manner possible will help you obtain the most accurate loan pricing. Since interest rates change daily, give all the necessary information the day you want a quote on the rates you can expect.
How Much Does It Cost to Hire a Mortgage Broker in Ottawa?
We provide some estimates below for the percentage fees charged by mortgage companies. However, actual costs might change.
| | |
| --- | --- |
| Term | Average rates |
| 1 year fixed | 2.09% |
| 2 year fixed | 1.69% |
| 3 year fixed | 1.69% |
| 4 year fixed | 1.59% |
| 5 year fixed | 1.39% |
| 5 year variable | 1.29% |
| HELOC Open | 2.95% |
Best Mortgage Brokers in Ottawa
Let's talk about the businesses you might want to think about hiring from now that the fundamentals are out of the way!
Ottawa Mortgage Broker – Dan Faubert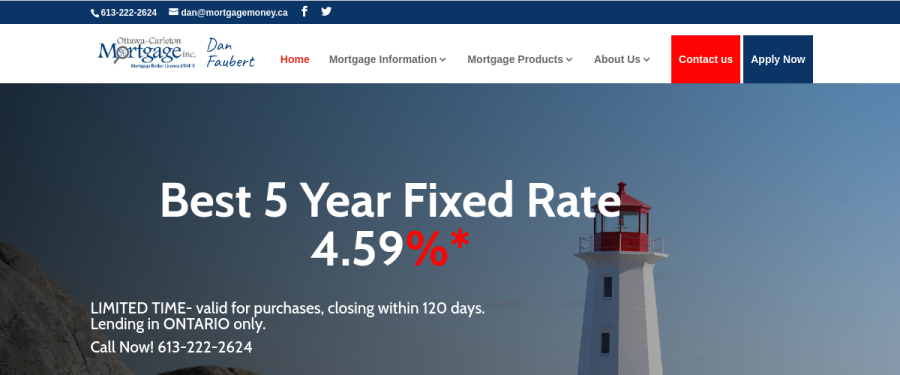 Ottawa-Carleton Mortgage Inc. is a licensed mortgage brokerage (License# 10419) with the Financial Services Commission of Ontario. Ottawa-Carleton Mortgage Inc. was established in 1989 as a supplier of residential & commercial mortgage funds in Canada. They act as licensed agents for over 20 institutional lenders in the Ottawa area (i.e., T.D. Canada Trust, Scotia Bank, National Bank, MCAP Mortgage Corp., First National Financial, and Street Capital to name a few).
Ottawa-Carleton Mortgage Inc. specializes in residential mortgages, offering various products such as fixed-rate mortgages, variable-rate mortgages, convertible mortgages, and pre-approved mortgages. They also offer commercial mortgages for businesses of all sizes, providing terms from 3 to 25 years and loan amounts up to $10 million.
Ottawa-Carleton Mortgage Inc. has a wide reach within the Ottawa area, with access to over 20 lenders and an experienced team of mortgage professionals. This team can help customers find the best mortgage product for their needs, whether they are buying their first home or refinancing their existing mortgage.
Ottawa-Carleton Mortgage Inc. is committed to providing excellent customer service and takes pride in helping clients achieve their financial goals.
Local Company

Experienced staff

Knowledgeable about the Ottawa market

5-Star Google Review ⭐⭐⭐⭐⭐
Customer Reviews
Let's take a look at what their clients have to say:
"Amazing service, very knowledgeable and efficient professional. We worked with Dan to get a mortgage around Feb 2022. As the housing market was red hot at that time, we need to opt for an unconditional offer – with all of its serious consequences if the mortgage cannot be finalized/approved. Dan got us a pre-approval, then communicated with us since day 1 about the risk, and asked us to prepare all necessary documents. He was also in the loop with our realtor and lawyer to make sure everything was in place for the mortgage to be approved after we won the bidding. Will highly recommend Dan's service." – Hoàng Dũng
"My partner and I began looking into renewing our mortgage in the fall. We reached out to a bunch of different brokers (probably 12 in total). As a teacher, I don't always have the energy to respond to things unrelated to my job. Dan continued to reach out and when I did reply, he was fully understanding and followed my pace. Then, as we got into it, he explained everything so fully and made sure we were fully taken care of so that we had no stress going through the, at times, complicated process. Dan is fantastic and he will be the only broker with whom we will work going forward. Thanks so much for everything!" – Daniel Fernandez
Andrew Thake – Ottawa Mortgage Broker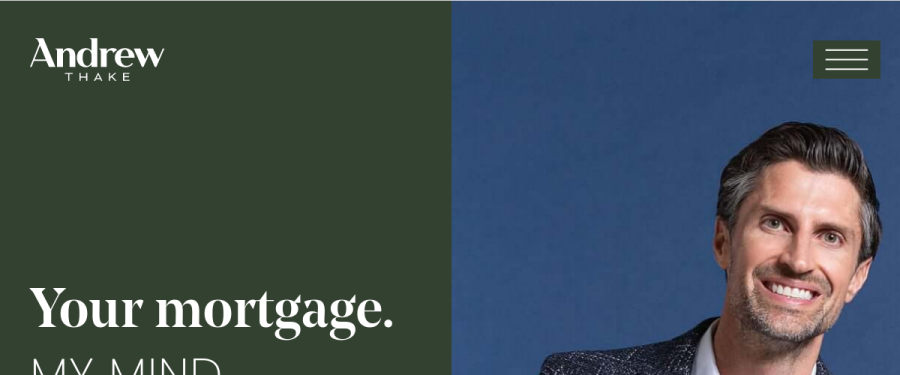 Mortgage broker Andrew Thake has been in the business for over 15 years and has helped over 2200 clients find the right mortgage solution for them. He takes pride in serving others and finds joy in the smiles of his clients when they get approved. He always puts people ahead of sales, as he believes that's what it's all about – serving others. Andrew has access to dozens of lenders, such as TD Canada Trust, Scotiabank, Alterna Savings, and many more, and will be able to provide you with a menu of lenders to choose from. He will review the pros and cons of each lender and help choose the best mortgage for you. You will have the freedom to choose the best fit for you.
5-Star Google Review ⭐⭐⭐⭐⭐

Andrew is professional and knowledgeable

He is always available to answer any questions or concerns you may have

He will work hard to get you the best mortgage deal possible

Customer Reviews
Let's take a look at what their clients have to say:
"Andrew is great and very knowledgeable. I highly recommend him for your mortgage needs. He was very patient in answering my many questions as a first-time home buyer, and I never felt pressured or rushed to pick a particular product or option. Andrew and his team are also very communicative and kept us in the loop every step of the way." – Jennifer Bond
"We connected with Andrew through a web search as we began looking for a home. He was with us every step of the way, from helping us navigate the many mortgage lenders, to helping us figure out budgets with RAPIDLY changing interest rates, to securing us a solid pre-approval. When we finally found a home he was able to secure us a mortgage quickly through his diligent expertise. We are so excited about our new home, and it couldn't have happened without Andrew's professionalism and perseverance. You will not regret using his services! Thanks, Andrew!" – B. Jeffrey Vidt
Ottawa Mortgage Broker – Chris Allard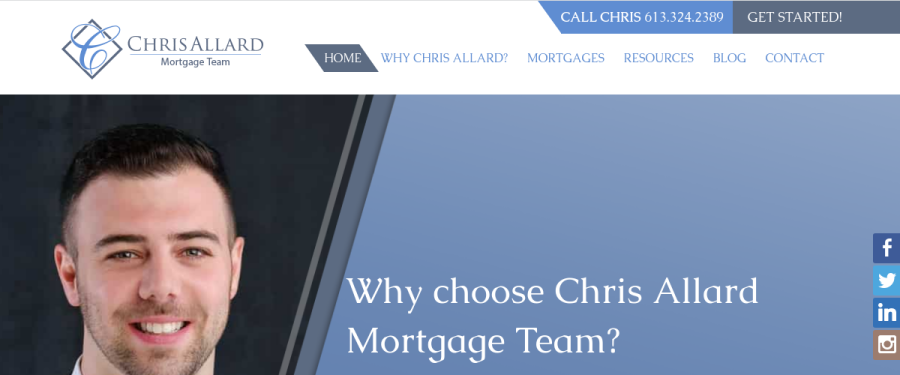 For good reason, Chris Allard is a highly respected mortgage broker in Ottawa. He has over two decades of experience in the industry and has been recognized as one of the top 75 mortgage brokers in Canada. He knows what it takes to get the best financing deal for his clients and is a finalist at the Canadian Mortgage Awards and a member of the DLC Hall of Fame. If you're ready to invest in a new property, you can trust Chris to help you secure the financing you need.
Chris Allard is a qualified mortgage broker with years of experience

He can help you get the best mortgage rate and terms available

He's an Ottawa local, so he knows the market well
Chris may be busy, so you may have to wait for a meeting
Customer Reviews
Let's take a look at what their clients have to say:
"Only phenomenal things to say about Christ Allard Mortgage Team! As first-time homebuyers in Ottawa Central, we were thrilled to have their knowledge, expertise, and service at hand. Not only did they work seamlessly to meet our deadlines, which included a small window between the sale agreement and closing, but they also carved out time to help us better understand the 'Hows' and 'Whys' of mortgages, so that we could make our own informed decisions. Thank you to Chris and all the amazing staff!" – Michele Lefebvre
"We had such an amazing experience working with Chris, Laurie, and Phil. From the time of intake through to finalizing our financing, Chris and the team were incredibly professional, responsive, patient, and supportive. Additionally, they went above and beyond to accommodate some last-minute changes to our file and ensured that our financing would not be negatively impacted. We would HIGHLY recommend Chris and his team and will certainly be using their services in the future should the need arise. Thank you again, Chris, Laurie, and Phil — collectively you all made a "typically stressful" experience feel seamless and stress-free!" – Evanya Musolino
Ottawa Top Mortgages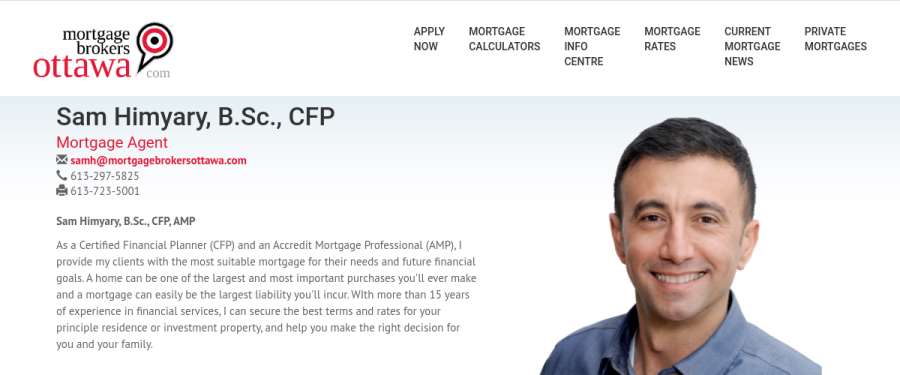 Sam Himyary is a certified financial planner and an accredited mortgage professional with more than 15 years of experience in the financial services industry. He provides his clients with the most suitable mortgage for their needs and future financial goals, whether they are purchasing a principal residence or an investment property. Sam has the experience and knowledge to secure the best terms and rates for his clients and to help them make the right decision for their family's future.
Excellent customer service

Variety of mortgage products

Local company
Limited availability in other provinces
Customer Reviews
Let's take a look at what their clients have to say:
"Ottawa Top Mortgages through Mr. Sam Himyary got me the best deal that no other broker could. Very first time. I had a tight situation but that was never a problem. Got me the top dollar with the lowest cost. They were always following up with me, keeping me updated. Brought me the deal very quickly. Great teamwork, thank you all. Appreciate the great work, Sam. Thank you Sam great job." – Wajih Zohbi
"Sam and his team have been very helpful in putting together our complicated mortgage file for me and my family. Our mortgage had to close in the middle of the downturn in the housing market and Sam and his team always ensured that we had options. Even on the closing date, there was an issue with the bank that Sam and his team quickly resolved." – Fatima Abbass
KeyRate Mortgage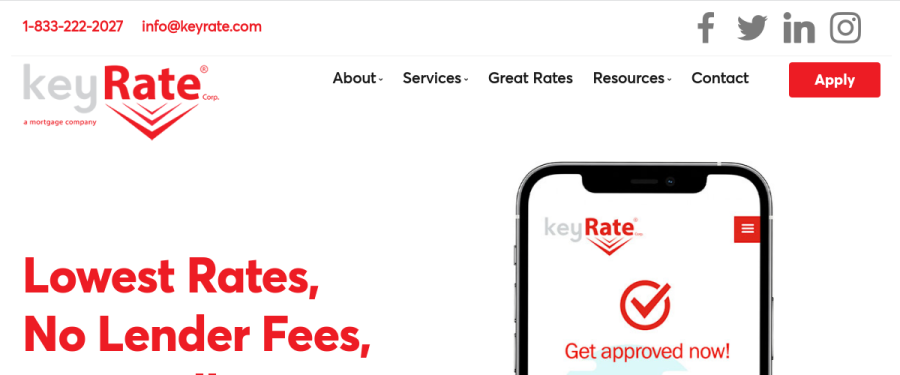 Keyrate Mortgage is a company that works for the customer, not the bank. They are interested in securing the best possible rate for the customer's mortgage needs and increasing their buying power. They have access to rates and products from a variety of lenders, which means the customer has access too.
A mortgage is a big decision and a powerful financial tool. Keyrate Mortgage is built mainly through referrals from satisfied customers, so the customer's positive mortgage experience is guaranteed. They offer free quotes and an overview of current conditions affecting the mortgage market. Keyrate Mortgage strives to help their customers achieve their homeownership and financial goals.
Good customer service

Helpful staff

Variety of mortgages available

Open 24 Hours
Customer Reviews
Let's take a look at what their clients have to say:
"Nakita Bell from Keyrate Mortgages provided unparalleled client service excellence from start to finish in my home buying experience. I was able to lock in a great rate to keep my investment property affordable in times of inflation. This process taught me that having the right mortgage agent is just as important as finding your dream home. Financing your biggest investment requires having an advocate that will negotiate on your behalf to secure the lowest rate from lenders – which is exactly what Nakita provided with complete transparency, knowledgeability, and professionalism. She was available to answer my every question along the way so I knew I was in good hands when my offer was accepted. 10/10 would recommend for both first-time buyers and seasoned investors." – Marina Santilli
"Summer from Keyrate Mortgage was very knowledgeable and explained terms and processes in an easy-to-understand way which was especially important since it was my first mortgage. I appreciated her responsiveness and willingness to answer all my questions. They were able to get me preapproved way sooner than other banks and made me feel like I was a valued customer. Would recommend her services to others looking to get a mortgage. The whole process was smooth, and I closed my property on time!" – Alison D
FAQs About Mortgage Broker Services
Will the amount of my fixed-rate mortgage payment change over the course of the loan?
Even with a fixed-rate mortgage, the size of the monthly payments may change over the course of the loan. The monthly payment for principal and interest on a fixed-rate loan will not change because both the term and the interest rate are fixed.

However, you may also pay interest, taxes, and insurance as part of your monthly mortgage payment. The amount needed for taxes, interest, and insurance may change, but neither the principal nor the interest charges will.
What is my Private Mortgage Insurance (PMI)?
A private company offers private mortgage insurance, which shields the mortgage lender from potential losses in the event of loan default. This can have a significant impact on the amount of the down payment required as well as how quickly your mortgage loan is approved.
What is an escrow account?
Escrow will be opened to receive funds for the payment of private mortgage insurance, homeowners insurance, and real estate taxes (if applicable). A portion of your monthly payments will be deposited into your escrow account each month to ensure that you have the money you need when it's needed.
How soon will my loan be closed?
As soon as possible should always be the aim! The appraisal, the conditions you'll give the broker, and the title work are typically the items that take a while to arrive.
---
Our ranking of the best mortgage brokers in Ottawa is now complete! We hope the information in this article was helpful to you in deciding where to go.
Did we overlook someone you suggested? If you have any questions, please let us know.