You're probably looking for the best osteopaths in Ottawa if you're reading this article. There are numerous osteopath clinics in the area that you can rely on to help you with any physical pains you've been experiencing recently.
Allow this article to serve as your guide before you put on your big boots and start looking for an osteopath on your own.
What are the prices of osteopath services in Ottawa?
The cost of osteopathic services varies depending on the clinic and the length of follow-up sessions, but here's a rough estimate:
| | |
| --- | --- |
| Service | Average cost |
| Initial Assessment and Treatment | From $100 |
| Follow-Up Treatments | From $100 |
5 Best Osteopath Clinics in Ottawa
When it comes to medical treatments, you'll always want the best services available. This is why we've compiled a list of Ottawa's best osteopath services for you!
1. Ottawa Osteopathy & Sports Therapy
The Ottawa Osteopathy & Sports Therapy clinic provides professional and personalized health care for athletes and the active population in a private setting. The treatments offered at the clinic combine the evidence-based success of the sports medicine model with the growing demand for holistic care. The clinic offers osteopathy, physiotherapy, massage therapy, athletic therapy, and kinesiology, all within the same clinic.
One-on-one time with your practitioner is the top priority at the clinic. The practitioners will educate you about your injury/condition, ensure you fully understand your abilities or limitations, and guide you through your rehabilitation process. This will give you the information you need to avoid the reoccurrence of your injury in the future.
Expertise in osteopathy and sports therapy

A wide range of services offered

Convenient location

Excellent customer service
Customer Reviews
Let's take a look at what their clients have to say:
"Shauna was amazing, she helped with my stomach issues which were relieved in one treatment session. She is very knowledgeable and focuses on the whole body, a holistic approach. I would definitely recommend her for any aches and pains." – Simone Savary
"Saw Richard Gregory for extensive shoulder sprain that had become frozen shoulder. After months of getting nowhere, I had a couple of sessions with Richard and I was finally able to turn a corner and engage in the steady climb back to good health. He immediately referred me to Sara Roy, physio in the clinic, who worked with me to steadily get my shoulder back to healthy form, unfrozen, and, even more importantly, sleeping through the night again! She was practical and positive. She took any feedback I gave to make changes in what we doing. Very pleased with my experience at the clinic and happily climbing, working out, and playing ultimate again." – Justine Price
2. Osteopathic Clinic of Ottawa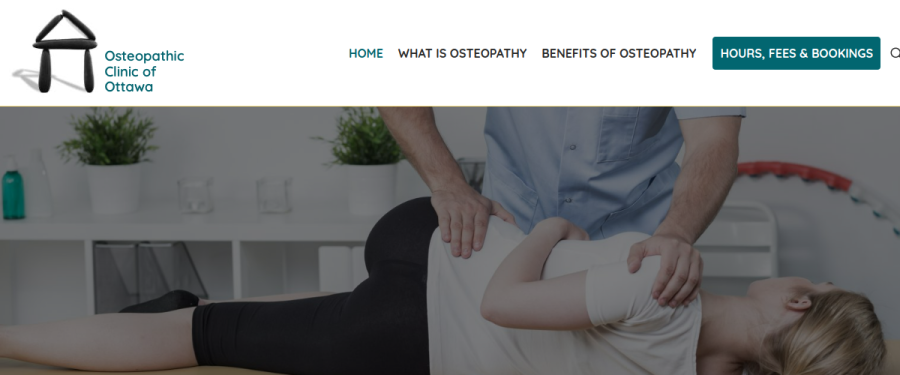 The Osteopathic Clinic of Ottawa is a clinic that provides osteopathic care to patients in the Ottawa area. Osteopathy is a form of manual medicine that focuses on the treatment of musculoskeletal problems and other health issues. The clinic offers a variety of services, including osteopathic treatment, sports injury treatment, and massage therapy.
The Osteopathic Clinic of Ottawa has been serving the Ottawa community since 2009. The clinic is staffed by a team of highly skilled osteopaths who are dedicated to providing quality care to their patients. The clinic offers a variety of services, including osteopathic treatment, sports injury treatment, and massage therapy.
Experienced staff

Online Appointments

Convenient location

Affordable
Customer Reviews
Let's take a look at what their clients have to say:
"Frank Parent is extremely experienced and skilled in his work. Every time I visit, he gets right to the source of pain or discomfort in my body and is always able to relieve it in a very non-invasive but efficient way. The results also last for a long time, if not permanently, depending on what the issue is. He is also very kind, caring, and generous. I would highly recommend his services!" – Danielle Lithwick
"This place is very nice and the owner is very welcoming and friendly. His prices are reasonably priced and he is very skilled." – Andrew Parent
3. Adnan Osteopathy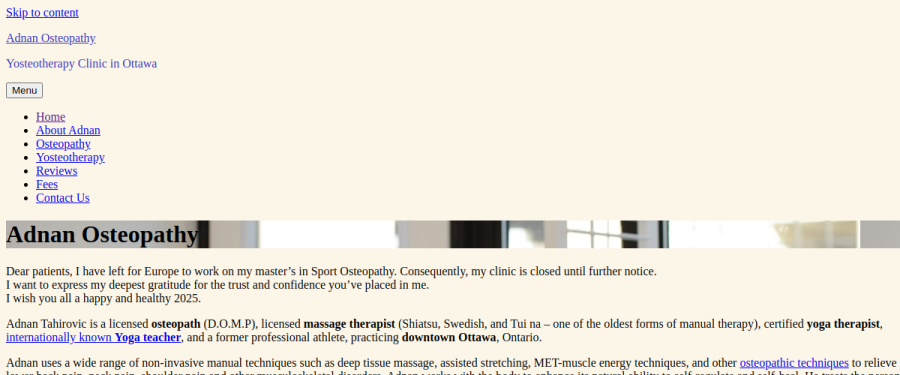 Adnan Tahirovic is an experienced osteopath, massage therapist, yoga teacher, and former professional athlete. Born in Bosnia-Herzegovina and educated in France and Canada, he has a wealth of knowledge and experience in the field of health and wellness.
Adnan's journey into the world of yoga began after he developed knee problems as a result of his vigorous athletic activities. He soon found that yoga was the perfect way to treat his injuries and improve his overall health. After moving to Taiwan in 2007 to teach yoga, he studied Traditional Taiwanese Structural Therapy and became one of the most published foreign yoga teachers in Taiwan.
Excellent service

Knowledgeable and experienced staff

A variety of services offered

5 Star Google Review
Customer Reviews
Let's take a look at what their clients have to say:
"I was having terrible backaches for 2 years. I went to physio, chiro, and massages, but nothing seemed to help too much. I finally found Adnan and went to 3 sessions, and what a difference it made, my back feels so much better than before. I still have pain that comes and goes but Adnan showed me some stretching exercises that are very helpful. I must admit that the sessions can be intense, but it works!" – Nazli Altayli
"Whether it is as an osteopath or yoga teacher, Adnan excels as a therapist. His extensive knowledge of anatomy and experience with a variety of techniques/practices allow him to target the specific areas requiring attention and provide customized treatment. Adnan is fantastic and I highly recommend him." – Martin Gangur
4. Correct Body Alignment Clinic
Correct Body Alignment Clinic is a manual therapy clinic providing osteopathic treatment in Ottawa, Ontario. The main goal of our treatments is to address the body as one structure rather than dividing it into individual structures. Instead of only treating the area of symptom, our certified Osteopath Manual Practitioner aims to detect the source of your discomfort by assessing and treating different muscles and joints above and below the area of pain. Removing the tensions and restrictions in the structures surrounding the area of pain will allow the body to go back into its correct body alignment. This will allow for longer-lasting relief and optimize your body's ability to function pain-free.
They offer a free consultation

They have a variety of services to choose from

Customized treatment plans

5 Star Google Review
Customer Reviews
Let's take a look at what their clients have to say:
"I had an amazing experience! My neck and lower back has been in a lot of pain for weeks now, and I had booked 6 sessions but only needed 4 sessions. I no longer feel any pain, I have no more bad headaches, and overall feel so refreshed. Haythem was my practitioner and he did an amazing job listening to what I needed treatment on and got straight to it as well as explaining what he was doing so I knew what was happening and what to expect. He was an amazing 10/10 experience, definitely recommend going to him." – Tertil Muaz
"I've been treated by Haythem a few times now and am thrilled with my experience at Correct Body Alignment Clinic, Haythem and the staff are extremely kind and courteous, I am always warmly welcomed and listened to when describing my physical symptoms. The feedback given to me was a great help and I look forward to future follow-ups!" – Josee Desjardins
5. Lepage Osteopathic Clinic
Lepage Osteopathic Clinic is a clinic located in Ottawa, Ontario. The clinic offers a variety of services, including osteopathic treatments, massage therapy, and naturopathic medicine.
The clinic offers a variety of osteopathic treatments, which are designed to improve overall health and well-being. Osteopathic treatments can be used to treat a wide range of issues, including back pain, headaches, and joint pain.
The clinic also offers massage therapy and naturopathic medicine. Massage therapy is a form of bodywork that can be used to relieve pain, tension, and stress. Naturopathic medicine is a form of alternative medicine that uses natural remedies to treat various health conditions.
Great Location

Many Services Offered

Good Reviews
Customer Reviews
Let's take a look at what their clients have to say:
"Fantastic osteopath. I am very grateful for what he has done for me.
Very professional. Listen to his patient's needs. Incredibly Zen.
Thank you Christian for your help and amazing support!" – Clauda Sanon
"First visit..little bit apprehensive but not for long.
Very knowledgeable, sympathetic, and reassuring
Will definitely return" – Odette Lebeau
What Should You Know Before Getting Osteopathic Treatment?
Getting an osteopath consultation or treatment can be nerve-wracking, just like any other medical procedure. To help calm your nerves, make sure you're prepared and knowledgeable about the following:
Do you really need to see an osteopathic doctor?
You should see an osteopath if you have any of the following symptoms or problems: acute/chronic back pain, neck pain, joint pain, sciatica/numbness/tingling, whiplash, sports injuries, and jaw problems, or muscle spasms/pains.
Verify their credentials
Osteopathy is not something to be taken lightly, and you must ensure that the person performing the treatments is qualified. You can do so by requesting their certification and other credentials.
Seek out recommendations and referrals
It's always best to get referrals from people you know who have used similar services to the ones you're looking for. The best review is always word of mouth!
Is the clinic's surrounding area as well as the clinic itself accessible?
This may seem insignificant, but make sure to inquire about whether or not the building is handicapped-accessible! Especially if you or a loved one undergoing treatment requires special accommodations, such as wheelchair accessibility.
FAQs About Osteopath Services
Why would someone see an osteopath?
Arthritis, back pain, headaches, tennis elbow, digestive issues, and postural problems can all be helped with osteopathic intervention. Sleep cycles, as well as nervous, circulatory, and lymphatic symptoms, may benefit from treatment.
What are the disadvantages of osteopathy?
Some of these drawbacks are listed below. Serious illnesses or those that require surgery are not recommended for osteopathic treatment. Serious muscle and bone disorders, complicated illnesses, and severe injuries, for example, cannot be treated.
What should I wear to my osteopath treatment in Ottawa?
If you need to be a little more bare during the treatment, it's best to wear loose-fitting clothing with good coverage (shorts, sports bra, etc.).
How long do osteopathic treatment sessions last?
Treatment sessions with an osteopath usually last about 30 minutes. However, depending on the treatment you're receiving, this could take longer, so make sure to plan your day around it!
---
That's all we have for Ottawa osteopathy clinics! We understand that seeking help for physical pains can be intimidating, so we applaud you for deciding to do what's best for you and your body.
If you decide to go with one of the clinics on this list, please let us know! We'd love to hear about your experience with their services.