When driving, there are always risks on the road. No matter how good or cautious of a driver you are, accidents can still happen.
This is why it's crucial to obtain adequate vehicle insurance coverage. For your convenience, we have fortunately already chosen the top auto insurance in Ottawa.
But first, we'll discuss what to consider when selecting auto insurance before moving on to our list.
How to Choose the Best Car Insurance in Ottawa
Determine your needs
There are numerous insurance options available on the market; a good way to narrow them down is to select the ones that best suit your needs.
You might want to look for a family-friendly auto insurance plan if you have a family. If you're still single, you might choose a less comprehensive insurance plan that's less expensive.
Keep a record of your driving practices as well. Get comprehensive car insurance if you intend to use your vehicle every day for work. However, if you only occasionally use your car, getting the most basic coverage might be sufficient for you.
Comparing Quotes
Get quotes for each insurance policy after you've decided which ones best suit your requirements. By doing this, you'll be able to see how much each policy will cost you and plan your budget accordingly.
You can submit online quote requests to some auto insurance providers. You can compare insurance quotes from various insurance companies using online services as well.
Request suggestions
They assert that experience is the best teacher of all. You should think about speaking with your family or friends to learn more about their experiences with their auto insurance companies in addition to reading customer reviews online.
By doing this, you can determine whether a particular auto insurance company will offer excellent customer service and support in the event that you need to file a claim.
Best Car Insurance in Ottawa
When an accident occurs, the best auto insurance coverage will protect you, your car, your family, and the other motorists. Here are a few locations where you can find excellent coverage.
Scrivens Insurance and Investment Solutions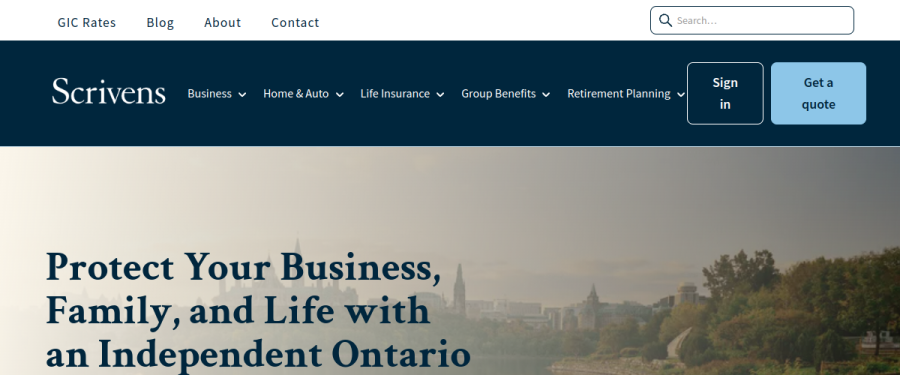 Since 1930, Scrivens has been providing expert advice for all types of insurance and investment matters. As a family business that has been in operation for three generations, Scrivens understands the importance of protecting your assets, whether they are short- or long-term investments. With a wide variety of services available, Scrivens takes a team approach to advise their customers. This means that they have experts in all fields related to insurance and investing, from home and auto insurance to business liability insurance and key person life insurance.
If you are looking for comprehensive advice on all areas of risk related to your assets, Scrivens is the perfect place to go. They will work with you to assess your needs and find solutions that fit both your budget and your lifestyle. Scheduling a consultation is easy; simply visit the website or call one of the numerous locations across Canada.
Experienced staff

Wide range of services

Offers insurance and investment solutions
Premiums may be high for some people
Customer Reviews
Let's take a look at what their clients have to say:
"I messaged Scrivens on a Monday, desperate to find insurance because I was buying a car the next day and needed insurance immediately. I didn't think it was possible but they pulled through and had me matched with an insurance company that day, I had the policy number and information in time to register my car. They were a lifesaver!!" – Jacquelyne Van Dusen
"I very much enjoyed working with Jake Scrivens who helped me find insurance that is tailored to my needs. Jake has been responsive, easily available, and most importantly: very helpful. I therefore highly recommend his services." – Peter Jaskiewicz
Gifford Carr Insurance Group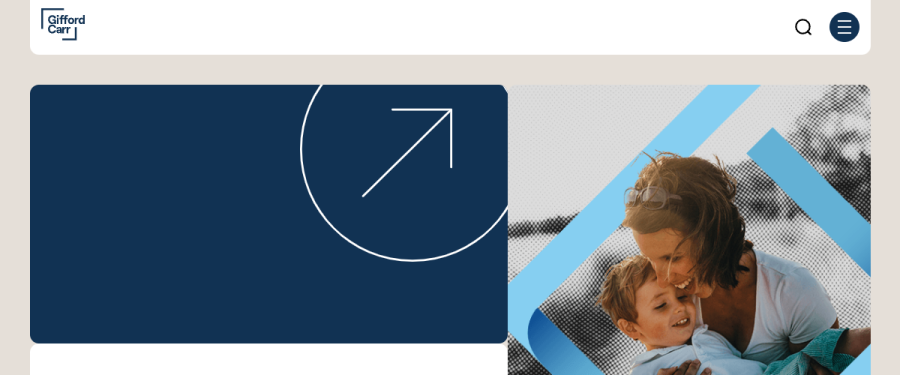 Gifford Carr Insurance Group has been providing insurance solutions to Canadians for over 70 years. They are an independent brokerage with offices in Ottawa and offer customized personal and business insurance policies. Gifford Carr is committed to providing their clients with the best possible service and works with insurers across Canada to find the right coverage for each individual or business. Their team of experts is dedicated to finding the right policy at the best price and strives to provide a level of customer service that is unmatched in the industry.
Experienced staff

Great customer service

Competitive rates
The location is not ideal
Customer Reviews
Let's take a look at what their clients have to say:
"We switched to Gifford Carr after more than 20 years with another brokerage. Andree was very helpful in getting us the best deal on insurance. She worked many days with us to ensure we had the proper coverage. Ended up saving us money on our renewal." – Ken Raymond
"Amazing service all around from Lance Holloway switching from a Company I had been dealing with for over six years. After speaking with Lance he made it very easy with his knowledge and expertise in the insurance industry to make the switch. Thanks again Lance for all your help" – Jamie Johnston
Smith Petrie Carr & Scott Insurance Brokers Ltd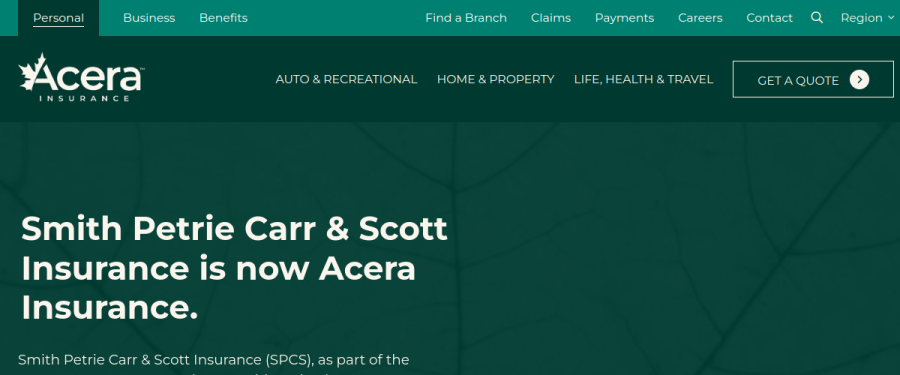 Smith Petrie Carr & Scott is a proud member of the Canadian Broker Network (CBN) and has been awarded the Independent Brokers Association of Ontario's Award of Excellence. With over 40 insurance professionals, they pride themselves on their reputation for establishing long-term partnerships with clients. They service any type of national account and recognize that the insurance policies that protect you and your business are among the most important purchases you make.
Smith Petrie Carr & Scott have been providing insurance services to Canadians for over 40 years. They are independently operated and have a team of over 40 professionals who pride themselves on their relationships with clients. They are members of the Insurance Brokers Association of Ontario (IBAO) and the Canadian Broker Network (CBN). They have also been awarded the Independent Brokers Association of Ontario's Award of Excellence.
Established company

Many years of experience

Local business
Customer Reviews
Let's take a look at what their clients have to say:
"Always a pleasure working with the agents at Smith, Petrie, Carr & Scott! Wendy De Marinis always provides quality services. She is professional, well-educated, and always available to answer questions. Thank you for all of your support and help, Wendy!" – Allyson Scully
"We continue to be highly satisfied with the professional, knowledgeable, and prompt response to meet our auto insurance needs. I have been a long-standing customer of this brokerage for many years, but most recently had the pleasure of dealing with Jessica Lopes. Jessica is amazing!! She helped us in a pinch to provide timely insurance coverage for our most recent auto purchases. I would highly recommend reaching out to Smith Petrie Carr & Scott for all of your insurance needs!! We are still smiling!! The Marshall Family!" – Karen Marshall
Canopy Insurance Services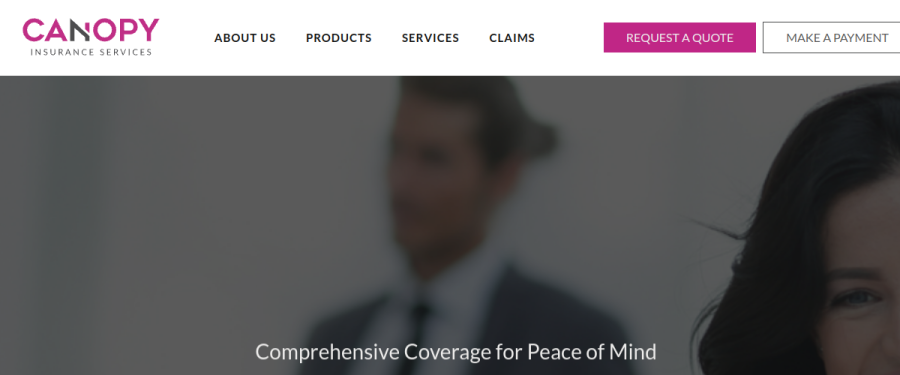 Canopy Insurance Services has been in business for over thirty-seven years, and during that time they have worked hard to grow close with their clients and understand their individual needs. They provide a range of insurance products, including automotive, property, health, and life insurance, and work to get their clients the best possible rates. They also have a powerful network of insurance partners that benefits their clients. If you're not getting the answers you need from your insurance company, Canopy Insurance Services is there to help.
Local Company

Knowledgeable staff

Competitive rates
Customer Reviews
Let's take a look at what their clients have to say:
"I've been a client of Canopy for over 15 years, I always received the best service from the entire staff, highly recommended." – Steven Belanger
"Great guys, been dealing with them for 10+ years. Keep up the good work." – Philippe Tessier
Caiger-Watson Insurance Brokers
| | |
| --- | --- |
| Website | http://www.caiger-watson.ca/ |
| Address | 1050 Morrison Dr #300, Ottawa, ON K2H 8K7, Canada |
| Phone | +1 613-521-4143 |
| Email | info@caiger-watson.ca |
| Category | Insurance agency |
Caiger-Watson Insurance Brokers has been a family-owned and operated business since 1961. They pride themselves on being able to take care of all of their client's insurance needs with a wide variety of products and services. The staff at Caiger-Watson is knowledgeable and provides personalized advice to each client. The company is also proud to be a member of several associations.
Established company with a long history

Good customer service

Varied insurance products
Higher premiums than some other companies
Customer Reviews
Let's take a look at what their clients have to say:
"Caiger-Watson Insurance Brokers is a great company to work with. The staff is knowledgeable and always available to help. I have worked with them for several years and have never had a problem. Highly recommend!" – Jennie
"Caiger-Watson Insurance Brokers is a great company to work with. They are always there to help with anything you need and the staff is very friendly. I highly recommend them!" – Avery
FAQs about the Best Car Insurance in Ottawa
What does good car insurance protect me from?
A good auto insurance policy will shield you from any financial risks you might face in the event of an accident. Your insurance policy will cover any damages and repairs.

You will be shielded from financial responsibility and medical costs as the owner.

Ask questions about the coverage of the policy you're purchasing as well as the monthly payments when speaking with an insurance agent.
How much is car insurance in Ottawa?
In Ottawa, annual car insurance premiums typically range from $1,600 to $2,000. Due to the fact that drivers in Ottawa are generally safe drivers, car insurance in Ottawa is generally much less expensive than in nearby areas.
How can I make my insurance cheaper?
There are numerous ways to reduce your auto insurance costs.

The simplest way to achieve this might be to simply drive safely. To reward safe driving practices, the majority of auto insurance companies offer incentives like no-claims bonus discounts.

You might also try reducing the number of miles you drive your car. A lower risk factor on the road is correlated with lower mileage, which can directly affect your auto insurance rates.

Increase your excess amount, pay monthly interest instead of annually, or choose a less comprehensive coverage option as an additional way to reduce the cost of your car insurance.
I got in an accident. What do I do?
After ensuring your physical well-being and the well-being of your passengers, you should immediately take pictures of the car and, if at all possible, record the circumstances that led to the collision. Immediately call an ambulance if someone is hurt.

You should make a note of the other party's name and contact information as well as their car's make, model, and license plate number, as well as their driver's license and auto insurance policy numbers.

When there is a traffic accident, the police typically interview both parties. Creating a police report will benefit from taking notes and photos.

Call your insurance company as soon as you can and provide any pertinent information, including your insurance policy number, notes, pictures, and the police report, to begin the claim-filing procedure.
---
These companies in Ottawa offer the best auto insurance. Contact one of the services above to receive excellent coverage for your car and liability protection.