You don't own a TV? As Joey Tribbiani so eloquently puts it: What is the purpose of all your furniture?
Your entire home may become chaotic if your TV breaks, as well as your entertainment. Before that occurs, we're here to direct you to Ottawa's top TV repair services.
But first, let's talk about how much a typical TV repair would cost.
How Much Does TV Repair in Ottawa Cost?
The age, brand, and type of the TV you own, as well as the problem the TV has and the parts that need to be replaced, all affect how much it will cost to repair it.
If the parts are available, the average repair takes between one and three hours and most shops have a minimum fee.
The most frequent TV issues and their associated repair costs are listed in the table below.
| | |
| --- | --- |
| Average TV repair | $60 to $350 |
| Flat-Screen TV (LCD TV, LED TV, Plasma screen, 4K TV or Ultra HD, Smart TV) repair | $45 to $360 |
| LED TV screen replacement | $100 to $125 |
| Replacement of 4K TV / Ultra HD's motherboard | $100 to $275 |
| Plasma TV repair | $300 to $400 |
| Cracked Flat-Screen TV | $100 to $400 |
| HDMI port and circuit board repair | $200 to $350 |
| Power supply board repair cost | $250 to $350 |
| TV bulb replacement | $60 to $115 |
| Backlight repair cost | $100 to $125 |
Best TV Repair Companies in Ottawa
Here are Ottawa's top TV repair businesses, so you can get an idea of how much TV repair will cost.
In-Home TV & Electronic Service 24/7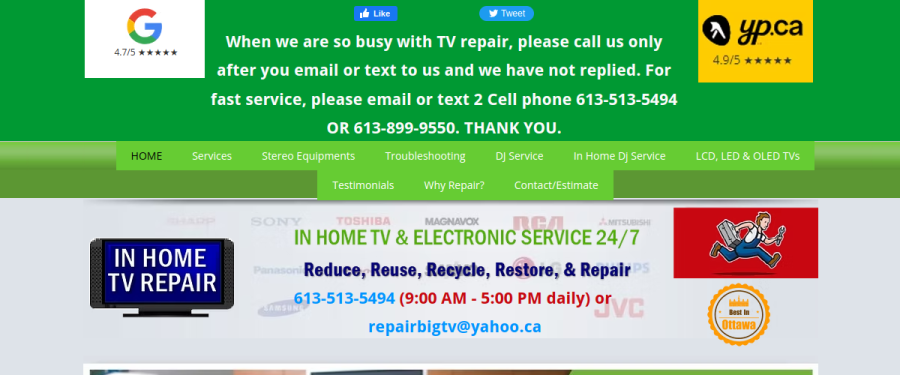 In-Home TV & Electronic Service 24/7 is a company that specializes in repairing TVs and other electronic devices in the Ottawa area. The company has been in business for over two decades and has a staff of experienced engineers who can repair any make or model of TV. In addition to repairing devices, the company also recycles electronics and reduces environmental impact by repairing devices instead of buying new ones. The company offers a 180-day guarantee on all repairs.
Available 24/7

Fast, friendly service

Variety of services offered
Customer Reviews
Let's take a look at what their clients have to say:
"When I searched for a TV repair service, including calling Samsung Customer Service, Samsung's recommended service centers did not even answer their phones. A couple of TV repair shops I found online had very poor customer ratings including one that categorically stated to stay away from. This Electronic Service shop was NOT one of those recommended by Samsung but turned out to have the best customer satisfaction in my searches. They have a professional website where you fill out a form to identify the product you want to be repaired and state what you see as a symptom of the failure. Once submitted including your contact information, all of the correspondence is via email and by phone if required. I used both. Because of Covid and the part needed having to come from Korea, it took several weeks to get my television repaired. It was 10 years old and could still be repaired. The delay bothered this company so much that they offered me a 4K loaner, but I declined the offer. My repaired 46-inch LED TV works like new. The price was reasonable and I would not hesitate to use them again." – John Mykytuik
"Excellent, fast, and responsive service. Came on-site to diagnose and returned within 48 hours with fixed parts and back up-and-running. Look forward the many more years of service from our Samsung plasma tv thanks to In-Home TV & Electronic Service in Ottawa. Great job!" – Kevin Marshall
Hagopian Television Centre Ltd
Hagopian Television Centre Ltd has been repairing televisions since 1981. They specialize in 4K UHD LED, LCD, and Plasma repairs, as well as microwave ovens and home theatres. They are a family-owned and operated business that takes pride in their work.
Well established company

Good Reputation

Many years of experience
Higher than average prices

Limited selection
Customer Reviews
Let's take a look at what their clients have to say:
"Hagopian came by today to replace the screen on my TV. I was really impressed with how punctual, friendly, and professional they were. They finished the work in under 30 minutes, cleaned up all the garbage, and left. They also took their shoes off before coming in. Clearly these guys know what customer service means. They can probably teach many other businesses some good lessons!" – Sam Bloggins
"Last week, our Sharp microwave drawer gave up on us. Given that it was only 3 years old, we looked around for a repair shop and were recommended Hagopian Television Centre. What a great and positive experience overall! After realizing that the microwave could not be repaired but before contacting us, Hagopian reached out to Sharp Canada to explain the situation and as a result, within 2 days, we received a new microwave delivered to our door, at no extra cost. We definitely recommend Hagopian Centre. Thank you." – Ginette Danis
Doctor Appliance Repair Ottawa
Doctor Appliance Repair Ottawa is a friendly, professional, and punctual business that satisfies customers. They have over 140 5-star reviews of their appliance repair services in Ottawa. Doctor Appliance Repair Ottawa cares about fixing appliances as quickly and cheaply as possible. They are a small, family-run business with friendly and reliable service that families recommend because of the affordable rates and free same-day service.
Doctor Appliance Repair is a local company

They offer a 100% satisfaction guarantee on all repairs

5 Star Google Review⭐⭐⭐⭐⭐
Customer Reviews
Let's take a look at what their clients have to say:
"I have used Dr appliance on a few separate occasions now. The first was for refrigerator repair and then installing new household appliances. Ilya is amazing at what he does. He's prompt, knowledgeable, and has always got the job done. He took the time to show me what he was doing while he was doing it. Have recommended him to multiple people and would never go anywhere else when I require help with an appliance!" – Brandon Gryszkiewicz
"I had a great experience with Dr. Appliance. I filled out the request online and receive a call to book within 15 minutes. Julien was able to come by the next day. Julien was very professional, on time and very polite. He took the time to explain the issue with my washing machine and the repair options clearly. He was very pleasant to deal with, and our washing machine is good as new! I'm very pleased with the service and will call again next time one of our appliances breaks down. Thanks a million, Julien!" – Dominique Danis
Bill & Dave Computer Repair Inc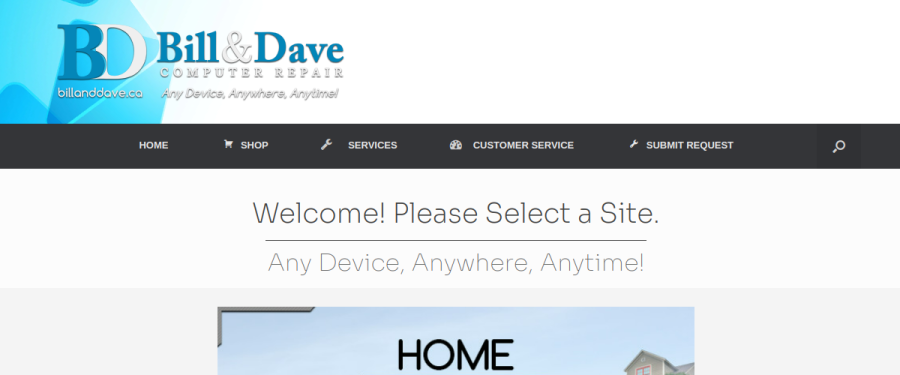 Bill and Dave Computer Repair Inc. has been in business in Ottawa for more than 10 years, and during that time they have developed a reputation for being honest and reliable. They offer repairs for a variety of devices, including cell phones, tablets, computers, TVs, game consoles, and other electronics. They have technicians with the knowledge and experience to provide solutions rather than opinions, and they offer their services on a contract or break-fix basis. Their clients include home users, corporations, schools, and government agencies in Ottawa and the surrounding area.
Quick, reliable service

Competitive rates
Customer Reviews
Let's take a look at what their clients have to say:
"Great service – another place said I'd have to replace the whole keyboard on my laptop because of one broken key, without properly looking at the issue. Bill & Dave sourced the key, resulting in a much lower cost fix. Nice people & good communication." – Chris Hill
"We had to have our laptop hard drive replaced. Bill & Dave Computer Repair was great! They also fixed the unlockable touchpad that was driving me crazy and installed Windows 11. We were very satisfied and will use them again!" – Julia Finn
Snappy Techs
| | |
| --- | --- |
| Website | http://www.snappytechs.com/ |
| Address | 428 Rideau St, Ottawa, ON K1N 5Z1, Canada |
| Phone | +1 613-606-8881 |
| Email | Charles@snappytechs.com |
| Category | Computer repair service |
Snappy Techs is a Canadian tech business that has been serving the Ottawa, Orleans, Sandhills, Kanata, Gatineau, and surrounding areas for over 11 years. They love technology, but they love their clients more. They offer services such as liquid damage repairs, screen replacement, keyboard replacement, computer virus removal, data recovery, phone repairs, and more. They are proud to serve their clients and are always looking to grow their families.
Excellent customer service

Quick response time
Customer Reviews
Let's take a look at what their clients have to say:
"Laptop was unbearably slow but they fixed it in less than 24 hours and it's just as fast as when I first bought it. Great customer service and amazing work!" – Shane
"I brought my laptop in to get reformatted and they fixed it for me very quickly even though they didn't have to. Love the professional and top-quality service here. Will bring my computer and laptop for fixing when I need help. 10/10!!!" – Michael Bach
FAQs on TV Repairs
How long does it take to repair a TV?
TVs are fixable for the majority of issues the following business day. Rare issues might take longer.

It's significant to note that the main influence on repair time is the accessibility of the required components. For the convenience of their customers, the best repair shops ought to keep a good supply of TV parts on hand.
Is it worth getting a TV repaired?
Depending on your priorities, maybe. Even though the majority of TVs can be repaired, there are some models that would cost more to fix than to simply replace entirely.

It will be worthwhile to repair your TV if you want to reduce waste.
What TV brands can be repaired?
Most, if not all, TV brands can be repaired at most TV repair shops.

The more well-known brands are typically easier to repair because they typically come with service manuals and parts on hand.

Ask your preferred TV repair shop in Ottawa for more details if you have a particularly obscure TV brand.
Can repair shops give an estimate without checking the TV?
Since most models typically experience the same issues, repair services can compare your symptoms to common issues with your TV model in their database.

It is simple for them to estimate costs because about 70% of TV issues are common. Of course, these are subject to change, and TV repair shops must still inspect your TV to be certain.
Should I repair or just replace my TV?
Repairing a TV typically costs less than buying a new one. This is particularly true if your TV is only a few years old.

The size and features of your TV, in addition to its age, also influence the repair estimate.

However, if your TV is more than 15 years old, it might be time to buy a new one.
---
We have now finished listing the top TV repair businesses in Ottawa.
Do you know of any more TV repair businesses in Ottawa? Please inform us so that we can examine them and possibly add them to the list.