Sometimes more than Windex and a paper towel is required to clean dirty windows. Fortunately, this list of the top window cleaning companies in Ottawa is just what you need!
Keep reading to the end because we'll also go over the things you should know before selecting a service, typical costs, and solutions to some frequently asked questions.
What to Consider When Choosing a Window Cleaning Company?
Let's begin with some fundamentals:
Insurance for employees
A window cleaning service should always provide insurance in case of mishaps that result in property damage or human injury. You would be better off spending your money elsewhere if they don't provide coverage for those occurrences.
Additional services
Inquire if they also move furniture and clean the blinds in addition to the windows. The majority of window cleaning businesses also provide additional services like pressurized washing and gutter cleaning.
They probably offer home cleaning packages that keep your house immaculately clean and are significantly less expensive overall!
Suggestions
A reputable window cleaning business will always have recommendations! If they've been in operation for a while, they ought to have a ton of positive online reviews to support them.
You can find out what to anticipate in terms of service quality and attitude by asking around at stores and other homeowners who have used the company's services.
Knowledge
Do they have a year's worth of experience? Or 5? Or 10?
Naturally, you would prefer to work with more seasoned businesses to ensure that you receive exactly what you pay for.
Although less expensive businesses may be friendlier to your wallet, quality service is indescribably valuable.
What are the prices for window cleaning services in Ottawa?
We've listed down the average costs of window cleaning services.
Remember that the actual prices vary based on the company, and some charge hourly rates and offer cleaning packages!
| | |
| --- | --- |
| Service | Average cost |
| Cleaning per pane (Residential) | $4 – $8 |
| Cleaning per window (Residential) | $5 – $10 |
| Cleaning per pane (Commercial) | $5 – $10 |
| Cleaning per window (Commercial) | $6 – $14 |
Best Window Cleaning Services in Ottawa
After taking care of the fundamentals, let's move on to the enjoyable part! The top service providers we could find are listed below:
WindowGuru Window Cleaning

Window Guru is a window cleaning and gutter cleaning company in the Ottawa area that employs professional cleaners who are specially trained to give clients the best service experience possible. The company is diverse, with good-natured, enthusiastic, and hard-working employees who love their work and show it in the results they provide clients.
WindowGuru is a well-established company that has been in business for many years

They offer quality window cleaning services at a fair price

Their employees are experienced and knowledgeable

5-Star Google Review⭐⭐⭐⭐⭐
Customer Reviews
Let's take a look at what their clients have to say:
"I am thrilled. My house and windows are sparkling clean. Windows were cleaned inside and out and the siding was washed and thoroughly cleaned with brushes. The staff was excellent, tidy, unobtrusive, respectful of the interior of my home, and very pleasant and helpful. The cleaning process was explained to me and a timeline for another service was advised. Marks on the siding that were not removed by a previous company were totally and gently removed. I definitely recommend this company and will be happy to use the window cleaning service again in the fall." – Happy Gardener
"The team was very professional but also friendly. The windows were all washed, inside and out, along with window tracks. They did a great job with very good attention to detail. The team leader was good at reviewing the work of the team and redoing areas that were not done perfectly. I have used a lot of different window cleaning companies and these guys have been the best. I will use them again for sure." – Jeffrey Bacon
GlassMate Window Cleaning
GlassMate is a professional cleaning company that has been operating in the Ottawa area for over 10 years. The company is committed to providing its customers with the highest quality of service and seeks to build and maintain long-term relationships with its clients. GlassMate's team of professionals strives to provide top-notch service each and every time they are called upon to clean glass surfaces.
Professional and experienced staff

Fully insured and bonded for your protection

Quality service that meets or exceeds your expectations
May be more expensive than other window cleaning companies
Customer Reviews
Let's take a look at what their clients have to say:
"After reading many reviews, I contacted GlassMate to clean my exterior windows. I received a response quickly with a very reasonable quote. A big thank you to Team Chevy who did an excellent job. They arrived on time, were very friendly, and incredibly efficient. I would highly recommend their services." – Diana B
"Team Cheve did a great job on our end unit townhouse. The company was fast to respond to my online query and booked the cleaning for the next day. The team arrived on time, acted professionally throughout, and even went above and beyond the call to reach a 14-foot window in a stairwell in addition to glass stair railings which were hard to reach. They absolutely want their customer to be satisfied and had a few windows touched up upon their supervisor's final check of the work. Highly recommend GlassMate. Hope to see you next year." – Suzanne F
Performance Window Cleaning
Performance Window Cleaning is a reliable and professional window cleaning company. They offer their clients exceptional customer service and a 100% satisfaction guarantee. Their team members are dedicated to meeting the needs of their clients and putting their interests first. This company is different from other exterior cleaning companies because they prioritize the needs of their clients over their own interests. They are committed to providing quality service that exceeds expectations.
Fast, quality service

Affordable rates

Friendly and reliable staff

5-Star Google Review⭐⭐⭐⭐⭐
Customer Reviews
Let's take a look at what their clients have to say:
"I had Performance Window Cleaning do their 6-step home detailing the process for me and they did a great job. My house was really dirty and I just hadn't been able to keep it up the way I would have liked. They came in and turned everything around. They polished, power washed, did the windows… just about everything you can think of. The results were truly amazing. Their customer service was outstanding as well. I highly recommend this company. I have no doubt that I will use them again." – Charlie Wilson
"Performance Window Cleaning did an amazing job. They had our house looking like new again. I appreciate their customer service and how responsive they were to our needs. If you're thinking about having them do service on your home I would highly recommend the 6-step home detailing process. They really clean every inch of your home. I am still stunned by what an amazing job they did. I highly recommend them." – Tracy Minnick
GlassWing Window Cleaning Ottawa
GlassWing Window Cleaning is a small, precise operation owned and operated by Zane Cody and Jennifer Haynes. Over the last couple of years, they have expanded to a second truck and have hired some great employees to ensure all their customer's needs are met. GlassWing Window Cleaning focuses on bringing you the highest quality of service, delivered with respect to both you and your home.
They understand that having strangers in your house is uncomfortable, so they take the time to get to know each of their clients. If you have a question or concern it will be addressed immediately and you can trust that they only have your best interest at heart. When you call GlassWing you'll be greeted by Jennifer on the phone who wants to make sure our clients feel like they've gone above and beyond on every job.
They respect your privacy and will not take any more of your time than is needed. They also keep all details of their business with you 100% confidential always.
Excellent window cleaning service

Affordable rates

Professional and experienced staff

5-Star Google Review⭐⭐⭐⭐⭐
Customer Reviews
Let's take a look at what their clients have to say:
"I had an excellent experience with GlassWing from the initial quote to the final payment. They were clear, detailed, and provided helpful insights. I appreciated the different options for the a-la-carte window cleaning (inside/outside/screens/tracks). The crew was on time, professional, SO polite, and excellent at their job. My windows look great and my gutters appreciated the attention. They were flexible around other work happening in my house and thorough in clean up. Very reasonable price and easy to get ahold of. Happy to recommend this business!" – Christina Paradiso
"We had all our windows cleaned by GlassWing yesterday and we are so happy with the results. Zain and Jennifer are professional, efficient, and friendly. They answered our inquiry in the evening and we really appreciated it. On the day of the cleaning, they arrived right on time! They are super clean and took great care around the plants in the garden (which they need to get around to get to our windows). The windows are spotless and gleaming. They were able to provide us with a quote using Google Earth, which is great during the pandemic (less contact). We find their price really fair and will look forward to using their service again in the future!" – Yi Zheng
Clear Ottawa Windows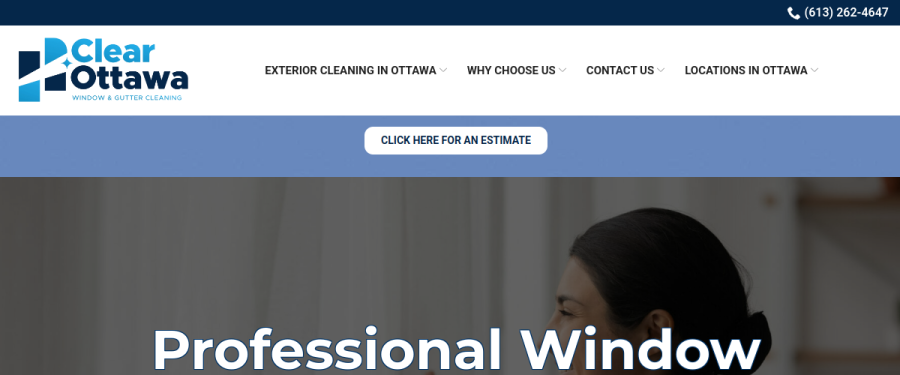 Window cleaning and pressure washing are important services to maintain the exterior of a home. Clear Ottawa Windows has a great reputation for providing these services, and they have a lot of experience and expertise. They are known for their professionalism and for getting the job done right. If you're in need of window cleaning or pressure washing, Clear Ottawa Windows is a great option.
Excellent customer service

Quality products

Affordable prices
Customer Reviews
Let's take a look at what their clients have to say:
"Excellent job! The weather this year has not cooperated. Having a sunny day to complete the work required some rescheduling but Clear windows were able to meet my tight schedule. Three technicians arrived and set about the work with vigor and skill. They did an excellent job. The head office deserves a mention as both John and Angela kept me informed throughout the process, I offer Clear Ottawa Windows my thanks and unreserved recommendation. Gerry Conway, Ottawa" – Gerry Conway
"The crew from Clear Ottawa Windows arrived on time and immediately set to work. They were polite, professional, efficient, and thorough. They did an exceptionally good job and didn't pack up until we were satisfied that their work met the exacting standards they advertised and we expected. In this regard, nothing had to be redone. All of our windows were spotless. Without hesitation, we would recommend Clear Ottawa Windows to family and friends." – Lewis Levin
FAQs About Window Cleaning
Does a professional window cleaning service also clean the interior of my windows?
Window cleaning professionals typically clean the inside and outside of windows, but it is best to ask before you hire them to be sure.
How often should I clean my windows?
Most people say that cleaning your windows once a week is the best way to keep them from getting streaks and spots.
Can I just clean them myself?
Even though you can certainly handle the weekly wipe-downs, hiring a cleaning service is still a smart move. If done frequently, it extends the life of your windows and improves the appearance of your house by preventing them from becoming etched or pitted over time.

Professionals can spot damaged windows from a mile away and clean them without leaving streaks or residue behind (okay, so maybe we exaggerated a little, but you get the idea).
What if it rains while my windows are being cleaned?
Rain shouldn't be an issue for windows that have been cleaned professionally. Your windows look dirty because of substances that settle on them, including dirt, dust, fur, exhaust, and other things.

Pure rainwater dries without leaving any streaks behind.
---
This concludes our ranking of Ottawa's top window cleaners. We sincerely hope this was useful.
Have we overlooked a business you recommend? We'd love to hear about it, so please tell us everything!